Police board agrees to outside review of St. Louis County Police Department after $20 million discrimination verdict
By Gloria Lloyd
News Editor
glorialloyd@callnewspapers.com
The civilian-led St. Louis County police board agreed to an outside review of the county Police Department Tuesday after a jury awarded a $20 million verdict last week to an Oakville officer who said he was repeatedly denied promotions because he is gay.
Despite days of testimony from Chief Jon Belmar and his top commanders that they did not discriminate against Sgt. Keith Wildhaber, the jury sided Friday with Wildhaber's argument that he was passed over for promotion 23 times and, after he filed a federal employment complaint, transferred to work in the Jennings Precinct instead of staying in the Affton Southwest Precinct closer to his home in South County.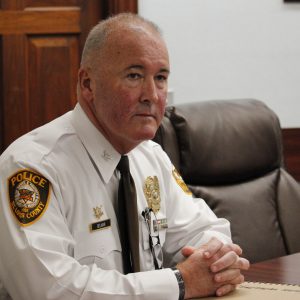 The Board of Police Commissioners called an emergency meeting Tuesday, then went into closed session for two hours to discuss legal issues with Chief Jon Belmar and County Counselor Beth Orwick.
When the board members and Belmar emerged, they declined to comment but issued a press release outlining their unanimous vote to initiate an outside independent review of the department's policies and procedures, the decision-making and promotional processes and inclusion.
The board said it hopes the review can be finished in 90 days and said that the review will be made public.
As far as any perjury investigation from county Prosecuting Attorney Wesley Bell into commanders who might have lied on the witness stand, the board also pledged the cooperation of the department: "The Board of Police Commissioners committed to cooperate with any investigative agency that inquires into the matters concerning recent events and will direct the St. Louis County Police Department to cooperate fully when requested."
The police board has the power to hire and fire the police chief, but acting board Chairman Bishop Lawrence Wooten said in the board's release, "The Board of Police Commissioners looks forward to working with Chief Belmar during this process and throughout the implementation of changes that may be identified during this process."
The verdict had one County Council member calling for Belmar's resignation over the weekend, and in an initial statement, it appeared that County Executive Sam Page was also hoping for a new chief. On Tuesday, however, he still pledged to replace the board but said he expects that Belmar will be the force leading all the coming changes at the department.
All four current police board members are serving on expired terms except for one, which expires Friday. The police board typically has five members, but Chairman Roland Corvington, a former FBI agent, resigned Monday.
The remaining police board members are Wooten, Secretary Laurie Westfall — the widow of the late County Executive Buzz Westfall, the longtime county prosecutor — and Art Johnson and Michael Gaertner. Wooten and Westfall were appointed by former County Executive Charlie Dooley, and Johnson and Gaertner were appointed by former County Executive Steve Stenger.