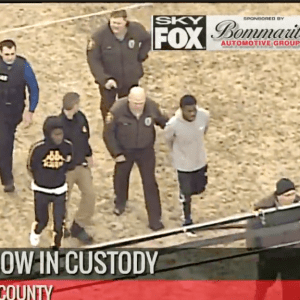 Two suspects were arrested on Union Road near Reavis Barracks and Interstate 255 Tuesday morning after a police chase from Illinois along Interstate 255.
The chase originated in Dupo, Illinois, with the lead pursuit taken by the Illinois State Police, a spokesman for the St. Louis County Police Department said. It was carried live by television stations including Fox 2's Skyfox helicopter.
Two young suspects were taken into custody without incident after leading police on the bistate chase from Dupo, Illinois, across the Jefferson Barracks Bridge.
The suspects' car wove in and out of rush-hour traffic into Missouri and Highway 255, before finally stopping in the right lane of Interstate 55.
The two suspects jumped out of the passenger-side door and ran to nearby houses to try to escape, tracked by helicopters and police cars that poured into the subdivision.
As captured by the camera on the helicopter, one suspect kneeled and surrendered, followed by the second suspect also kneeling and being taken into custody without incident or injury.
"The situation remains fluid as officers continue to work in the area," the police spokesman said.
County police said they were assisting the Illinois State Police at the scene. The ISP said they were not involved and the lead agency was the Cahokia Police Department.
This is a developing story. Check back for updates. Editor's note: This article was updated to reflect the lead agency on the chase.
See photos of the arrest below.