PCBs, heavy metals from NL site destined for landfill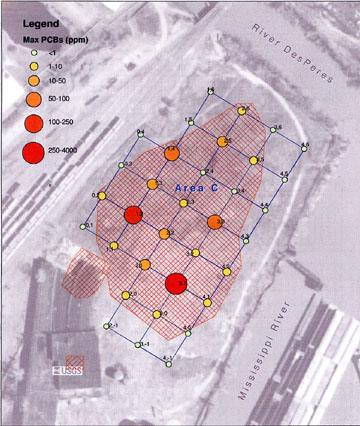 By BILL MILLIGAN
For the Call
Environmental clean-up strategies for the National Lead site in Lemay were discussed during a recent meeting of the St. Louis County Port Authority.
The county owns 80-acres of land on the southern bank of the River Des Peres where it flows into the Mississippi in Lemay. County Executive Buzz Westfall's administration plans to build a park for 205 recreational vehicles and a "greenway" where bicyclists and hikers can "reconnect with the river," according to Metropolitan Park Director David Fisher.
"We're ready to bid this fall and build it next spring. It will have to be phased with the RV park, but we want something of a significant nature down there by the end of next year."
But the land is riddled with cancer causing materials environmental engineers believe are left over from a pigment operation which closed in 1978.
"Some of the material that we collected from that original sampling had some elevated heavy metals in it, things like cadmium, zinc and silver, things along those lines," said Murray Meierhoff, environmental group manager for St. Louis based Shannon and Wilson, Inc. the company charged with cleaning up pollution at the NL site.
"Where the contamination is that concentrated, we'll excavate that and the material will go off site to a landfill," Meierhoff told members of the Port Authority.
The Port Authority recently received a $1 million grant from the St. Louis Regional Empowerment Zone to clean up surface petroleum and polychlorinated biphynels. Meierhoff unveiled his strategy for dealing with those chemicals June 10.
"If you think of composting like we all do in our back yards with grass clippings and dead leaves in the fall, that's the process of what we're talking about doing here," Meierhoff said.
"We're going to mix the soil so that it all has about the same contamination," Meierhoff said. "We'll add nutrients, then water and oxygen to take advantage of naturally occurring bacteria and then sit back and let the composting action work. I can tell you that this will work, but I can't tell you how long it will take.
"Heavy metals will not compost," he said. They'll be metals today, metals tomorrow."
Meierhoff recommended excavation and removal to landfills in two areas where the soil is saturated with petrochemicals.
"If you walk down the site around where the old tank pond used to be, there are areas out there where – on a warm summer day – you have to be careful or you'll wind up with tar all over your shoes," he told the Port Authority.
Meierhoff confirmed finding another section of the NL property that has tested positive for elevated levels of heavy metals and PCBs.
"There is a third site where NL Industries operated a land fill," Meierhoff said. "They basically put anything they didn't want on the outside of the levy. There's a bunch of material out there that's a little bit of this and a little bit of that and its all jumbled up.
"The river has taken a bunch of that over the years and it's on its way to New Orleans by now. But there's still material out there that we call this trash pile we need to investigate."
Current Port Authority plans call for scenic overlooks, boardwalks and trails in the area Meierhoff said is "outside the levy."
Meierhoff said the contaminated soil would be kept in piles that could be higher than 20-feet throughout the area where architects have drawn a "wetlands area." The area is bisected by three trails and immediately adjacent to the access road, a boat dock, fishing and picnic areas are immediately adjacent to the wetlands.
"Would you eat anything you caught out there?" asked member Bud Schertel.
Laughter erupted from the 16 people in the room.