Papa Roach comes full circle with new CD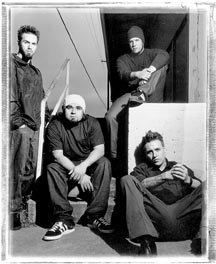 By ALAN SCULLEY
For the Call
When Papa Roach played Ozzfest in 2001, the tour became a purge for the band members – in more ways than one.
For singer Jacoby Shaddix – formerly known by his nickname Coby Dick – the purge came in performance. By the time of the Ozzfest tour, Papa Roach had been touring for nearly two years behind its triple-platinum, major-label debut CD, "Infest."
Shaddix was burned out, frustrated and tense. He used the group's songs – which featured Shaddix's own emotionally charged and charred lyrics – to unleash his emotions. During some shows, Shad-dix beat his head against various objects until he bled. Other times, he forced himself to become physically ill.
Even Shaddix knows it was an unseemly and disturbing sight.
"I don't know what it was," he said. "That summer was probably a very violent summer, a dark summer, a summer of a lot of questioning who I was as a person because I was at the tail end of the touring. That lyric (from the new song "Black Clouds), 'I'm coming home in a body bag,' I meant it and I was living it. And it was a good release, though, because I went through a stage where I was like vomiting on stage every day, and I just felt completely disgusted with people and with everything around me. It was cool because my band just kind of let me just flip out."
As for Shaddix's three bandmates, guitarist Jerry Horton, bassist Tobin Esper-ance and drummer David Buckner, they were doing an entirely different – and much more appealing – kind of purging.
During downtime on the Ozzfest tour, they were in a studio installed in the back of one of the band's two tour buses, spilling out musical ideas.
The demos they recorded then became the basis for the new Papa Roach CD, "Lovehatetragedy."
"On the Ozzfest, it was just a good time to be creative because there was a lot of spare time," Shaddix said. "So Tobin, Dave and Jerry just kind of got in the back of the bus just putting their ideas down, and I just kind of went out and partied and numbed myself. Then when I came off the road, like we had a demo with like 26 different ideas, and they said: 'OK Cobe, kind of go at it and see what you can come up with.'"
The ability to write much of the music for "Lovehatetragedy" on tour served Papa Roach well, Shaddix said, because the band wanted to finish the new CD quickly and not lose the momentum built behind the popularity of "Infest."
That sense of urgency is understandable, considering the band, which formed in 1993 in the Northern California town of Vacaville, had released two EPs and two full-length CDs before even getting its major-label record deal and recording the "Infest" CD.
"We've been together nine years. We're not done yet," he said. "We can't just be together nine years and put out one hit record and then be done."
Technically, Papa Roach can't be called a one-hit wonder. "Lovehatetragedy" immediately produced a top-10, alternative-rock hit in "She Loves Me Not." The CD, though, after debuting at No. 2 on Billboard magazine's album chart, has faded off the chart. That happened even though the CD won impressive reviews, with Rolling Stone magazine giving it four of five stars and Spin magazine rating "Lovehatetragedy" eight on a scale of 10.
The early acclaim is justified, as Papa Roach has found a way to bring a strong melodic bite to its crunching brand of hard rock. The band comes out of the gate full throttle on the blistering rocker "M-80 (Explosive Energy Movement)," and mostly maintains the intensity after that. Tracks
such as "Time and Time Again" "Walking Thru Barbed Wire "She Loves Me Not" rock confidently, as potent guitar riffs meet head on with vocals that are urgent, agitated and at times richly melodic.
"Lovehatetragedy" also takes Papa Roach in fresh musical directions. Where "Infest" featured a prominent rap element, the new CD separates the band from other rap-rock groups like Korn, Limp Bizkit and Linkin Park by shifting the sound toward traditional hard rock. In fact, the only song with a rap is the first single, "She Loves Me Not."
"I'd say on this record there is still some influence from hip hop, even if it's from beats, just kind of the groove sometimes of the music," Shaddix said, while acknowledging the lack of outright rapping on "Lovehatetragedy. "On, on this record the stuff the band was writing, I just couldn't hear myself rapping over it … I just really wanted to find my (vocal) range and just really like become solid within my range so maybe on the next record I can expand on that even more.
"I wasn't the greatest MC in the first place," Shaddix said. "Pretty much I think the melody behind it amplifies the emotion within the lyrics. Because I mean, my lyrics are like really, really straight-forward. I don't use a lot of metaphors and I'm not super-elusive with my lyrics. I'm just really straight up, so the melody kind of adds color to it."
Papa Roach plays today – April 3 – at Pop's, 1403 Mississippi Ave., Sauget, Ill.. Tickets
for the 8 p.m. show, which also features Nonpoint and Reach 454, cost $18 the day of the show.