Panthers fall to Mustangs, now will face Fox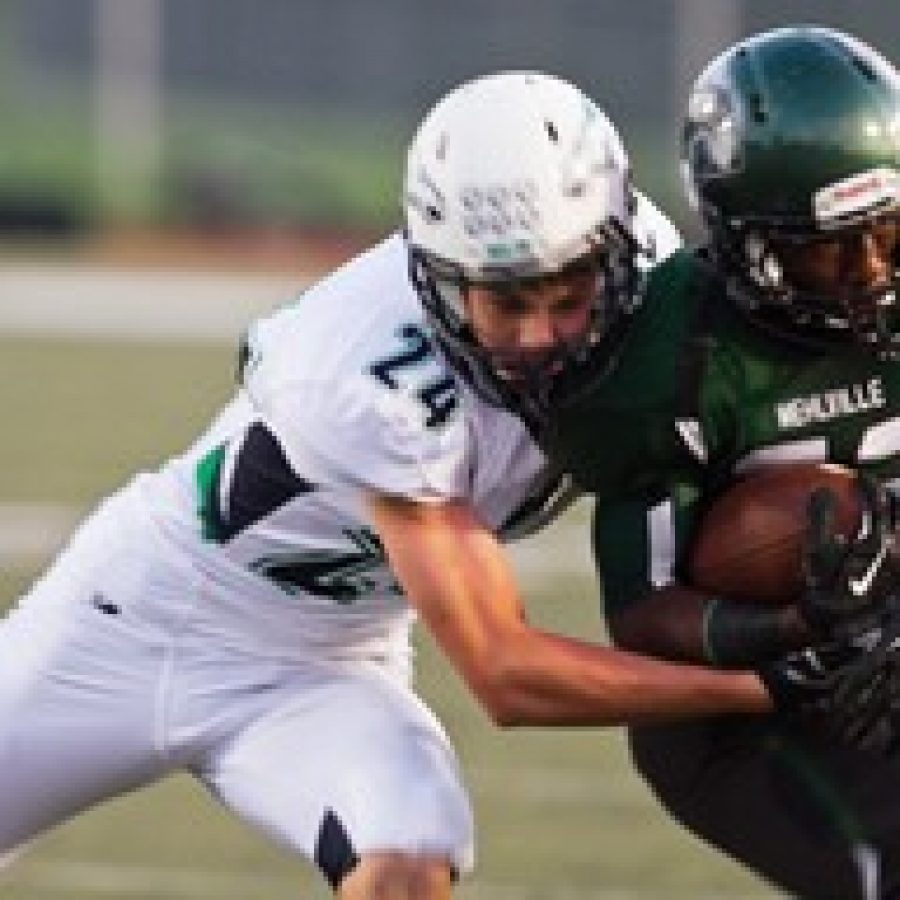 Members of the Mehlville Senior High School varsity football team just wanted another victory when they took the field Friday night for their homecoming game against Marquette.
But the Panthers came up short, falling 31-14 to the Mustangs.
Panthers head coach Kent Heinemann said that it was a hard-fought game, but his players made costly mistakes.
"I thought we played hard. Up front, Marquette was much more physical up front with us. They won that battle. I thought we played pretty well defensively but we didn't really get anything going offensively," he said.
The Panthers have struggled this season, dropping their first three contests before picking up their lone victory when they closed the door on Seckman 33-9. Players were anxious to get back out on the field and get another win — especially the seniors in front of their homecoming crowd.
"Homecoming is a huge game for them, especially those seniors were pretty bummed to lose their senior homecoming," Heinemann said. "But we try to just tell them, we know it's a big game for them, but at the end of the day… it's another game.
"It's not any more important than the others, and we still have a lot of football left to play. We can still turn it around. We still have a chance at playoffs, so we just try to keep them positive in that manner."
There is a lot of truth to the statement about having a chance come playoff time.
In fact ,the Panthers, despite being 1-4, are in first place in the Suburban West N Conference because their only win was against the only league opponent they have faced this year.
Mehlville will play three straight league opponents — Fox, Northwest and Oakville — so the Panthers will have to make some adjustments to take advantage of their schedule and keep their place in the standings.
"It just really comes down to execution. We are making mistakes. We fix a couple here and there, and then we make other mistakes. It's being consistent, not shooting ourselves in the foot, you know. We seem to be our own worst enemy at times," Heinemann said.
Mehlville plays at Fox this Friday and on top of hoping to win the game, the outing will have some special meaning to the players and the fans for both teams.
"This is a big game for us," Heinemann said. This is our 'Huddle up for Heroes' game, raising money for the Wounded Warrior Project and the Project Outdoors. We'll all be in camo jerseys. The kids get really amped up.
"They get inspired … We tell the kids you're raising money for our nation's military, but we are also kind of playing for them. Last year was our first year doing that and they got very, very pumped up for it …"
Both teams will be selling T-shirts and collecting donations at the game.