Board of Freeholders is happening: Krewson appoints for city, Page still taking applications
County Executive Sam Page signs ethics reform executive orders into law Sept. 18 in the county executive's office. Photo by Erin Achenbach.
Election authorities in the city and county on Monday certified signatures turned in by the Municipal League of Metro St. Louis to force the appointment of a Board of Freeholders to examine a city-county merger or other forms of governance for the region.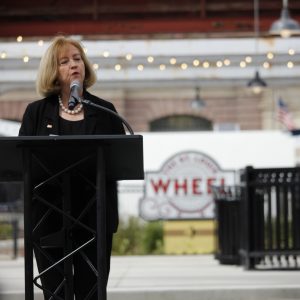 St. Louis County Executive Sam Page and St. Louis Mayor Lyda Krewson will appoint nine members each and Gov. Mike Parson will appoint one member to the 19-member board, which Page promises will be diverse and will not go in with preconceived notions of how to reorganize city-county government.
He pledged to take the full 10 days to make his appointments, and he said he won't tell his appointees what to do.
Page said last week that so far, he's received "a lot" of applications, too many to count. He welcomes more. For more information on the Board of Freeholders, visit stlmuni.org/board-of-freeholders. To receive or submit an application, email Elizabeth Mierzejewski at emierzejewski@stlouisco.com.
"We're reviewing the list and we're talking about it," he said, adding, "We will have a Board of Freeholders that is diverse demographically, represents St. Louis County and represents different points of view."
Krewson named her nine appointees Monday. They are:
Abdul-Kaba Abdullah (Independent)

Bridget Flood (Democrat)

LaShana Lewis (Democrat)

Taunia Allen Mason (Republican)

James Mathis (Republican)

Rev. Earl Nance Jr. (Democrat)

Eddie Roth (Independent)

Jerry Schlichter (Democrat)

Dan Zdrodowski (Republican)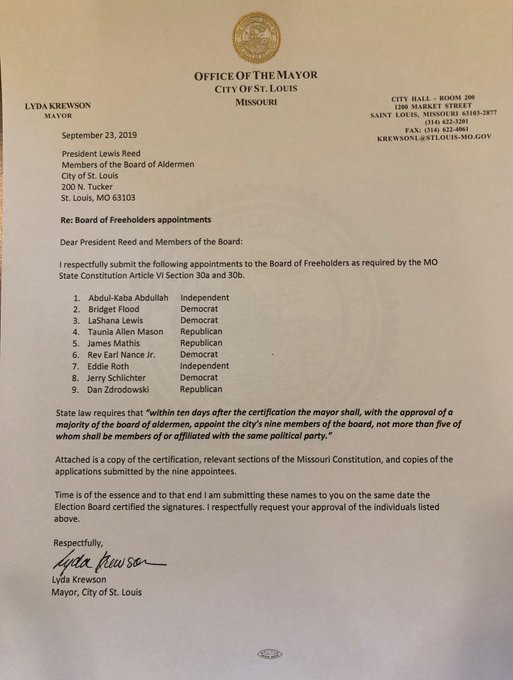 On Monday, Page tweeted that his office had already received over 100 applications but that he was still accepting applications and listening closely to the community.
More than 100 people have indicated an interest in serving on the Board of Freeholders. We are still accepting applications, listening closely to the community along the way.

— County Executive Sam Page (@DrSamPage) September 23, 2019