Officer Blake Snyder's parents thank nurses, doctors and first responders
First of two parts: Hospital staff treated Snyder with dignity, his mother says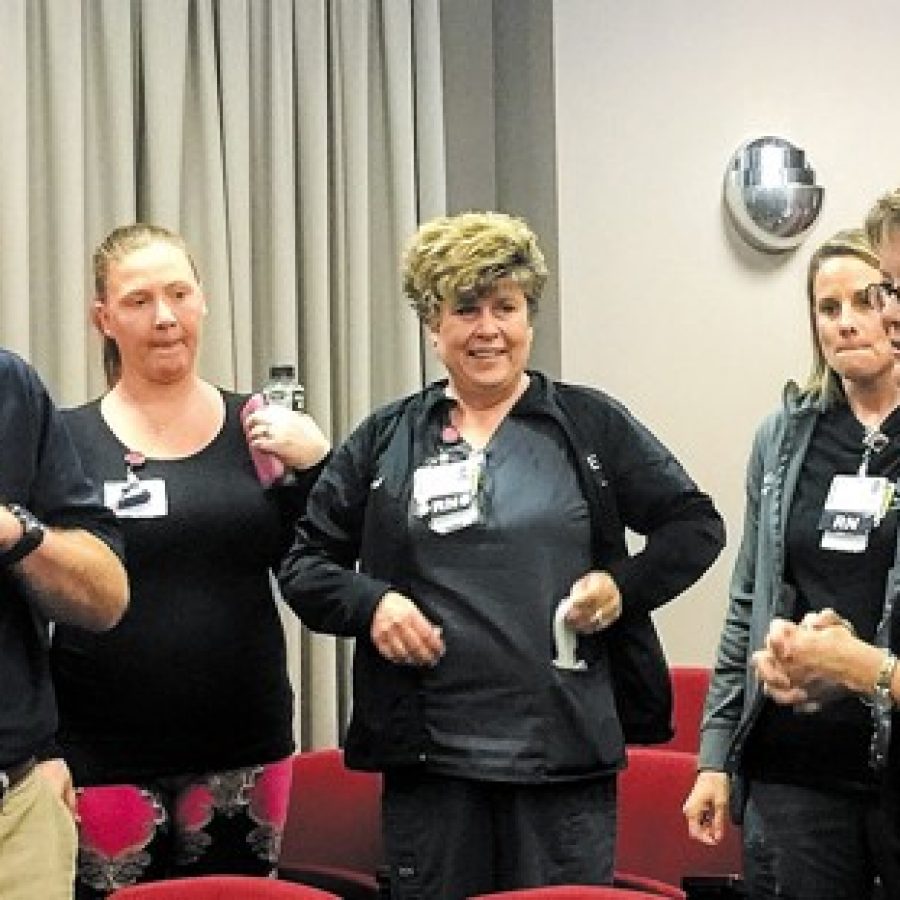 First of two parts
The parents of Officer Blake Snyder spoke publicly last week for the first time since their son's death to personally thank his nurses, doctors and first responders and give them a glimpse "behind the badge" into the life they tried so hard to save.
St. Louis County Officer Snyder, 33, of the Affton Southwest Precinct, was shot and killed while responding to a disturbance call in Green Park in the early morning hours of Oct. 6. An 18-year-old from Affton, Trenton Forster, is charged with first-degree murder in what might have been an ambush.
When Peggy and Dick Snyder, who live in Godfrey, Ill., found out their worst fear had come true and their son had been killed in the line of duty, their world came crashing down, Peggy said last week as she returned to St. Anthony's Medical Center for just the second time since that day.
But even in the midst of her grief the day her son died, Peggy Snyder went searching the halls at St. Anthony's for his nurses, using the excuse that Snyder's 2-year-old son Malachi, called Chi, needed to go for a walk. She spent 35 years as a nurse before her recent retirement and most recently worked as a trauma nurse at Cardinal Glennon Children's Hospital.
Although she was surrounded by police officers and chaplains who would later become like family, "I was a desperate mom, my soul was crushed, and I cried and screamed — I'm sorry for that," she said. "But I have walked in your shoes. My heart was bleeding for you. I was desperately looking for you."
In the six months since that day, Peggy Snyder often thought of the nurses and doctors whose efforts in her son's last minutes comforted her even in her darkest days of grief. And there wasn't a dry eye in the St. Anthony's auditorium as she finally spoke to those nurses and doctors for nearly 45 minutes last week, before hugging each of them. Three Mehlville Fire Protection District firefighter/medics also attended, along with several officers from the Affton Southwest Precinct.
"You held my son's hand, you heard his last breath, you felt his last heartbeat," Peggy Snyder said. "I'm so grateful he didn't have to die alone."
A few nurses and doctors knew Blake Snyder because he would bring patients to the emergency room, but for others, the first and only time they met him was as they tried desperately for an hour to resuscitate him.
"Thank you for everything you did to save my son's life," she told them.
Every mother, especially one who is a nurse, wants to believe that she is the best caretaker their child will ever have, she said. But as a nurse, she knows that the St. Anthony's staff gave her son "unconditional love" and care.
"You all played that role of me, of being that caretaker for him in his last moments," she said. "I'm so thankful that you treated him with dignity and love."
But especially for those who never knew him other than as a police officer fighting for his life in the emergency room, she wanted to let them know about the man he had been, the boy he once was and the son she will always miss.
"I don't want you to see Blake as a trauma," she said. "I want you to see him for who he really was. Police officers, they're just like us."
Long before Blake Snyder was a police officer and the "newest American hero," as Chief Jon Belmar called him at his funeral, he was Peggy and Dick Snyder's son growing up in Godfrey, a "very strong-willed child, very hardheaded" as she delicately phrased it.
After he got married and moved from architecture to working as a police officer while his wife, Elizabeth, went to school, Peggy Snyder said she couldn't help but worry about him working nights in Affton, and whether it would work out for his little family in the end.
Ever the optimist, Blake would always tell her, "It's OK, Mom. Don't worry, everything's going to be all right."
Snyder told the emergency staff that she hoped they noticed her son's "beautiful black hair" while he was at St. Anthony's.
"I always wanted a little boy with beautiful black hair," she said. "I'll never forget that beautiful hair that I loved."
On the last Mother's Day they ever spent together, Blake gave her a card referencing both his rebellious childhood ways and his "Chia pet" head of hair — which to his mother's horror, he once shaved off at a friend's house when he was in fourth grade. With a skunk on the front, the card read, "Happy Mother's Day from your little stinker."
"I hope that you got to see the twinkle in his eyes, his beautiful eyes," so striking that a pediatrician once accused her of using mascara on her son, Snyder said. "Chi kind of has that little twinkle in his eye, too."
The public is more familiar with Snyder's smile, and his mother said she hoped the nurses got to see it as she did so often and still does in photos, because he was always smiling.
"I hope you got to see his arms and how strong they were," she said, from years of soccer, running, police work and throwing his son in the air.
"As a pediatric trauma nurse, you can imagine that I was horrified to see that, because I've seen that go wrong," she said. "But the smile that came to both their faces made it worth it. His arms were so strong, and they gave the best hugs. There was not a day that he left us that he didn't hug us goodbye. I miss those hugs."
When Snyder's nurses heard his last heartbeat, his mother said she hoped they "heard the heart of a servant. He was called by God to serve and protect. His heart showed his love."
She sometimes has a vision that comforts her when she misses her son. As she closes her eyes, she sees Blake, wearing shorts and a T-shirt rather than the police uniform that everyone else knows.
"As I close my eyes, I see God's hands reaching out to him," she said. "He pulls him up and he shakes his hand, he takes his arm, and he says, 'Welcome home, Blake, well done, my good and faithful servant.'
"And Blake turns to me with that beautiful black hair and that sparkle in his eyes, with that big beautiful grin, and he says to me, 'It's OK, Mom. Don't worry, everything's going to be all right.'"
Next week: Officer Snyder's parents on whether they view their son as a hero and what it means to be a police officer today.