Oakville students study genetics, heredity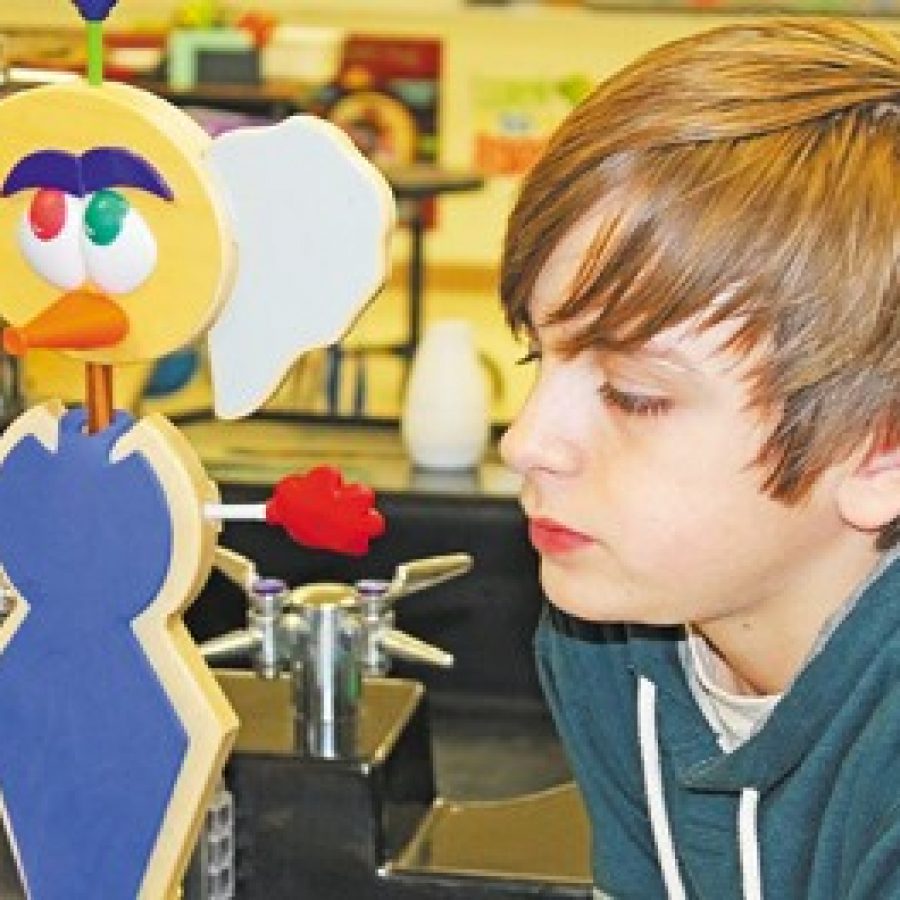 Oakville Middle School students are studying genetics and heredity thanks to a grant science teacher Jenn Walter received through an educational philanthropic website known as
.
Walter's $1,200 grant application, for an educational game called 'Crazy Traits,' is designed to demonstrate survival of the fittest.
"They are crazy creatures you can build to help students learn about patterns of inheritance," Walter stated in a district news release. "First, students have to find out the traits of their creatures. They have to discover the genotype by flipping coins which represent alleles."
Walter said the flip of the coins demonstrates the traits parents can pass to their offspring. Once students have filled out a profile featuring their creature's characteristics, they have to construct him or her according to whether the creature has a tail, eye color, hands or paws, et cetera.
"It follows exactly with our curriculum," Walter stated in the release. "Several of our goals or grade-level expectations are for students to be able to know how traits pass from parents to offspring, and how organisms can best survive in their environments."
Walter said more than half of her funding came from the Bill and Melinda Gates Foundation.
"And the last of our funding came from our school PTO," she stated. "They chipped in too. We are very grateful."
Anna Layton is another seventh-grade science teacher who was chosen to receive grant funding from
.
"Teachers can put up profiles describing things they need in their classroom," said Layton, explaining how the website works. "People can then choose to donate money to fund your project."
Layton applied for funding for almost 2,000 LEFO blocks. Her students are using them on a study of the scientific method.
"Part of that process is writing a really good procedure," Layton stated in the release. "So I asked for these LEGOs and the kids are building something — whether it's an animal, or fruit, or whatever. They're building something and writing a procedure about how to build it. Then they give the procedure to another student and see if that person can do it.
"It's all about perspective and using not just words, but illustrations. They use fine details and talk about color and dimensions, and whether it's tall or short, or has wheels or axles. All these are key words to make something make sense to the whole group."
Layton said the students are learning about process.
"Everything requires a system," Layton stated. "Being able to understand multiple instructions and give directions in multiple ways will be a very good thing for them."
Julia Klump is a seventh-grader who built an Olympic medal out of her plastic LEGOs.
"My goal is that the student I give my paper to will be able to build the exact LEGO Olympic medal that I built," she stated in the release. "If they needed two-by-two blocks of yellow, then I put that in the procedure. Then I put what block to put it on, so they would eventually build my medal. Pictures are really important."
Seventh-grade student Michael Pender is building a car that features stairs as an accessory.
He stated, "It's like when you buy Legos from the store and they come with instructions. We're kind of doing that, except we have to draw them ourselves. The LEGO blocks have circles on them to make them stick together. Some of them are two-by-fours, or two-by-sixes, or one-by-eights. You can use that as a reference for the picture, to synch the two."
Gracie Smith, another seventh-grader, is building a robot.
"I build a little and write a little as I go along," she said, speaking of the procedure process. "It's kind of like a rough draft, then I re-do it. We are supposed to add lots of details like colors, and left-right, up-and-down instructions."
Gracie said if another student can look at the instructions and clearly build what she had in mind, then she'll know she had success.