Oakville students named athletes of the month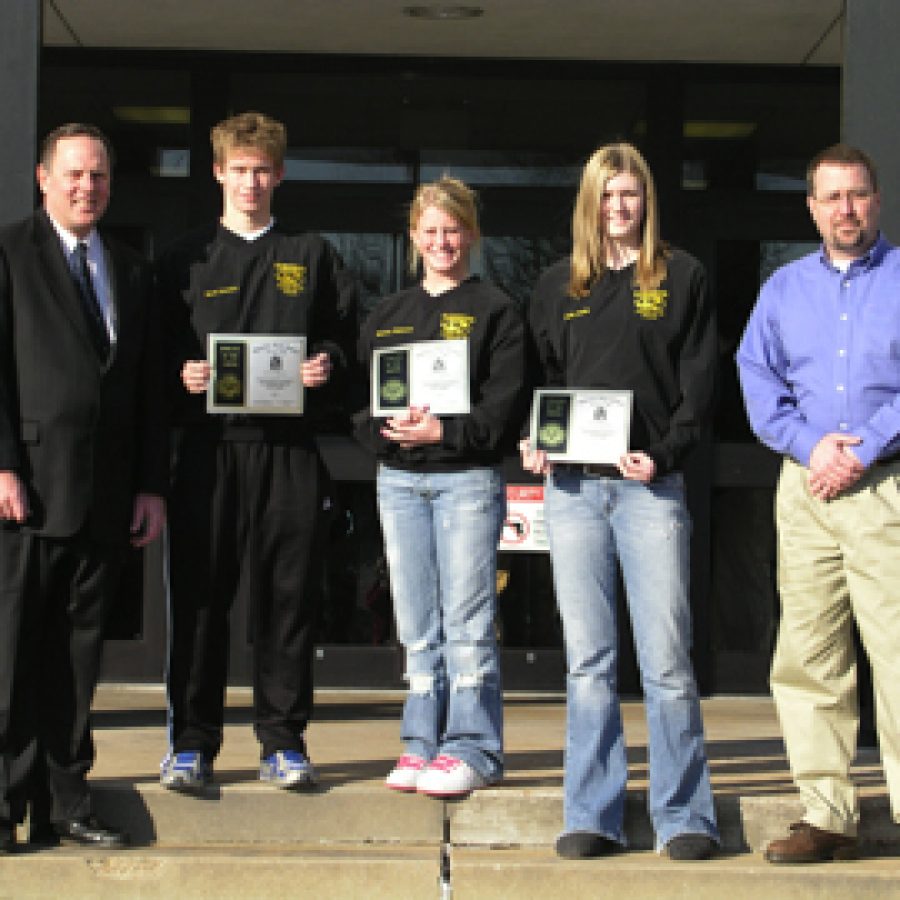 Three athletes from Oakville Senior High School recently were recognized by industry leaders for their accomplishments during the fall sports season, according to a Mehlville School District news release.
As part of a new program, the school will select an "Athlete of the Month.
Recently, three student athletes received awards for their outstanding performances during the months of September, October and November.
Emily Austin, September, Miriam Wegmann, October and Scott Greubel, No-vember, were selected by a committee of Oakville coaches as the school's first recipients of the Athlete of the Month award for 2004-2005, the release stated.
Donald Olenyik of Edward Jones Invest-ments presented each athlete with personalized certificates signifying their selection. Each athlete also received an Oak-ville black and gold shirt from Don Beile of Priority One Promotional Products and Services.
As a member of the volleyball team, Austin, 16, tallied 166 kills and 125 blocks with 91 solos and 34 assists in 78 games, according to the news release. Offensively, the sophomore is credited with one ace on serve.
Her parents are Melinda and Samuel Austin.
Wegmann, 17, played second base for the Oakville girls' softball team. The senior earned First-Team All-State, First-Team All-Metro and First-Team All-Suburban West Conference honors and was the conference's 2004 Player of the Year, the news release stated.
Wegmann batted .458 with four home runs and 25 runs batted in. With 44 hits in 96 at-bats, she scored 33 runs. Defensive-ly, she had a 98.2 fielding percentage.
Recently, she was awarded a scholarship to attend Columbia College. Her parents are Anne and Matthew Wegmann.
Greubel, 17, a defenseman on Oakville's varsity soccer team, was selected for the St. Louis Post-Dispatch All-Metro third team. He also earned first team honors for the Suburban West All Conference, the re-lease stated.
He also received the team award for Outstanding Player at Oakville's banquet in December, the release stated. Greubel, a junior, is the son of Janene and William Greubel.
Following the winter sports season, Oakville High will select an "Athlete of the Month" for December, January and February, the release stated.
Award winners for the months of March, April and May will be chosen following the spring sports season.