Oakville resident still going strong at 100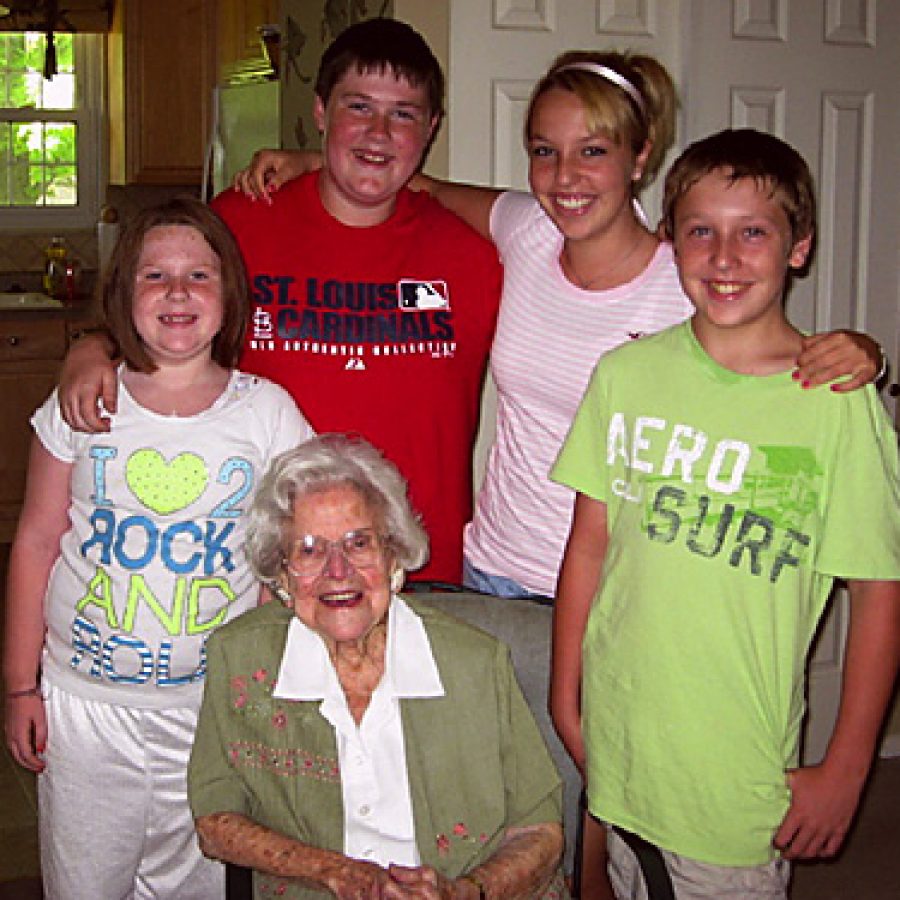 Verna Cole of Oakville cheers in the stands at her great-grandsons' games, avoids medication and still enjoys lunch at Jack in the Box.
You'd never know she's 100 years old.
Cole celebrated her centennial Aug. 1.
The secret to her flawless aging lies in good family genes, as both of her grandmothers lived well into their 80s.
Even today, Cole maintains a significant amount of independence and continues to baffle health professionals.
"I think I offended my doctor for a long time," she said. "He was wonderful man. I often went, and I'd feel a certain way. Then the next couple of days I wouldn't notice what I went there for. Sometimes, I didn't take it (the medication). I think I insulted him."
In recent years, Cole gave up driving, but it wasn't her age that took her off the streets, it was her car.
"I drove until I was 94," she recalled. "I went out to a lot of bridge clubs and parties with friends. I hated to give it up. I hadn't had any accidents. But they wouldn't renew my license because my emissions wouldn't work in my car."
However, her lack of wheels doesn't keep her from being an active member of her family. She has been blessed with two children, five grandchildren and 10 great-grandchildren. Even now, she habitually attends her great-grandchildren's after-school activities.
"Oh, I love to go," she said. "It's a little difficult now. At home I just use my walker, but they have a cart (wheelchair) that they push me in now. It's wonderful. I love to go to the kids activities. The boys play football and baseball. And the girls, well two of them are dancers."
While her great-grandchildren enjoy the luxuries of after school activities, Cole grew up in a different time. She graduated from Cleveland High School at the age of 14 and spent the next several years of her life working as a stenographer.
"Everyone was struggling, and people were anxious to earn money," she said. "I went to work before I was 15, and I worked for various companies most of my life.
"What everybody does today on those little machines, I did with shorthand."
Cole married her late husband, Sidney Cole, during the Depression and continued to work as a stenographer until her first child was born. In later years, the couple developed an interest in travel, and as time passed, they extended their love of it to their family.
Cole's granddaughters, Sherri Stolle and Debbie Fruekes, have numerous fond memories of the generous family vacations inspired by their grandparents.
"My grandma and grandpa were always very interested in travel," Stolle said. "They did a lot of traveling through their whole lives, and when we got older they shared that love of travel with us. They took us to St. Thomas, Hawaii and on cruises. Things that most people never get to experience we all got to experience at a young age."
"Grandma has been a great part of our lives and has shared everything with us," Fruekes said.
Cole attributes her excellent and full life to the blessing of her wonderful family.
"I had a great husband," she said. "Great kids, great grandkids and great great-grand-kids — I couldn't expect more."
In honor of Cole's 100 fabulous years, four generations of family and numerous friends gathered at the Sunset Hills Country Club Saturday. Relatives traveled from as far as Ohio, Colorado and Nebraska to attend the event.