Oakville High fight makes national news after students arrested, principal injured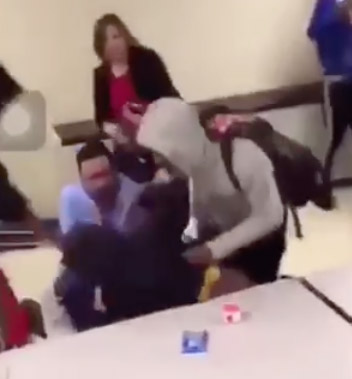 Viral video of a fight at Oakville High School made national news this week, as three students were arrested after a fight broke out that also injured an administrator trying to break it up.
At roughly 7:10 a.m. Monday, before classes began for the day, a 15-year-old student and two 16-year-old students got into a physical fight in the school's cafeteria before school administrators stepped in to intervene.
Video of the fight taken by another student went viral on social media platforms such as Snapchat and Facebook, which had the immediate effect of concerning parents and prompting the Mehlville School District to send an email from Principal Jan Kellerman to OHS parents reassuring them that "all our staff and students are OK."
See one of the videos of the fight below:
The St. Louis County Police Department said that no charges would be filed by the St. Louis County prosecutor since the three students involved are juveniles, although they could face expulsion from school.
Charges could be filed in juvenile court, but those records are closed to the public.
"They will be referred to St. Louis County family courts," said police spokesman Sgt. Shawn McGuire.
Videos, taken from at least two different angles by at least two different students, shows Oakville High Assistant Principal Brian Brennan being dragged into the brawl after attempting to de-escalate the situation and protect a student. Dozens of students crowd around the fight, with some cheering on the combatants.
Other school administrators and a School Resource Officer, or SRO, were also caught up in the fight as they attempted to intervene.  The video appears to show new Assistant Principal Casey Olearnick being dragged to the ground by students, and Kellerman also rushed into the fray.
The students involved in the fight were treated by the school nurse for minor injuries. Brennan was taken to urgent care with minor injuries.
"We are investigating the fight, and we'll take action based on our disciplinary policy," said Mehlville Communications Director Jessica Pupillo. "Due to privacy issues, there's not a whole lot more I can share. School continued on that day and was safe and kind of business as usual."
Days later, the video was the centerpiece of a discussion on the daytime chat show "The Talk."
After the show played the video, "The Talk" co-host Sara Gilbert asked, "Why do you think some young people today have no respect for authority?"
"I think this all goes back to social media… When I grew up, adults, you just respected them," said guest host Carrie Ann Inaba of "Dancing with the Stars."
"How many times on this show do we watch young people attacking somebody else, attacking each other, and they videotape it and they put it up, and they have no conscience about what they're doing because they're not taught right from wrong?" asked co-host Sharon Osbourne.
"Now they're seeing people get celebrity by being disrespectful — now it's just taking it to a new level," Gilbert said.
Locally, Mehlville Board of Education President Samantha Stormer agreed with that sentiment on Facebook.
"I'm completely disappointed with the fact that we had students recording and cheering for the fight. Then posting it to social media like it was some trophy," Stormer posted. "I hate the 'back in my day' lines but seriously, it's no wonder this world is as screwed up as it is. We would have stepped in to help, not stood back with a phone recording cheering it on."
Mehlville board Vice President Larry Felton wrote on Facebook that he was completely satisfied with how the district handled the situation.
"I have no frustration," he said. "I have every confidence the administration will handle the incident according to district policy, which includes FERPA restrictions on dissemination of student information."
The reaction from the public is out of the district's hands, Felton noted.
"When this was posted to Facebook, control was lost," Felton wrote. "Now the narrative is lost, and anyone can interpret it as they see fit."
"I don't think the video reflects negatively on the school, it actually does the opposite and shows how well our staff can handle these situations," Stormer posted.
She added in another post, "The video actually shows how well prepared our staff is to handle situations and what they will do for our kids in this district. This doesn't reflect negatively on the board, the district or even OHS. It reflects negatively only on the students involved and those that recorded the event and were cheering it on. Unfortunately the video only shows some of what really happened, so the 'citizens now forming their own opinions' are doing just that, giving their opinions on half the story."
Read the letter sent to parents from Oakville High School Principal Jan Kellerman below:
Dear Parents,
This morning before school started, there was a fight in the school cafeteria involving three students. Several administrators intervened and broke up the fight. We understand that video of the fight has been shared on social media, and we've received several calls checking on the welfare of our staff and students. All our staff and students are OK.
We are investigating the matter, and discipline will be rendered as detailed in our district disciplinary policy.
Thank you for your concern.
Jan Kellerman
Principal
Oakville High School