Oakville girls set sights on state trophy
Seniors to lead by example on '10 Oakville softball team.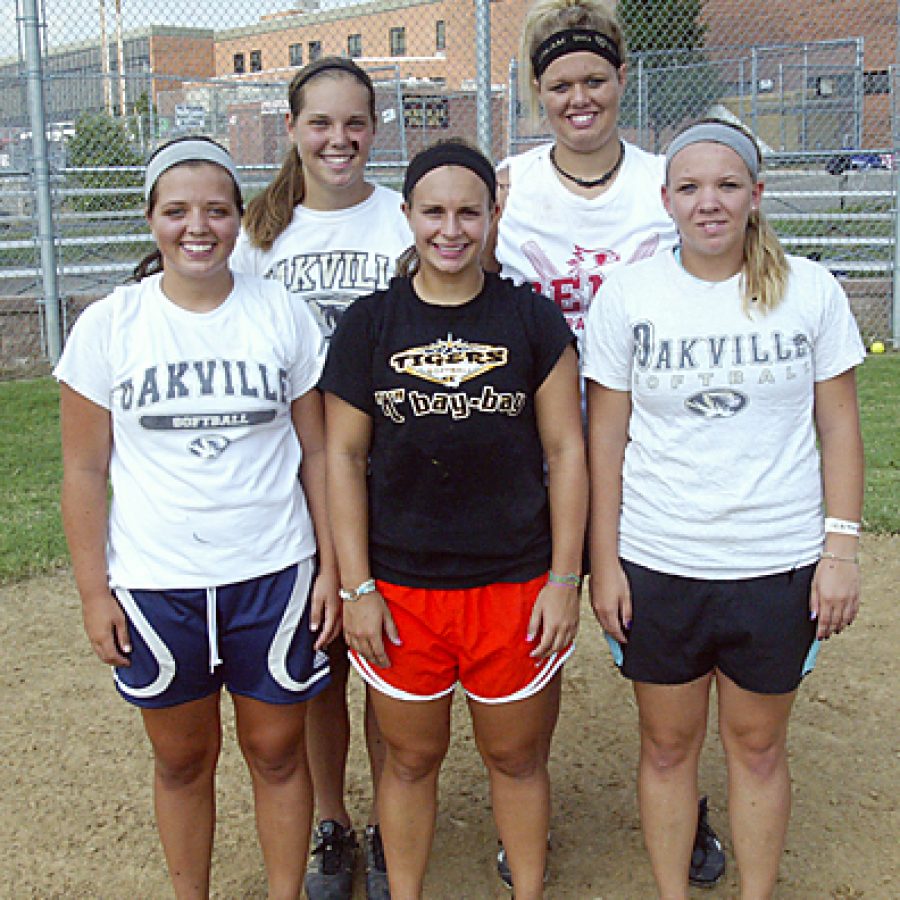 Opposing coaches of the Oakville Senior High School softball team might breathe a sigh of relief after finding out which players the team lost to the 2010 graduating class, but their stomachs will be twisted once they see who's back.
The Tigers finished as Class 4 state runners-up last season behind four seniors that included three starters who all hit for averages above .300 and the state's all-time hits leader and 2009 St. Louis Player of the Year Maggie Ruckenbrod.
But head coach Rich Sturm doesn't have to restock the cupboard because seniors Remy Edwards, Danie Farnam, Julie Kernen and Chloe Wolf have Sturm believing another state trophy is within reach.
"We don't worry about how many hits you got or who makes the plays. We're more concerned that we win. If we can replicate that as a team with this group, who knows how far we can go?" Sturm said.
Learning the concept Sturm has been instilling since becoming head coach in 2002 has helped Oakville claim second-place trophies in 2005, 2007 and 2009, a third-place trophy in 2004 and quarterfinal appearances in 2006 and 2008.
Bringing home hardware in 2010 will again depend on the players' willingness to be a team.
"The most important thing is team chemistry and how well they'll gel. In all my years at Oakville, I think that (2009) team was closer than any we've ever had," Sturm said.
The responsibility is the seniors'.
The University of Miami (Ohio)-bound Edwards is an All-State pitcher who also plays shortstop and is comfortable with the bat.
Kernen will attend the University of Tulsa on a softball scholarship after starting all four years for Oakville. The third baseman is a three-time All-State player.
Wolf will start for the third year at first base, and Farnam returns to left field for the Tigers. Kernen, Edwards and Wolf each hit above .315 last season.
Making the Tigers' lineup even more imposing is junior Lauren Fussell, who is coming off labrum surgery after a soccer injury in the spring. Sturm may move her from the outfield to the infield to protect her.
"She's a three-sport athlete, which is rare these days. She's been an unbelievable outfielder for us, but she can be a really good second baseman, too," Sturm said.
The other positions aren't locked in for the Tigers as many girls have shown they want to join the lineup.
Sophomore Hannah Lance will likely be the first option to relieve Edwards in the pitcher's circle.
"There could be a couple of freshmen, a couple from the JV squad, and some kids that were on varsity but didn't see much time last year," Sturm said. "A lot of responsibility falls on (the seniors') shoulders to lead them."
Edwards, Farnam, Kernen and Wolf have big shoes to fill.
"Great players don't just get hits and make plays and strike people out," Sturm said. "They make everyone around them better. That's what you expect your seniors to do, to help the girls get through that nervousness and anxiety that you have before getting the experience."
Oakville Varsity Softball
Sept. 1 Conference Tourney A TBA
Sept. 3 Northwest H 4:15 p.m.
Sept. 7 Lafayette A 4:15 p.m.
Sept. 8 Seckman A 4:15 p.m.
Sept. 9-11 IWA Tournament A TBA
Sept. 14 Lindbergh A 4:15 p.m.
Sept. 15 Hillsboro A 4:15 p.m.
Sept. 16 Mehlville H 4:15 p.m.
Sept. 17 Parkway West H 4:15 p.m.
Sept. 21 Parkway South A 4:15 p.m.
Sept. 23 Marquette H 4:15 p.m.
Sept. 27 Fox A 4:15 p.m.
Sept. 28 Fort Zumwalt East A 4:15 p.m.
Sept. 29 Affton A 4:15 p.m.
Sept. 30 Eureka H 4:15 p.m.