Oakville boys look to get their feet wet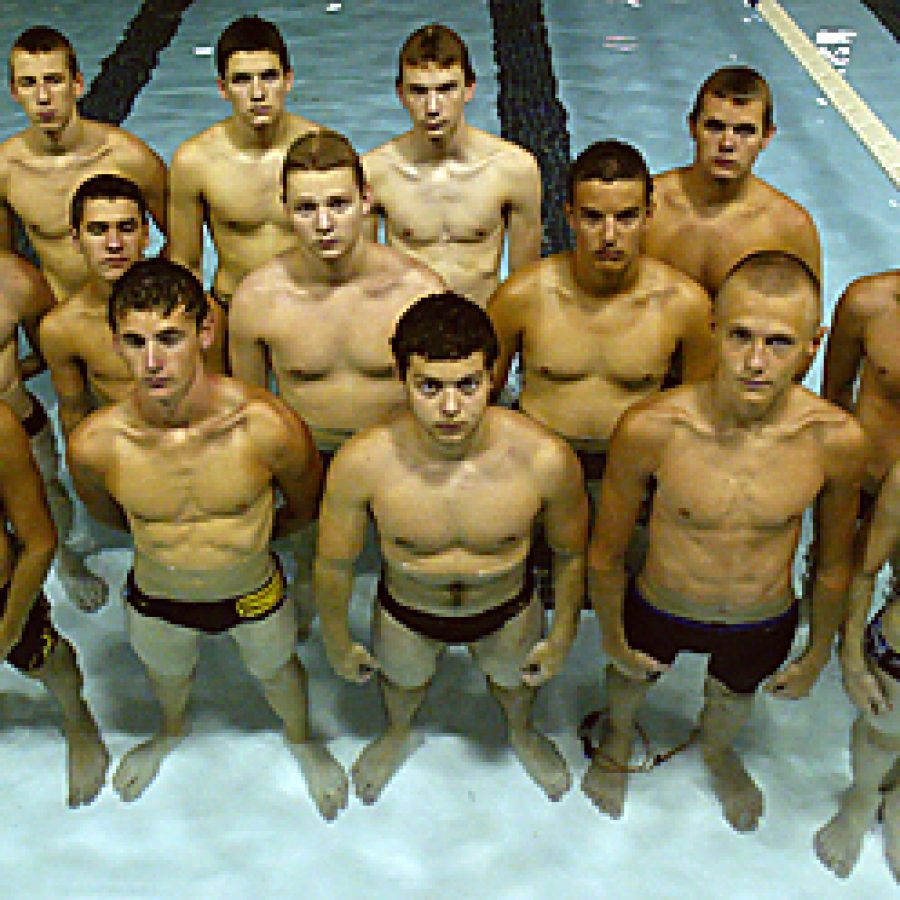 For the most part, members of the Oakville Senior High School boys' swimming and diving team were fish out of water when the season began.
Most of the team is new to the sport, and is learning the very basics of racing and diving.
"It's the youngest team I've ever had," 10th-year boys' swimming coach Dan Schoenfeldt said. "There are two freshmen with experience, and 10 have never raced or been in a swim meet."
Freshman Jake Landman is one freshman with experience, and it's showing.
"He's been our best practice swimmer," Schoenfeldt said after the first few practices.
With so little experience, Schoenfeldt wants to properly and patiently teach the Tigers so they can expect greatness in the near future.
"I'm looking forward to the next couple years. We are a very young team. Actually, 12 of the 16 are freshmen or sophomores," Schoenfeldt said.
The Tigers definitely have a steep uphill battle facing them this season.
"It's going to be a tough year. We're going to have to look at individual gains more than team wins because we have such a small team and we're young," Schoenfeldt said.
The Tigers still want to compete, though, and senior Andrew Shelton is expecting to make sure they do.
Shelton has state championship experience after he qualified in two events at last year's boys' state championships.
He raced on a relay team and placed 11th in the one-meter dive.
"He's hoping to take a run at state in swimming, and get in the top five in diving," Schoenfeldt said.
Oakville placed 30th in state after qualifying in four events, but five of the six Tigers who competed at state graduated.
Senior Brian Kaestner and junior Clayton Darnell join Shelton as the elder Tigers who will lead the way for their younger teammates.
"They're very raw. When you're athletic and this young, once they figure out their stroke, and that will take awhile, we'll see tremendous drops in time," Schoenfeldt said.
Schoenfeldt sees early success as the key to a strong future.
"It's a tough sport. It's a monotonous sport. I hope they have fun and stick with it because it could be a great few years," the coach said.
Oakville Swimming
Sept. 8 Lindbergh H 4:30 p.m.
Sept. 11 Ladue Invitational A TBA
Sept. 14 Lafayette H 4:30 p.m.
Sept. 22 CBC H 4:30 p.m.
Sept. 29-30 Rockwood Inv. A TBA
Oct. 7 Rockwood Summit H 4:30 p.m.
Oct. 12 Marquette A 4:15 p.m.
Oct. 16 Lindbergh Inv. A TBA
Oct. 19 Ladue H 4:30 p.m.
Oct. 21 Affton H 4:30 p.m.
Oct, 26 Mehlville A 4:15 p.m.