New Lindbergh school board members take oath of office; four veterans leave
Lindbergh Board of Education elects Schuster to serve as new president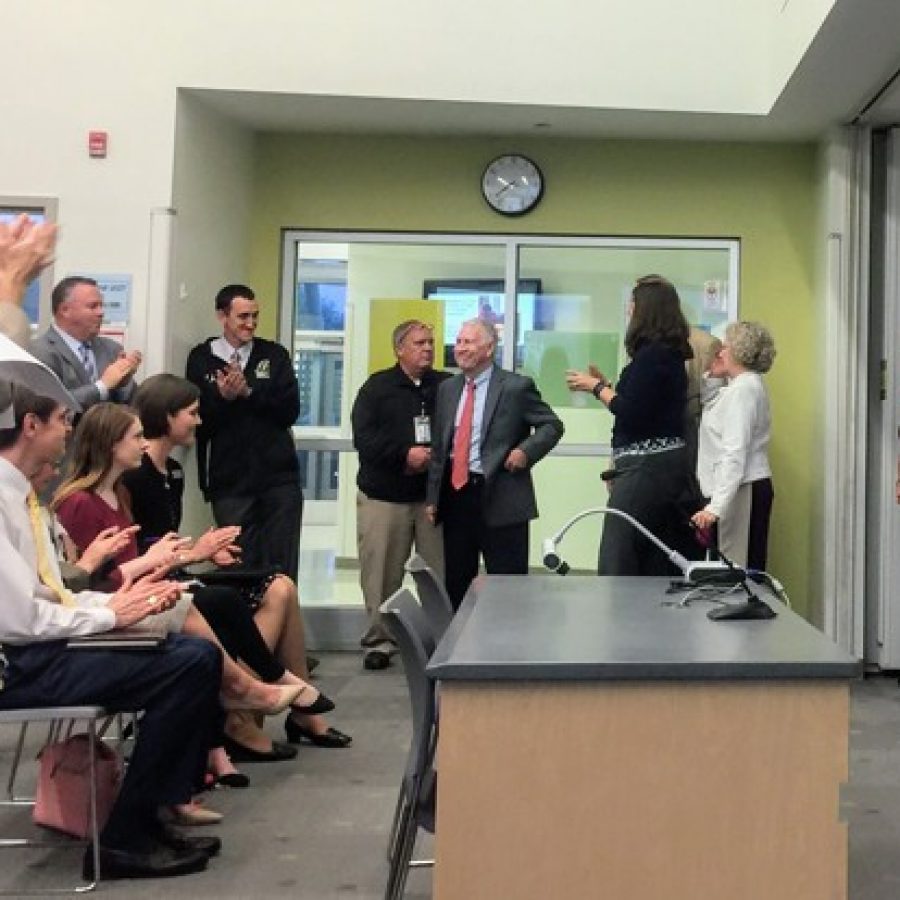 The new union-backed Lindbergh Board of Education majority was sworn in last week, and four veteran board members and educators departed after voters in the April 4 election mandated a change in the Lindbergh status quo.
New members Cathy Carlock Lorenz, Matt Alonzo and Christy Watz were sworn in for three-year seats on the board at the April 11 meeting, and Mike Shamia was sworn in for a one-year term.
Outgoing board President Kathy Kienstra and board Treasurer Vicki Lorenz Englund came in fourth and fifth in the seven-way race for the three-year seats, along with two longtime educators who are retiring from the board, Vice President Don Bee and Gary Ujka.
Kienstra and Bee both joined the board in 2008, which means they each had more experience on the school board than all seven members of the new board combined.
That's an unusual situation for Lindbergh, where veteran board members have typically served long tenures, Superintendent Jim Simpson said.
"We got four board members with no experience. We lost board members with a ton of experience, but our mission stays the same: What's the best for students?" Simpson said. "So if the new board, like boards of the past for Lindbergh, if they will make and base their decisions on what's best for students as their top priority, we will be fine."
The new board unanimously elected board Secretary Karen Schuster, the only board member with more than a year of experience, as president. Board members Jennifer Miller and Mike Tsichlis, who both joined last year, will serve as vice president and treasurer, respectively, and Shamia will serve as secretary.
The veteran board members left the boardroom at Lindbergh Early Childhood Education with little fanfare except for a standing ovation for Bee, a Lindbergh student, teacher and coach for many decades before serving on the board. Englund and Ujka are also both Lindbergh graduates who "bleed green and gold," as Ujka often said, first elected in 2011 and 2014, respectively.
But however they left, the legacy of Bee, Kienstra, Englund and Ujka in Lindbergh is lasting, Simpson said.
The district reigned as the top district in the state from 2009 to 2014, even during budget cuts, and saw many schools earn status as U.S. Department of Education Blue Ribbon schools or Missouri Gold Star Schools, which designate some of the highest-performing schools in the state and the country. The district is still ranked in the top five in the state.
"The thing that I believe when you say those four names — especially Kathy and Don, because they've got nine years — is under their leadership this district has soared," Simpson said. "It has become the top district in the state of Missouri academically. The finances have been rock solid, we've made a tremendous amount of great chess moves to handle growth, National School District of Character, Blue Ribbons, Gold Stars."
Kienstra, Bee, Englund and Ujka are the "sweetest, most dedicated, smart people" and should be "congratulated by the community" for what they've done for residents and students, Simpson said.
As Lindbergh's reputation as a destination district has grown, housing values have skyrocketed and housing markets under the four departing board members became some of the hottest in the country, he noted.
"If you wrote it all down under their leadership, you would almost say it can't be that good, that much achievement could not have occurred," Simpson said. "But it did. And I think they have to be extremely proud of that. The next 10 years, if they can match what they've done, this district will be absolutely stellar and a district successful like no other.
"So the new board has the challenge to meet the old board, the next decade to the past decade … This new board is filling some big shoes, big shoes. And we're going to be very hopeful they're up to the task, and I know the community has put their confidence in these people by voting them in."
Lindbergh officials will assist the new board in every way they can to keep the momentum going, but it is easier to run for office than make the hard choices needed from a board member, Simpson said.
"Campaigning's one thing, governing's another and so now the side of governing comes to our members, and they will hopefully do real well with that," Simpson said.
A good first step was electing Schuster as president, a "wise choice," the superintendent said.
The board faces a key test when it meets in May for a workshop for the 2017-2018 budget that will have to be approved by July 1. Budget deliberations have been contentious the last two years in Lindbergh as teachers have protested their pay raises. Chief Financial Officer Chuck Triplett will deliver his final budget this year, before he retires June 30. He will be replaced July 1 by current Meramec Valley Business Manager Joël Cracchiolo.
For the last several years, the board has juggled hiring new teachers to address the ongoing surge in enrollment with paying existing teachers more, with Simpson saying that the district gave teachers "every last penny we had" without slipping into deficit spending.
Negotiations have been underway since February, and the district still faces the same tight budgets under the new leadership, despite some residents contending that a cache of hidden money can be found somewhere in the roughly $68 million budget, Simpson noted.
"Governance is much different than campaigning," he said. "Once you get into the governance side, then numbers matter and you can only go where you can go, and then all of a sudden the rubber hits the road and it gets real real. There's a lot of people pinning hopes with the new board members that they will find a way to do major improvements in teachers' salaries, and as I think everybody agrees, including everybody who's looked at the situation, from the NEA to board members to the media — in Lindbergh, there is no extra cash.
"We're a lean and mean operation with no extra cash, we're living check by check … Millions of new dollars? There is only one way that's going to happen."
Teachers have urged residents to place a tax-rate increase for salaries before voters.
Another milestone will be the kickoff of the superintendent selection process, which will likely begin later this year. Simpson plans to retire next year after 10 years in Lindbergh.