National honor for adoption excellence goes to woman with south county ties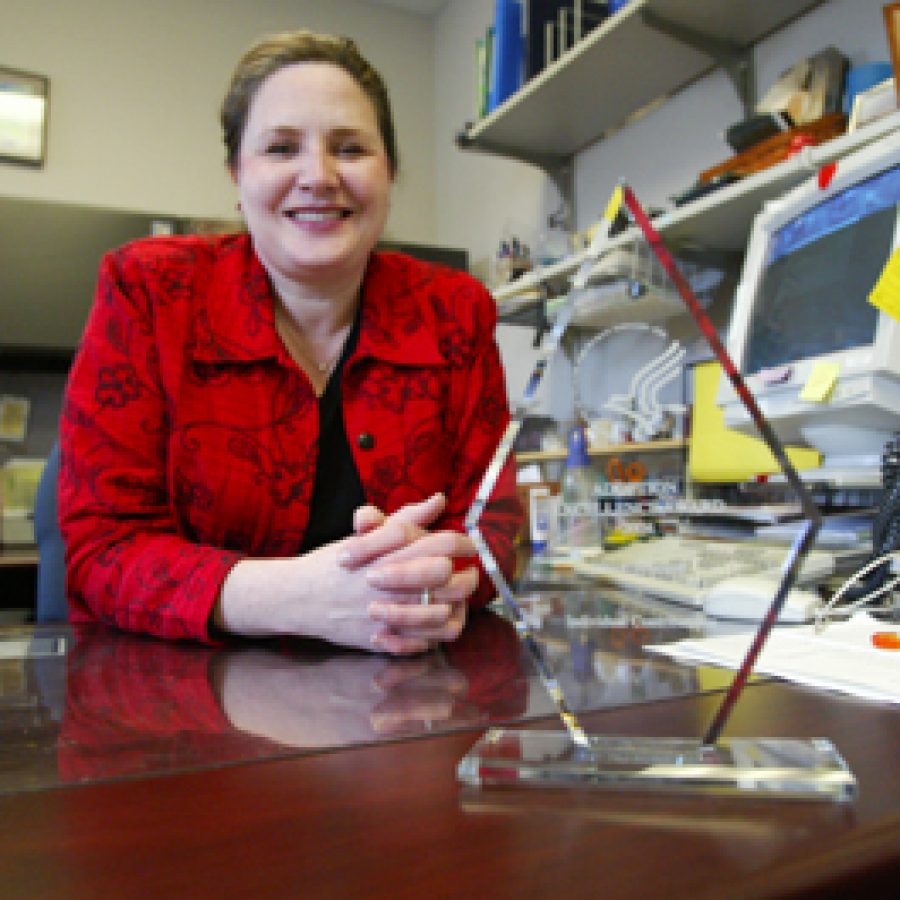 By BILL MILLIGAN
For the Mail Call
A Pacific woman with roots in south county is among 17 human services pro-viders recognized by the U.S. Department of Health and Human Services for adoption excellence.
Janice Scheurer, director of child welfare services at Lutheran Family and Children's Services, 8631 Delmar Blvd., was honored for assisting in 30 domestic adoptions and finding permanent residences for 152 children in foster care.
"Permanency meaning helping kids get to their forever families, whatever that might be," Scheurer told the Mail Call. "For ex-ample, in guardianships frequently their forever family might be their grandparents, or an aunt and uncle. In adoption, it may be their foster family who adopts them, or an older child; or in an infant adoption, their new adoptive family."
Scheurer's agency is statewide. Mis-souri's Division of Family Services contracts its services and last year the Luth-eran outreach took in 50 children for the state.
Her department provides pregnancy counseling called WINGS, Women In Need Growing Stronger. In addition, the program received funding from the Missouri Foun-dation for Health to help underserved pregnant women suffering from such mental-health issues as anxiety and depression.
"We had over 100 intakes from women who were pregnant or parenting and in crisis last year," Scheurer said. "We provided foster care for 52 kids under the age of 5."
After graduation from St. Louis Univer-sity in 1978, she worked for the St. Louis City Family Court's neglect and abuse section until 1988.
"That's where we did hotline investigations," she said. "I helped prepare cases go-ing to court, then I did a little bit of delinquency out in the field where I had a case like a probation officer."
She moved to St. Louis County courts from 1988 through 1997 where she be-came an adoption specialist.
"What I really liked about coming to Lutheran Family and Children's Services, which I did about eight years ago, was that I got to help people before they got to the court system," Scheurer recalled.
It didn't take long to get the opportunity.
"The first Thanksgiving that I worked here I got a phone call from a woman that was pregnant," Scheurer said. "She and her 2-year-old were on the streets in north St. Louis. They had knocked on somebody's door and asked if they could use the phone to call and ask for help.
"Because I worked here, we were able to get her a taxicab and into a hotel for the night so that she wouldn't be out on the streets with her little one," she added.
Working outside the court system has made Scheurer's work more effective.
People come to Lutheran Family and Chil-dren's Services because they want to, not because they're sent by a judge.
"They want to do things better," she said. "In many situations. we are able to help people avoid getting into the court system or the Division of Family Services. That way we help them maintain their own in-dependence and ability to make their own choices."
As rewarding as finding adoptive parents for children can be, Scheurer said there is also an element of sadness for all parties in the process.
"The blood parents feel a sense of loss for making the decision they are not able to parent the child, the adoptive parents because they are losing their hopes for a biological child," Scheurer said. "For the child because, even though there is a family that they will be placed into that will love and help them grow. There's also a family that they're losing in the birth parents. Adoption is a bittersweet experience be-cause there is both the loss and the happiness on all sides of it.
"Adoption is a lifelong process, so there's always issues that come up through the lifetime of the child," she said.
Transportation and housing issues are among the most pressing for Scheurer's clients. Housing often becomes an issue because her clients don't have transportation to jobs, or job training.
The agency tries counseling to can help clients rectify those issues and teach skills that might help them make better decisions in the future, but Scheurer said housing issues don't go away.
"They don't have transportation, they don't have job training, maybe it's just a lack of support system like my mom calling you," she said, referring to her mother, a Lemay resident, who contacted the Call after her daughter won the national award.
"They just don't have that. So they're out there on their own and agencies like Luth-eran Family and Children's' Service be-come that support system," Scheurer added.
Every winter her agency hustles to find and provide winter coats, clothing and mittens to shelterless families caught off guard by the first frost.
Working with the state can create emergencies as well.
Last year one of the children in foster care didn't have the type of bedding the state required and was facing relocation if suitable sleeping arrangements could not be made. Because the Lutheran Family and Children's Services has greater flexibility than a state-run program, Scheurer and her staff were able to find a solution that allowed the child to stay with relatives.
"Again, a little thing that made all the difference," Scheurer said. "They were able to stay in a place with their relatives and that was absolutely the best place for them. But the family didn't have the means to go out and buy a bed."
Scheurer believes that Missouri's budget crisis will have a great impact on the people she serves.
"Education is great, we definitely need to fund education," she said. "However, if a child isn't healthy, he's not going to be able to get to school. Once he gets to school if he doesn't have any food, he's not going to be able to concentrate. And if his mom's not healthy, who's going to be there to say: 'You need to eat, you need to get to school, you need to do the things you need to do."'
"The governor's budget cuts can be pennywise and pound foolish. I think we need to be very careful in what we cut and in what other issues that may not need as much funding. But our kids are a very valuable resource and we need to do what we can to protect them and the resources associated with them," Scheurer added.
Whether people are interested in foster parenting, obtaining information about adopting or having a baby shower, Scheurer asks them to call her Delmar office at (314) 389-1001.
"I love working with people who walk miles to do the best they can for a child because they don't have transportation," she said. "Being able to give (that person) the funds for a bus pass makes it worthwhile. It's one tiny little thing, $35 a month, that can make a difference in a person's life. The fact that you're able to help someone pay their rent for a month, or that when something really bad happens they share that with you, or when something really good happens that they give you a call and say you helped make this possible. You helped me get through that bad moment, or you helped make that good moment possible," she said.
"A woman who is finally out of a domestic abuse situation because somebody was there to help her get away, help her make a good decision for her and her child — it's always an 'aha' moment, where yeah, it is right," she said. "It's a pretty big blessing to have in your life."