Music lovers to have their pick of concerts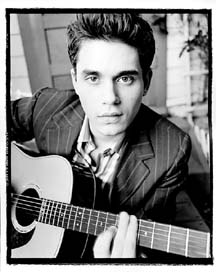 By ALAN SCULLEY
For the Call
With star acts such as Santana, Toby Keith, Dave Matthews and the Dead already confirmed, the summer concert schedule for UMB Bank Pavilion stands to be one of the stronger lineups in recent years.
"I think the last few years, there have been a lot of acts out there touring, but not enough 'A' names, said Joe Litvag, vice president of booking, for Clear Channel En-tertainment, which owns the venue. "There have been a lot of 'B' and 'C' names out there touring, and that's fine and great be-cause that gives us show volume. That gives us the number of shows that we're looking for. But we need each of the shows we book to be successful. And it's really difficult to put a 'B' name on stage at the amphitheater as a headliner and have it sell enough tickets to be profitable. So the thing that we're seeing this year so far is that there are some 'A' names out there."
The initial schedule at UMB Bank Pa-vilion was formally announced Monday at the Pageant during an event that also included a charity auction of autographed items from some of the performers who have played there in previous seasons.
The lineup so far at the venue, situated south of the Interstate 70/Earth City Ex-pressway interchange, includes:
• Kenny Chesney, April 26 (tickets on sale now).
• ZZ Top, Ted Nugent, Kenny Wayne Shepherd and Double Trouble, May 31 (tickets on sale now).
• Poison, Skid Row and Vince Neil, June 7 (tickets on sale April 19).
• Brooks & Dunn's Neon Circus and Wild West Show (also featuring Rascal Flatts and Brad Paisley), June 21 (tickets on sale April 26).
• Vans Warped Tour (featuring AFI, Rancid, Simple Plan, the Used and many more acts), June 25 (tickets on sale now).
• The Dead, July 2 (tickets on sale April 12).
• Santana, July 6 (tickets on sale April 19).
• Lollapalooza Festival (featuring Jane's Addiction, Audioslave, Queens of the Stone Age, Incubus, the Donnas and Jurassic 5), July 9 (tickets on sale April 26).
• Dave Matthews Band, July 10 (tickets on sale now).
• Ozzfest (featuring Ozzy Osbourne, Korn, Marilyn Manson, Disturbed and many other acts), July 17 (tickets on sale now).
• Boston, July 18 (tickets on sale now).
• Counting Crows/John Mayer, July 29 (tickets on sale April 18).
• Toby Keith, Aug. 1 (tickets on sale May 17).
• Neil Young & Crazy Horse and Lucinda Williams, Aug. 10 (tickets on sale April 25).
• James Taylor, Aug. 16 (tickets on sale now).
• Alabama, Sept. 6 (tickets on sale now).
• Aerosmith and Kiss, Sept. 27 (tickets on sale May 3).
Litvag said the concert season is only about half booked so far, and without revealing any of the other possible bookings, he said plenty of other shows are in the works.
Besides trying to round up top-name talent for the summer, Litvag said management has made several key changes in response to concerns concert-goers have voiced about UMB Bank Pavilion, its shows and its facilities. One key issue is the rising cost of tickets, and Litvag outlined several changes designed to save patrons money on concerts.
A major change is the introduction of a limited number of $10 "super lawn" tickets to most shows. That price includes parking and all ticket service fees. The number of "super lawn" tickets will vary from several hundred to several thousand, depending on what the acts authorize in their contracts, Litvag said.
In addition, the service fee will be waived on all tickets sold during the first week of ticket sales at the UMB Bank Pavilion box office. The charge, which can be as much as $6 or $7, still will apply at other outlets.
Parking fees also have been addressed in ticket prices. While the venue had charged $8 per vehicle for parking for most shows last summer, there will now be no separate fee for parking. Instead, parking fees will be included in all ticket prices — and Lit-vag said concert-goers will get a price break as a result.
"The price of individual car parking has gotten a little high, we feel, and this is also a way to keep those numbers down," Lit-vag said. "Instead of charging $8 or $9 per car, we just tack on $2 or $3 to the ticket price and that covers our expenses of our staffing and what not."
Including parking in ticket prices is also part of an attempt to address another primary problem at UMB Bank Pavilion — the time it takes to get in and out of the venue.
By including parking in the ticket price, people won't have to stop to pay a parking fee, which should help speed up traffic flow into the venue, Litvag said. The venue also has hired additional personnel to help direct concert-goers to parking places and to the nearest exits following shows.
These changes and others will help, but won't completely solve traffic-congestion problems, Litvag said.