Most Oakville citizens to see new trash haulers this week
Bids for trash districts OK'd with unanimous council vote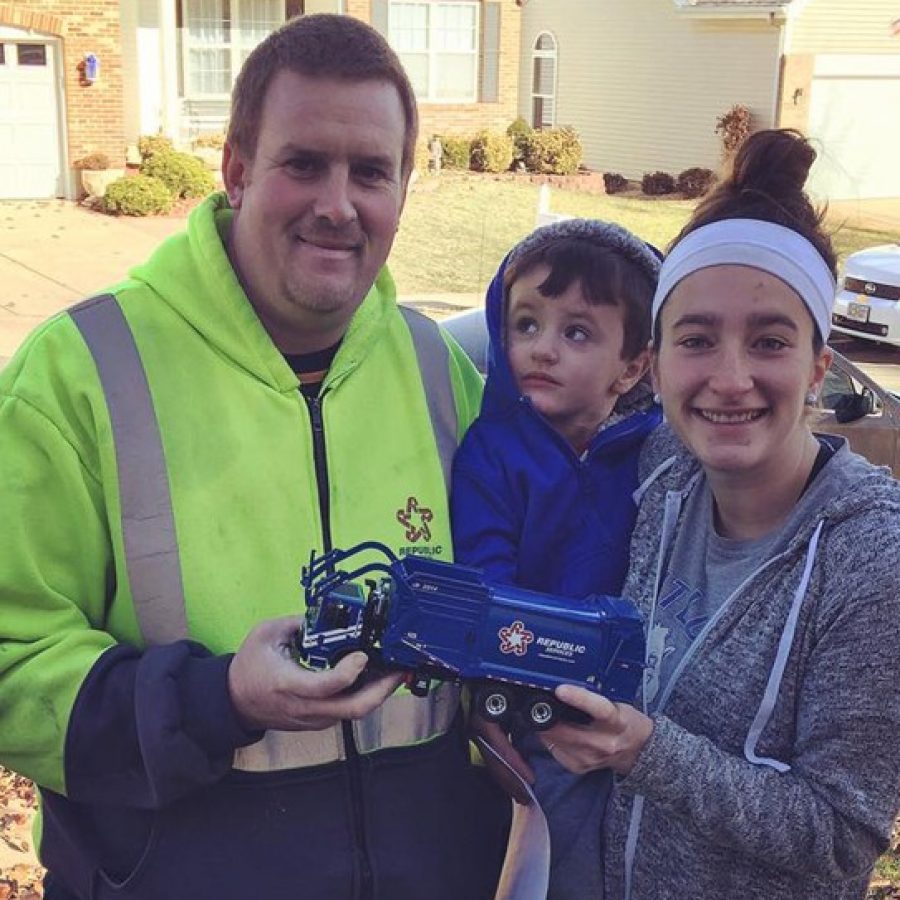 Most Oakville residents will see a change in trash haulers this week as part of the county's third-ever round of competitive bidding for trash districts, which started in 2008 despite strong opposition from south county.
The County Council unanimously approved the lowest bids for all eight trash districts Jan. 3, the first meeting after the Jan. 1 swearing-in of 6th District Councilman Ernie Trakas, R-Oakville.
County Executive Steve Stenger said that when yard waste and bulk pickup are figured into the price, "I believe every district is cheaper."
The new five-year contracts run through 2022 for residents in Oakville, Concord, Affton and Lemay.
Most of Oakville is in District 8, which switches from Republic Services to Waste Connections, while District 7 of Concord and Oakville stays with Republic.
Lemay is in District 6, which switches from Republic to Meridian Waste Services, and Affton is in District 5 and stays with Republic.
Republic, Meridian, Waste Connections, or Progressive Waste, and Waste Management bid on all eight districts.
Former County Executive Charlie Dooley's decision to start trash districts became a central issue in Stenger's initial campaign for 6th District county councilman in 2008 against then-Councilman John Campisi, R-south county, who voted for trash districts.
Stenger's opposition to trash districts also became an issue in his campaign for county executive against Dooley in 2014, when he criticized the rollout of the plan and the lawsuit filed against the county by waste providers who were not notified, as required by law, that the county intended to start trash districts.
Within months after Stenger took office, he settled that lawsuit for $5.8 million.
The trash providers who took the county to court were Waste Management of Missouri, Meridian and American Eagle Waste Industries.
Previous contracts for trash districts were bid in 2008 and 2011.
Most contracts under the last round of bids were won by Allied, doing business as Republic Services. The company held six of the eight contracts, including all service in south county. IESI had two contracts.
The trash districts do not line up with council districts and only cover unincorporated areas.
Cities like Green Park and Sunset Hills contract for their own trash service. Green Park residents get free trash service, free yard waste and free bulk pickup, paid for by the city. Both cities contract with American Eagle.
The base price on most of the county districts went up slightly this round of contracts. Oakville District 8 had the steepest hike, with monthly service going up $3. Oakville previously had the lowest rates in the county.
Trakas said he has been inundated with complaints from residents across south county who are switching trash companies.
Most complaints revolve less around cost than communication, he said.
"Nobody's calling me telling me how glad they are about trash," Trakas said.
Oakville Facebook groups have also been filled with threads with residents unhappy with their service so far from Waste Connections, and Lemay residents have been upset with how they have been treated by Meridian.
A representative of Meridian attended a Lemay Neighborhood Association meeting to apologize for the rollout of new service, Trakas said.
New customers of Waste Connections in Oakville say they have called customer service and repeatedly been told they are 99th in line, and new Meridian customers in Lemay tell a similar tale.
"We're two months into it now, and people are calling and still telling me they're getting these huge wait times — by their own admission, in Meridian's case," Trakas said. "They're apologetic for it. So the constituents can't be exaggerating."
Waste Connections also sent out a flier that misled many people to believe that trash and recycling would be put in the same cart.
"All trash and recycle items must be contained in the cart," the flier stated.
But recycling and trash will still be in separate carts, according to the rules of the county program.
The wording of the missive was so misleading that Trakas got the county Problem Properties Unit involved to intervene with company communications.
"They've had direct and spirited conversations with Waste Connections," Trakas said, including urging the company to hire new people to answer phones even on a part-time basis.
By accepting the lowest bids on service, there might be a "certain amount of taking on more than you can chew" with the new companies, the councilman said. "Their responsibility grew exponentially in terms of the number of customers, and they weren't prepared for it — it sure seems like when you've got that degree of lack of responsiveness, you've got to wonder what's going on."
To help the new automated trucks pick up the trash, Waste Connections told residents to keep the 96-gallon carts six feet away from cars and mailboxes, with the lid closed.
Unlike in the past, extra trash cannot be set out on the curb, but will have to be scheduled for an extra paid pickup.
Senior citizens or people with less trash can opt for a smaller cart, but had to call customer service to get it — and that's where residents said they ran into their first problems with the company.
Some residents are upset that they paid for trash cans they can no longer use under the automated cart system.
Other residents are upset they will now have to bag their trash inside the trash carts and will be charged extra if they leave an extra bag on the curb.
Since the automated collection means that drivers will no longer get off the trucks to collect trash, senior citizens are losing a perk they've enjoyed that allowed them to call and ask for the waste hauler to bring their trash to the curb for them, Trakas said.
That perk is still a part of American Eagle's service in subdivisions like New England Town, which took advantage of the temporary allowance to opt out of county trash districts, and in Sunset Hills and Green Park.