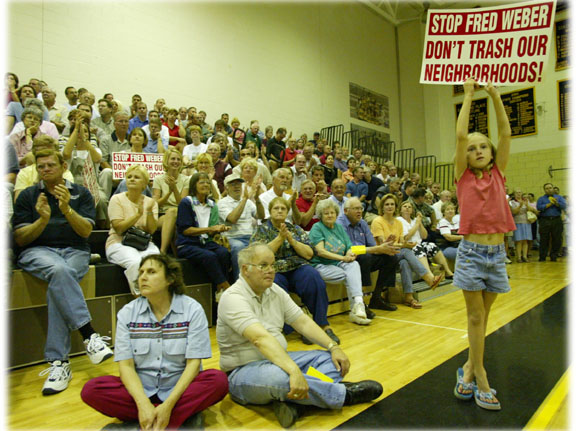 By BILL MILLIGAN
For the Call
Alarmed over potential health risks, odors, traffic hazards, animal and insect infestations, more than 1500 Oakville residents June 19 told St. Louis County health officials they don't want a solid waste transfer station on Baumgartner Road.
"This transfer station is not part of the solid waste disposal problem – it is part of the solution," said Albert Michenfelder, attorney for F.W. Disposal, LLC. The company is a subsidiary of Fred Weber, Inc. which has operated a sanitary landfill at I-70 and I-270 for 40 years.
The solid waste transfer station would be located at 5219 Baumgartner Road, just east of its intersection with Old Baumgartner Road. The company hopes to operate round-the-clock more than five days per week and plans to move 500 tons of waste per day through the site.
"This transfer station should eliminate the need for a south county landfill in the future," Michenfelder said.
But critics of the proposal say it does not meet applicable standards set forth in St. Louis County's Waste Management Code. They contend the waste transfer station would substantially reduce adjacent property owners' right to enjoy their property.
For more than two hours, health officials heard from residents who said the facility would be a nuisance, disputed the necessity of the facility, asserted that it would not be in the interest of general health and welfare of nearby residents, said the facility's contribution to the long-term solid waste problem is uncertain at this point and said that the facility is not clearly in compliance with St. Louis County zoning ordinances.
After the meeting planning commission member Wayne Hilzinger said his panel will meet July 7 and recommend a conditional use permit be required for any future transfer stations.
"That'll put an end to the loophole they're exercising here," Hilzinger said.
The site of the proposed facility is zoned M1, which includes terminal operations as a permitted use. The station would allow garbage trucks like those which provide curbside pick-up in residential areas to deliver approximately 95 truckloads a day to the station's tipping floor. That waste would be shoved into waiting trailers which would deliver the material to the Weber landfill.
"The station will be fully enclosable, well landscaped, and equipped with a misting system to ensure that no odor escapes," said Derrick Standley, project spokesman.
"I never saw Fred Weber before petition 88-02 came to the planning commission," said John Campisi, south county's representative on the St. Louis County Council. The proposal was the first item on the planning commission's order of new business after County Executive George R. "Buzz" Westfall's re-election last November.
"In November, 2002, I spoke out against this plan. I'm here again tonight, sticking up for my constituents," Campisi said.
One resident summed up the economics at play in the solid waste proposal.
"It's all about money," said Mike Wilhelm a nearby home owner.
"Tipping a garbage truck costs $250." he said. "At 95 trucks a day, that's nearly $25,000 cash flow a day from Oakville."-