Missouri CAP honors veterans at Wreaths Across America Day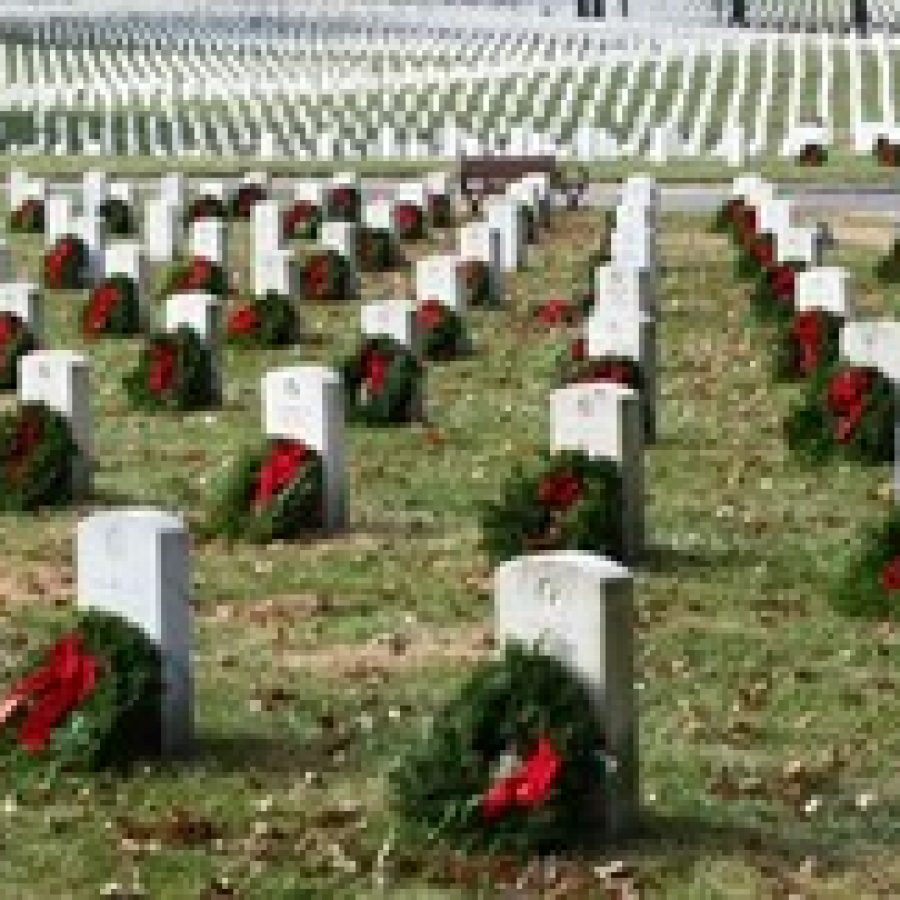 For the ninth year in a row, the Missouri Wing of the Civil Air Patrol, U.S. Air Force Auxiliary, hosted the annual Wreaths Across America Day ceremony at Jefferson Barracks National Cemetery.
Jefferson Barracks National Cemetery is the nation's second largest veterans' cemetery after Arlington National Cemetery.
Almost 200 people – including Patriot Guard Riders, Gold Star Mothers, Sons of the American Revolution, Daughters of the American Revolution, Society of Mayflower Descendants, Survivor Outreach Services, girl and boy scouts and CAP members — enjoyed an unusually warm December day to help place almost 900 remembrance wreaths in honor of those who gave their lives in service for this country, as well as those who have served and are serving in our nation's armed forces, according to a news release.
In addition, seven special wreaths representing the Army, Navy, Marine Corps, Air Force, Coast Guard, Merchant Marine and POW/MIA were presented during a short ceremony.
The Dec. 13 event began with a flyover by a CAP aircraft followed by a moment of silence sharply at 11 a.m. to coincide with the beginning of the national program at Arlington National Cemetery and the simultaneous start of all ceremonies across the nation in almost 1,000 state and federal veterans' cemeteries and memorials. A CAP color guard composed of cadets from St. Louis Composite Squadron 1 and the River City Composite Squadron opened the ceremony.
"The freedoms that we enjoy today have not come without a price," Lt. Col. David A. Miller, Missouri Wing deputy director of public affairs and coordinator of the ceremony, stated in the release. "Lying here before us, and in cemeteries throughout this nation, are men and women who gave their lives so that we can live in freedom and without fear."
"Here in St. Louis we have made it abundantly clear that we will not forget those who have defended our freedoms. We will not fail to honor their memories and pay tribute to the sacrifices they made to give us the way of life we enjoy today. We will celebrate and appreciate their lives and the contributions they made to make our nation the greatest in the history of this world," Rep. Tim Jones, Missouri House speaker, stated in the release.
Sen. Scott Sifton, whose district encompasses Jefferson Barracks National Cemetery, attended and reiterated his strong support of veterans as a member of the Senate Veterans' Affairs and Health Committee. Sifton encouraged all in attendance to remember that each gravesite represents a family story and a personal commitment to freedom.
In memory of the 100th anniversary of World War I, specific service wreaths honored the following individuals who served during the Great War and are buried at Jefferson Barracks:
• The Army wreath honored the memory of bugler Pvt. John Cain, who was killed in action in 1918 while serving with the 145th Infantry Regiment.
• The Navy wreath honored the memory of Seaman Emmett Davis, who died in 1925 after serving on the dreadnaught battleship USS Florida during the war.
• The Marine Corps wreath honored the memory of Sgt. William A. Clark, who died from gas exposure on July 19, 1918, while serving with the 67th Marine Regiment.
• The Air Force wreath honored the memory of Pvt. Oliver Cavasino who died from an accident in 1918 while serving with the 163rd Aero Squadron.
• The POW/MIA wreath was presented to the Patriot Guard Riders in memory of the more than 93,000 United States Servicemen from all branches of the service whose last known status was either Prisoners of War or Missing in Action. These individuals have never returned to their families and homes and shall not be forgotten.
• The Coast Guard and Merchant Marine wreaths were laid at their respective memorial sites at the cemetery after the ceremony. The Merchant Marine wreath was laid by a former member of the Merchant Marine who was in attendance.
"We are again very grateful for the assistance of Mr. Jeff Barnes and his staff at Jefferson Barracks National Cemetery," Miller stated. "This event would not be a success very year without their outstanding support."
Twenty-two years ago, Morrill Worcester of the Worcester Wreath Co. donated the first wreaths to Arlington National Cemetery, starting an annual tradition that continues today as Wreaths Across America. The initiative began in 2006 as an offshoot of Worcester's Arlington National Cemetery wreath project. Since its inception nine years ago, Wreaths Across America has experienced tremendous growth — culminating in the placement of more than 700,000 wreaths this year.