Mehlville's Lane named Brentwood superintendent
Lane looking to accomplish a great deal before leaving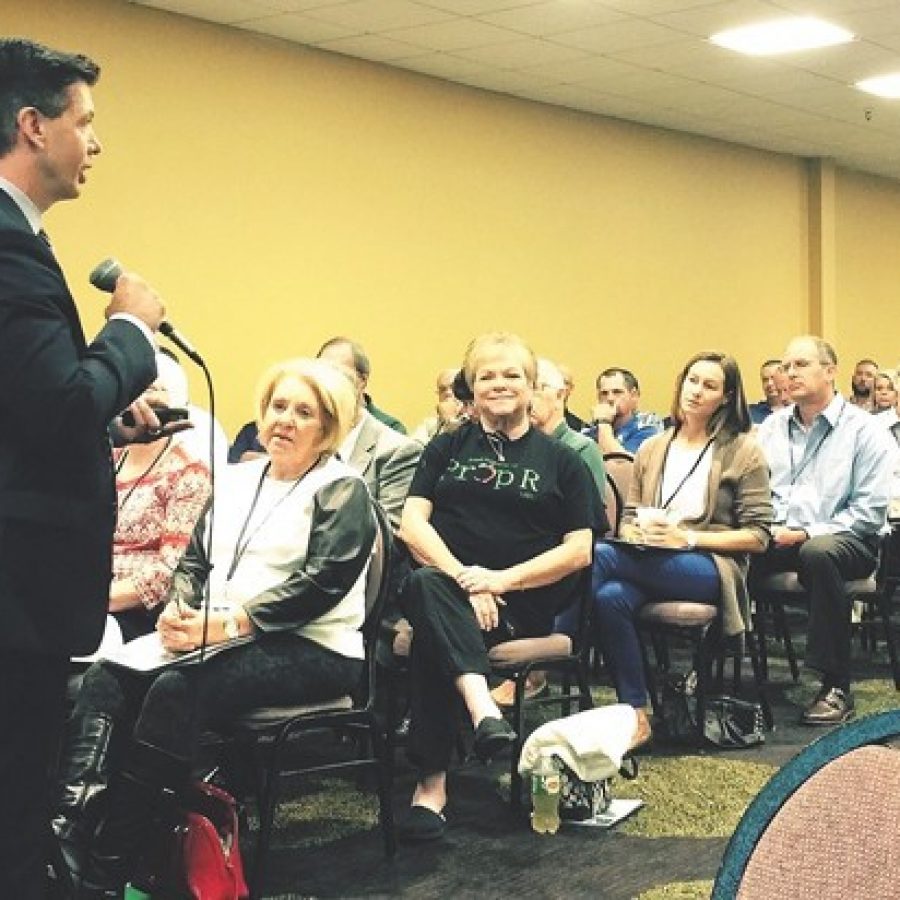 One of the longest-serving Mehlville School District officials has been hired as the new superintendent in Brentwood.
Mehlville Deputy Superintendent Brian Lane starts his new job in the Brentwood School District July 1.
The Brentwood Board of Education voted unanimously to hire Lane for the position and will hold a meet-and-greet for parents and students to meet him on Tuesday, Feb. 21.
In a rare move, Mehlville officials congratulated Lane on his new position through a districtwide email.
"Dr. Lane brought a wide range of expertise to the district and earned the respect of employees through his hard work, dedication to the students of the district and his great sense of humor," the district wrote in the email.
During Lane's 15 years in Mehlville, he has overseen nearly every aspect of Mehlville's operations as he moved up from Oakville High assistant principal to deputy superintendent, but he will have a smaller district to run in Brentwood: The district has just 802 students spread out in elementary, middle and high school.
"I'll enjoy it, but I'll be a little more of a jack of all trades at Brentwood," Lane said.
Lane has served as deputy superintendent since 2015 and assistant superintendent since 2006. He came to Mehlville in 2002 as Oakville High School assistant principal, after serving in the same position in University City. He began his career as an English teacher in Webster Groves and St. Louis Public Schools.
He lives in Webster Groves with Amber, his wife of 26 years. They have two children, Audrey and Braeden.
Lane, who is paid $139,471 by Mehlville, will make $175,000 at Brentwood.
After being promoted by interim Superintendent Norm Ridder, Lane has served as deputy superintendent for the last two years under Superintendent Chris Gaines.
Under the hierarchy set up with the deputy position, Lane oversees all district departments except finance and communications, but still reports to Gaines. Lane also continues to oversee all Oakville schools as south area superintendent.
"I'm happy as all get out for him. He'd been looking at superintendent jobs, and he came in Monday and told me, and I think I threw something on the floor and was like, 'All right!'" Gaines told the Call, re-enacting the moment with his arms up. "I was excited for him."
When Wright City Superintendent Gaines beat out Lane and Clayton Assistant Superintendent Greg Batenhorst for Mehlville's top job two years ago, Board of Education President Samantha Stormer said she wished all three finalists could co-lead the district, and in a way, she got two-thirds of that wish with Lane and Gaines.
"I did have the best of both worlds with getting Chris as our superintendent and Brian as our deputy, and that was wonderful," Stormer said. "Unfortunately, all good things come to an end. He's going to make an excellent superintendent — Brentwood is very lucky to have him."
Lane will become the third former Mehlville administrator currently serving as a county superintendent, joining Rockwood Superintendent Eric Knost and Affton Superintendent Steve Brotherton.
Knost served as superintendent from 2011 to 2014, and Brotherton was a principal at Rogers Elementary before going on to lead Affton.
But through the best and worst of times, as board members and superintendents came and went, Lane has been a fixture in the Mehlville boardroom.
"Isn't that crazy?" he said. "You're the newbie, and then you look around and you're like what do you mean I'm the longest one here? You come to a job, you figure oh, I might stay here a few years, and then you look up and it's 15 years later."
In ironic timing, the Brentwood board voted to hire him just as the Mehlville board approved the new Choice School of Innovation, or CSOI, which some observers see as a high point in the last several decades of education in Mehlville.
Lane is already "off to the races" planning CSOI, but will depart a month before it opens.
Sounding hopeful, he joked, "I'm sure they'll let me visit the new school."
Although the two districts could not be more different in many ways, Lane conjectured that the range of his Mehlville experiences the last few years were attractive to Brentwood board members facing the same issues.
"Even though I'm coming from a district of over 10,000, just having my hand in a lot of pies here at Mehlville" is something the Brentwood board seemed to appreciate, Lane said. "They're looking at hey, we really need to do some work on our strategic plan, and I just happened to have had that last couple years of experience of really getting deep into strategic planning."
Brentwood has aging facilities and deferred maintenance and is looking to develop long-range five-, 10- and 15-year facilities plans, just like those Lane has overseen at Mehlville.
"We were very impressed by Dr. Lane's wealth of experience and by his knowledge and insight," Brentwood board President Keith Rabenberg said in a statement.
Mehlville has had three superintendents in the last four years, and Lane credits that shifting leadership with allowing him to study diverse styles up close.
"I've learned things from every leader that I've worked with," Lane said. "From Dr. Knost, I learned a lot about relationship building and communication. And then working with Norm Ridder, we talked a lot about strategic planning and systems and analyzing systems. And then now the last year and a half with Chris, it's just been a lot about how to implement change, how to really push a system forward out of complacency and really ask people to think about things and think about education in different ways."
And until June 30, he will still be deputy superintendent of Mehlville.
"I keep reminding people, even in the email I sent out to the principals, I'm still here for six months, I'm not gone yet," Lane said. "I want to see a lot get accomplished here before I head out the door."
Although Lane hopes to finish his career at Brentwood, when he retires he will likely have spent most of his career in Mehlville.
"I loved Mehlville, and it gave me a lot of great opportunities," he said. "I'm a relationship person, so to me the enjoyable part is getting into the buildings, and you know we have great kids in this district, and stellar administrators with their hearts in the right place and working hard for kids."
To illustrate how different Mehlville students are compared to those in other districts, Lane recalls his first day on the job at OHS 15 years ago.
"I remember my first impressions of coming into Oakville High School and just how nice the kids were — they were holding doors open for you and saying thank you, and I'm like where am I?" Lane said. "Did I just pop into a movie or something here?"