Mehlville's efficiency hurts students, Ridder says
District's children 'the best,' says departing leader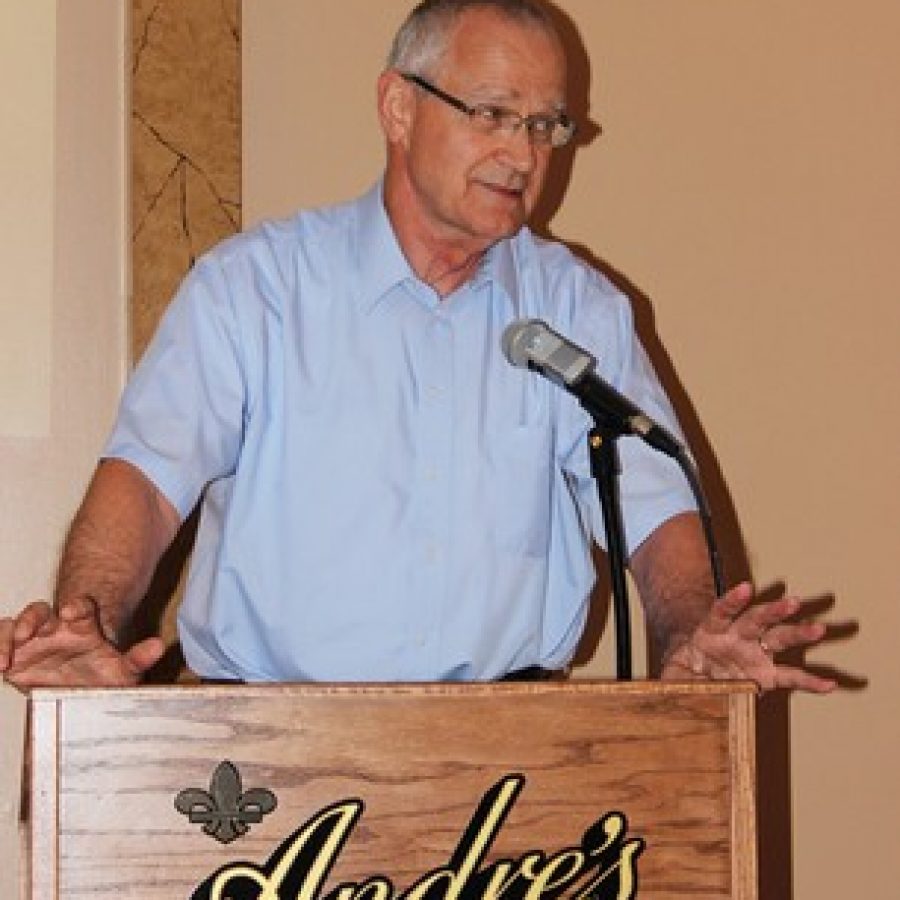 In Norm Ridder's final public appearance as superintendent last week, he said Mehlville has the "best kids he's ever experienced" — but he also observed that the school district takes efficiency to the extreme, which harms those children.
Wright City Superintendent Chris Gaines succeeded Ridder as Mehlville superintendent July 1.
At the June 29 kickoff of the Mehlville-Oakville United Committee's campaign for a tax-rate increase, Ridder ended his tenure on a positive note after discussing the higher rates of teachers who left in light of Mehlville's $4.6 million deficit.
If Mehlville follows the strategic plan he mapped out this year, those teachers will regret their decision, he noted.
"Whoever left this district or is leaving this district is going to wish they were in this district five years from now, because this is going to be the district to be in," Ridder said. "This is going to be the district that's going to be all about kids, this is going to be the district who is not going to have the wealth as far as money — but have the wealth of support to be able to say that their children, our children, are where we are: the best."
In his first impression last year, former Denver Archdiocese Superintendent Ridder told the Call that Mehlville is leaner than any district he ever worked in, public or private, during 40 years in education.
But last week, Ridder noted that the downside to being so "borderline cheap" is that you can no longer be effective or efficient, the first tenets of the strategic plan.
It's a sentiment shared by some on the Board of Education, who disagree with a philosophy of providing the bare minimum and hoping for the best.
"At some point, our district has to stop being the cheapest one out there," board Secretary Samantha Stormer said to applause from teachers at the May 21 board meeting. "We can't always be the cheapest — we can't be the cheapest on our teachers, we can't be the cheapest on our leader. I don't understand why we insist on being the cheapest around. Absolutely astounding to me. Why?"
"We try to cheap by and that's what we end up with — cheap," board member Jean Pretto agreed.
Last year, board President Venki Palamand asked the board to appropriate $35,000 more for athletics after he learned that the district does not provide enough money to its baseball teams to buy baseballs.
Parents make up the rest, and some complain that the fees they pay are far higher than what parents pay in other districts, while the fundraising for every activity their child participates in seems endless.
"I've got to say something here that's frustrating me — and I've run Catholic schools, and I've run charters," Ridder said at an Oakville Middle School PTO meeting in April. "This is the cheapest district I've ever seen. This district abuses its parents, abuses its kids, it's wrong … When I said there's a fine line between being efficient and being cheap — this district is cheap.
"And so we've got to be careful that we don't pursue more fundraising."
Five of the 23.5 teaching positions cut in budget cuts this year are the reading and math coaches that Mehlville desperately needs to advance academically like other districts, Ridder noted.
Lindbergh Schools has 44 reading and math interventionists to help in its classrooms, but the cuts mean Mehlville now has just two coaches to cover a district twice Lindbergh's size.
Mehlville just doesn't have the money right now to do more, Ridder noted, which means the district's teachers have "worked their tails off" to make up for it.
"Can you imagine what they'd be doing if we had the support staff that all of these districts that we compare ourselves with have?" he said at the campaign kickoff.
In the next few months, Ridder will move back to Colorado where most of his children and grandchildren live, but he said he will be watching from afar how a potential ballot initiative fares this November.
Despite Mehlville's finances, when board members and principals asked Ridder to stay, he would always reply that there were greater needs elsewhere and that Mehlville didn't need him for another year.
One reason for that is because of the community's strong foundation of students and families, he noted last week.
"I've been at districts throughout the Midwest, I've experienced the private, the parochial, the at-risk type of environments," Ridder said. "I need to tell you Mehlville has the best kids I've ever experienced."
It was an echo of his comments from the first campaign meeting April 1, when Ridder had nothing but praise for everyone he met in Mehlville.
"I can tell you what is really going well for Mehlville," he said. "Outstanding leadership at the sites, outstanding teachers, outstanding kids — I love these kids.
"These kids got heart. Outstanding families, very wholesome families. So really the people are awesome, but the system sucks, pardon the language. I couldn't find a shorter word to describe it."