Mehlville thespians to be on international stage
Senior from Mehlville High cast in lead role of conference's All-State Show, 'Iphigenia'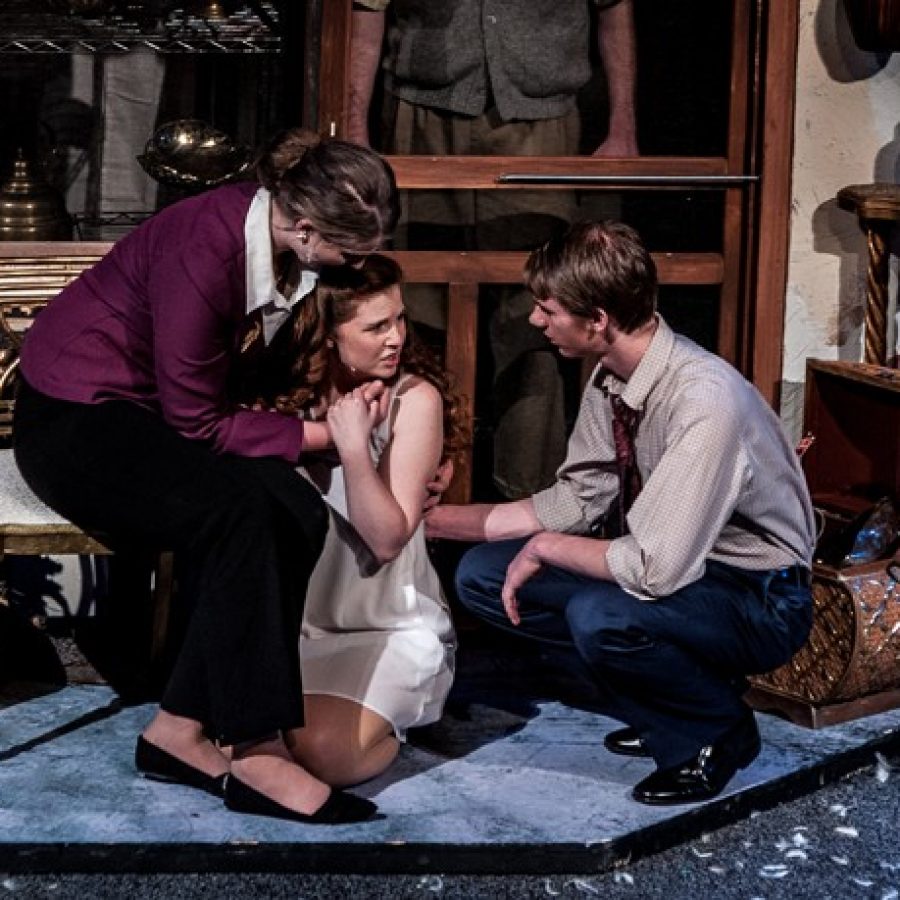 Half of the theatre students representing Missouri at the International Thespian Festival this summer will be from Mehlville High School, after local students took home top honors at the Missouri Thespians' Conference.
The students, all seniors, come from the first class of Mehlville High School theatre students who have spent their entire four-year high school careers practicing in the district's William B. Nottelmann Auditorium at MHS.
The Missouri Thespian Society sponsors the statewide conference every January, and this year it was in downtown St. Louis at America's Convention Center. With more than 30 Mehlville students attending out of 2,000 students in attendance, three seniors took home elite honors.
Two MHS seniors were awarded Superior rankings that allow them to compete at this summer's international conference.
Catherine Adams took home a Superior ranking for her lighting designs, as did senior Sydney Scott for her set design.
Catherine and Sydney are two of only four students in the state to receive a Superior ranking and represent Missouri in the international competition, Mehlville Theatre Arts Director Alex Moore told the Call.
Residents can still see Catherine and Sydney's award-winning work in the upcoming production of Agatha Christie's "And Then There Were None," which runs from Feb. 14 to Feb. 18.
The Feb. 14 Valentine's Day performance of the play will be a benefit so that students can attend the international festival, with a special "Death by Chocolate" dessert reception at intermission.
The funds will help students afford to attend the competition, Moore said.
"It's kind of neat that 50 percent of the superior ratings came from Mehlville," Moore said. "I told them, you guys should feel good because you were two of four in the state, but also there are not many female technicians out there in the theatre world, so you guys are really putting your name out there and putting your stamp that there are female designers and female technicians. I think it's cool."
In an awards ceremony at the state conference, Catherine was presented the $1,000 Missouri Thespian Technical Theatre Scholarship. She is just the second MHS student to ever take home a scholarship at the conference, and both have been awarded since the auditorium opened.
She was granted the scholarship based on her portfolio showcasing the lighting design she's done on Mehlville productions over the last four years, using pictures, drawings and computer draftings.
Catherine was chosen out of roughly 35 students across the state applying for three scholarships, Moore said.
Every two years, the conference holds the Missouri All-State Show, which participants audition for at the conference. MHS senior Rhiannon Creighton was cast as the lead role and title character in this year's play, "Iphigenia."
Rhiannon received a Superior rating in acting her sophomore year and competed at the international festival, Moore said.
"I'm so proud that they're now receiving these honors at the state level, and I know that they'll receive some of the same recognition at the international festival as well," Moore said.
He attributes some of his students' success to the auditorium, which allows students to work with professional equipment that colleges are looking for when they offer scholarships to drama students.
"We're finding year after year that the longer the students have been able to work in the auditorium and produce productions there, the more competitive they can be in the real theatre world," Moore said. "They're leaving with training that theatre companies and colleges and universities are currently using, so they are both job and college ready for this major. It comes in both on the technical side and also just the performance, being able to act, sing, perform in a larger venue."