Mehlville superintendent takes oath as president-elect of national group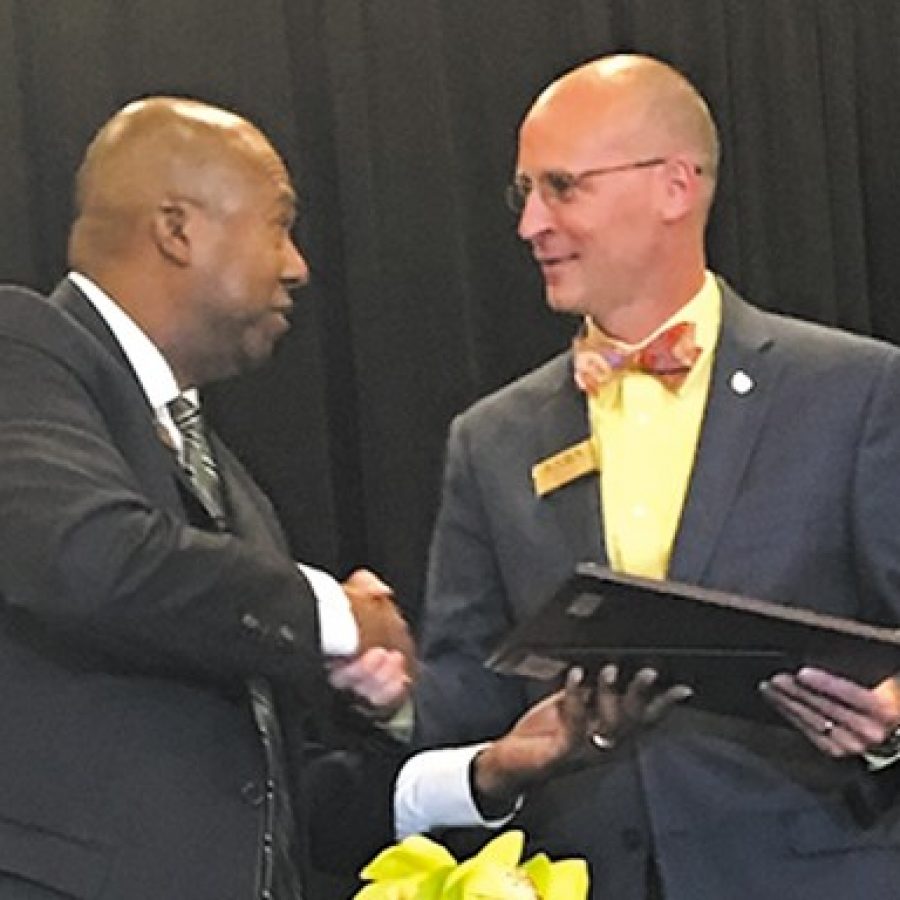 Mehlville Superintendent Chris Gaines is in line to serve as the next leader of the nation's largest superintendents' organization after he was sworn in last week as president-elect of The School Superintendents' Association, or AASA.
Gaines was sworn in July 11 by Alton Frailey, retired superintendent of the Katy Independent School District in Katy, Texas, at an installation ceremony held in conjunction with AASA's Legislative Advocacy Conference in Washington, D.C. Frailey served as president of AASA for 2016-2017 and will now serve as past president.
Gail Pletnick, superintendent of Dysart Unified School District 89 in Surprise, Ariz., was sworn in to serve as president this year.
The 152-year-old organization is the primary group representing superintendents across the country and Canada.
Superintendent Tom Sisk of Limestone County Schools in Alabama retweeted Gaines' swearing-in photo with the message, "Glad to be a small part of the effort to support public education in our great nation."
Superintendent Candace Singh of the Fallbrook Union Elementary School District in San Diego County, Calif., tweeted a picture of Gaines, Frailey and Pletnick on July 9, writing, "Committed supts from across the US lead AASA Exec Committee mtg."
Gaines will be sworn in as president next July and serve for the 2018-2019 school year. As president-elect, he will not have many commitments beyond regular quarterly meetings of the AASA governing board, which he already attends.
As president, however, he will spend some extra time attending events and writing monthly articles, and AASA will pay Mehlville $50,000 to compensate for his time.
"It's very exciting to have somebody take Mehlville on a national level," Mehlville Board of Education President Samantha Stormer said. "People get so involved with what's going on with local issues that they don't realize that there's a much bigger world out there than just the world we live in. To have Mehlville not just on the state and local stages, but on a national level — it's good to have someone out there learning from other superintendents what they're doing across the country."
The advice the district gets from other superintendents can be invaluable, Stormer said: When Mehlville administrators need advice on a topic they have never dealt with before, Gaines will tell them which superintendent to call across the country who has the most experience in that issue.
"It opens the door for so many more wonderful things that we can do," Stormer said. "And we're excited about him doing it too, because now he gets to talk about Mehlville."
A large group of Missouri superintendents on Capitol Hill last week took the opportunity to lobby Missouri legislators on issues that specifically impact education in the Show-Me State.
But as part of the AASA leadership team, Gaines and Pletnick met with top congressional leaders to discuss policies that affect school districts nationwide, including Mehlville.
They met with U.S. Sen. Lamar Alexander, R-Tenn., the former education secretary who chairs the U.S. Senate Committee on Health, Education, Labor & Pensions, and U.S. Rep. Virginia Foxx, R-N.C., chairwoman of the House Committee on Education and the Workforce.
Gaines also met with the chief of staff of the chairman of the Federal Communications Commission, or FCC, to discuss the E-rate program that pays for internet in schools.
AASA used the conference to kick off a nationwide campaign called "I Love Public Education" that promotes the importance of public education in a democracy.
Even before the conference started, Gaines, who grew up in the Bootheel, got on board with the campaign's hashtag.
Gaines tweeted, "My hometown was in #LovePublicEducation, and my friends and I are better off for it. Huge thank you to my teachers."