Mehlville school board presents Outstanding Achievement Awards to students, staff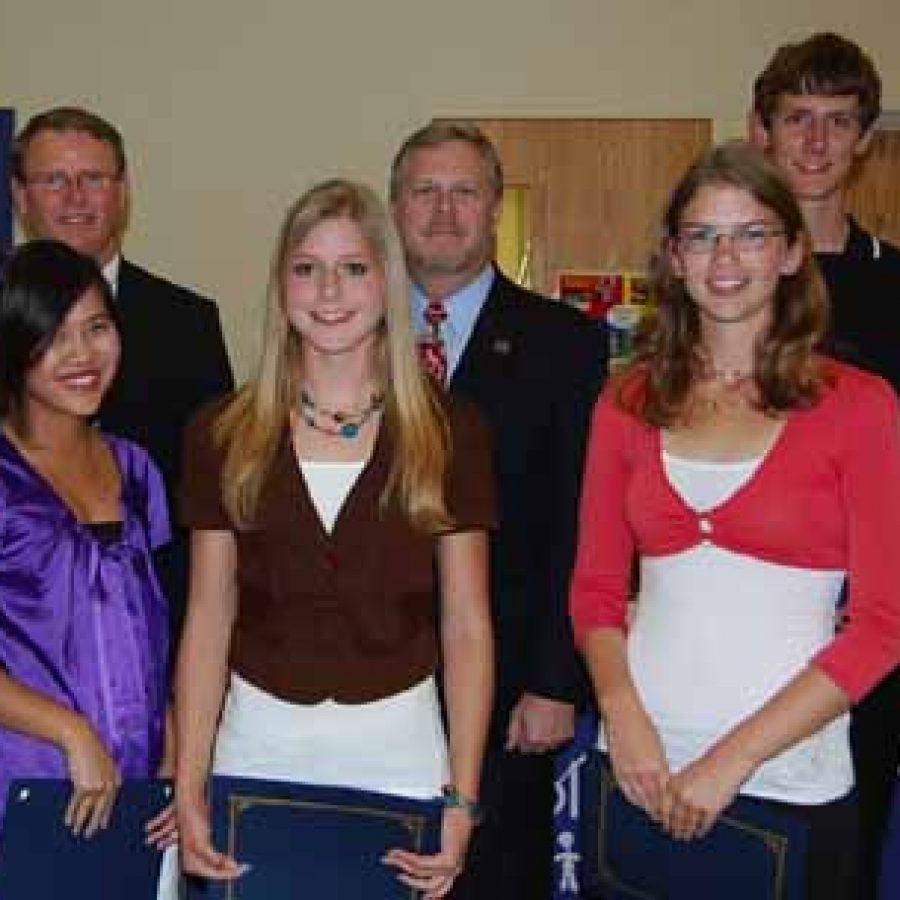 A select group of students and staff members last week were presented Outstanding Achievement Awards by the Mehlville Board of Education.
Board President Tom Diehl and Superintendent Terry Noble presented a total of 24 Outstanding Achievement Awards at the board's Oct. 12 meeting.
The Outstanding Achievement Award is one of Mehlville's most prestigious honors. It recognizes people or organizations that have achieved the highest standards of excellence or have shown outstanding contributions through non-required service or volunteerism by supporting projects or programs that impact the school district or its communities.
Receiving Outstanding Achievement Award certificates for earning a perfect score on the spring 2007 Missouri Assessment Program test were Justin Bayer of Oakville High, Michael Reynolds of Oakville High, Victoria Farris of Bernard Middle, Emily Hall of Bernard Middle, Kathleen Lahm of Bernard Middle, Melinda Grigg of Point Elementary, Josh Kuntze of Wohlwend Elementary and Vito Cammarata of Oakville Elementary.
The Board of Education presented Outstanding Achievement Awards to the Margaret Buerkle Middle School Student Council and sponsors Cathy Helfrich and Sue Weedman for earning the National Association of Student Councils Gold Councils of Excellence award.
Mehlville High senior Michele White was recognized by the Board of Education with an Outstanding Achievement Award for winning first place in the Family Campers and RV'ers Association teen pageant.
Paige Wallace, a senior at Oakville High School, received an Outstanding Achievement Award from the school board for being named a semifinalist in the National Merit Scholarship program. The nationwide pool of semifinalists represents less than 1 percent of U.S. high school seniors.
Honored for being named Commended Students in the National Merit Scholarship program were: Michael Kennedy of Oakville High, Wesley Grass of Oakville High, Dong-Nghi Huynh of Mehlville High, Mary Klarr of Mehlville High, Kira Klein of Mehlville High, Kristen Miller of Mehlville High, Ravi Nemani of Mehlville High and Michael Wisely of Mehlville High.
School nurses Kasia Hasch of Wohlwend, Wanda Caulk of Forder, Nancy Becker of Trautwein and Judy Peckham of Buerkle were presented with Outstanding Achievement Awards for passing the National Board for Certification for School Nurses exam.