Mehlville school board candidates share their views on Mosaic Elementary, other issues
School board candidates share views on newly approved school boundaries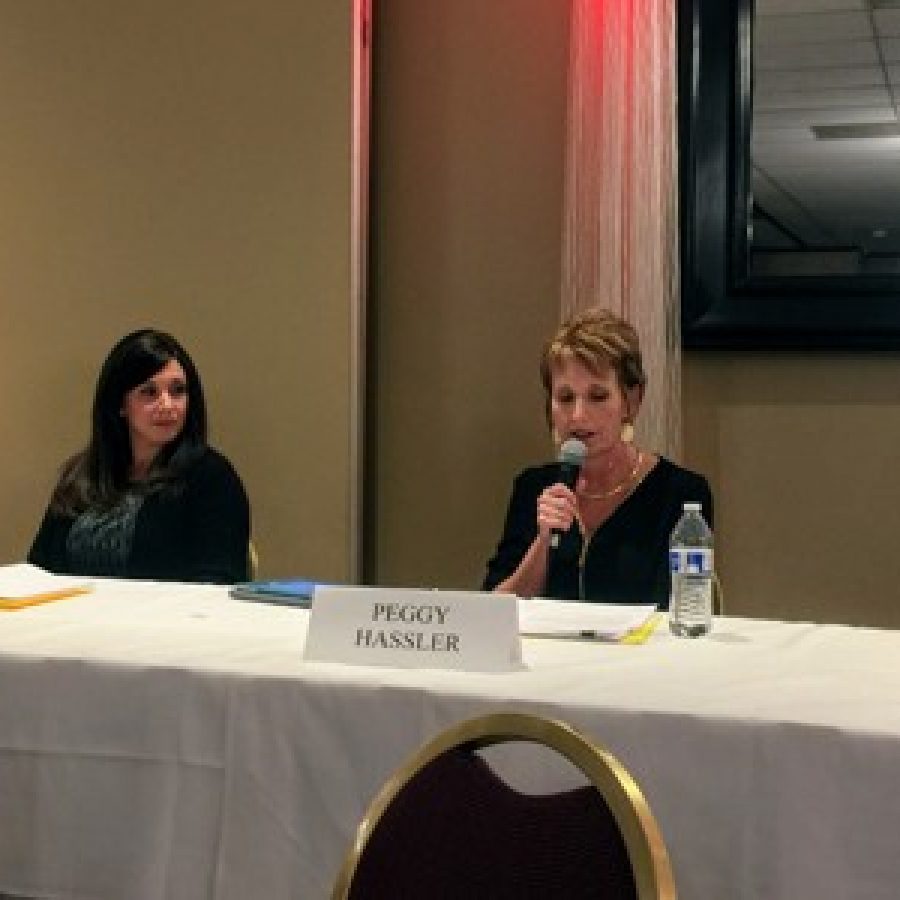 Four Mehlville Board of Education candidates shared their views last week on district issues, including the new school of innovation, redistricting and Mehlville's strategic plan.
Board Vice President Jean Pretto, board President Samantha Stormer, Peggy Hassler and Michelle Pommer are seeking three seats on the school board in the April 4 election.
The seats carry three-year terms.
The candidates responded to questions about the district during a March 22 forum at Andre's South co-sponsored by the League of Women Voters and Call Newspapers that drew roughly 40 people.
Asked their opinion of the district's new school of innovation, Mosaic Elementary, and its future, Pretto, Stormer and Hassler voiced their support for it. Pommer liked the idea of introducing a new form of teaching, but said it was premature to open a new school.
Pretto said she believes Mosaic Elementary is "phenomenal. I think it's very forward thinking. I think it's what our students are craving … I think it's everything they need."
As for its future, she said, "… I hope it blossoms into one of the greatest things that we've ever seen in our district because it is the future of education. I'm telling you folks, the day of kids sitting in a desk listening to a teacher from the front of the classroom is over. Trust me, those days are gone …"
Stormer said she couldn't be more excited about the new school.
"The future of it from what I can see going forward is that it's going to give us the spot to incubate the program itself," she said. "It's going to give the kids the time to get into a program that is completely different from what we offer throughout the rest of the district. It also is going to give a place for our teachers to cultivate and to work towards what they are going to be doing for these kids …"
Hassler said Mosaic Elementary makes Mehlville "a leader."
"… We need to be a leader. Just like Nashville's the leader in country music, St. Louis never gets on board when it should," she said. "We got on board this time, and we're going to be a leader in this area. It's a very forward-thinking way for kids to learn …"
But Pommer said, "… It was good to introduce a new form of teaching, but it was premature to bring a whole new school, I think, or to add it, especially when it wasn't supported by the Finance Committee, and I don't know if it was taken into account by the board. So that would be something that I would kind of rethink or to make sure that it was feasible for us."
Asked about the new school boundaries recommended by the Redistricting Committee and approved by the school board, the four candidates agreed they were necessary at this time and most praised the committee's work.
Hassler said, "… It was a necessary evil. No one likes to have their kids moved from the schools. There was a committee put together and they did extensive hours of work, and they took much abuse from the community while doing their volunteer time to try to make all the schools better and level them out …
"No one wants their kids to have to leave their friends, but sometimes that's what happens, and those kids are going to be resilient …," she added.
Pommer said, "Well, I really didn't follow the redistricting so much because I wasn't really affected and that I saw so many other people being affected. And it broke my heart.
"And I understand that they had to make some tough choices so that we could fill the schools up evenly. But it was, like you said, a necessary kind of evil that we had to go through. So I guess in that sense, it was a good thing to be able to come to some kind of resolution …"
Pretto was blunt in her assessment of redistricting.
"Redistricting stinks, but you have to do it," she said. "Like they've all said, it was a necessary evil. Nobody wanted it … So our committee did an excellent job. They kept the casualties to a minimum, and I think they went above and beyond in trying to satisfy as many people as they could …"
Stormer agreed that redistricting "is horrible. You never want to have to do it, but it's been 14 years since we've done it. We have 30 kids in a classroom at a school and then we would turn around and have 18 in another. It wasn't fair to students and it definitely wasn't fair to our teachers, either, that had to try to deal with all of that and to try to do their best every day."
The candidates were asked their stance on the district's strategic plan, which is being funded by Proposition R, a 49-cent tax-rate increase approved in November 2015.
Pretto, Stormer and Hassler had high praise for the strategic plan. Pommer said she supported Prop R, but was not keen on the strategic plan.
Pretto noted that the strategic plan, developed under the leadership of interim Superintendent Norm Ridder, was "sorely needed. It gave us direction. It gave us a clear path on how we should take those funds that you blessed our community with and apply them so that the strategic plan was followed to the 'T' for the benefit of our students …"
Stormer noted that the initial cost of fully funding the strategic plan was 85 cents.
"We used surveys. We talked to the community. It was a strong — about 55 cents that they were willing to recommend and that they would be OK with," she said. "Not wanting to push it too far, we wanted to be conservative with what we were going to ask our community, we wanted to come out with a full plan for what would the money be used for. So that is why we went with the 49 cents.
"It is one of the best things that we have done in this district. It has taken random decisions and ideas and has placed it into a path of how we will achieve a better school district."
Hassler said, "… This district needed a strategic plan for years. I've been on other committees and we often brought up: Where's our strategic plan? And there wasn't one or maybe there had been one sitting on the shelf from three prior superintendents and it didn't carry over to the next group of people."
Any organization needs a plan, she said, adding, "You have to have a goal. You have to be able to fund the goals and you have to be able to implement all of the things that the strategic plan sets out to accomplish to educate our children and make our children academically successful."
Pommer said, "I think that the increase, the tax increase, was needed. But as far as the strategic plan, it seems like Mehlville always had wish lists and I have a hard time trusting the board and the administration on following through on everything that they said they were going to do."
She added that she would like to see curriculum enhancements to help improve the district's test scores.