Mehlville girls seek success on the court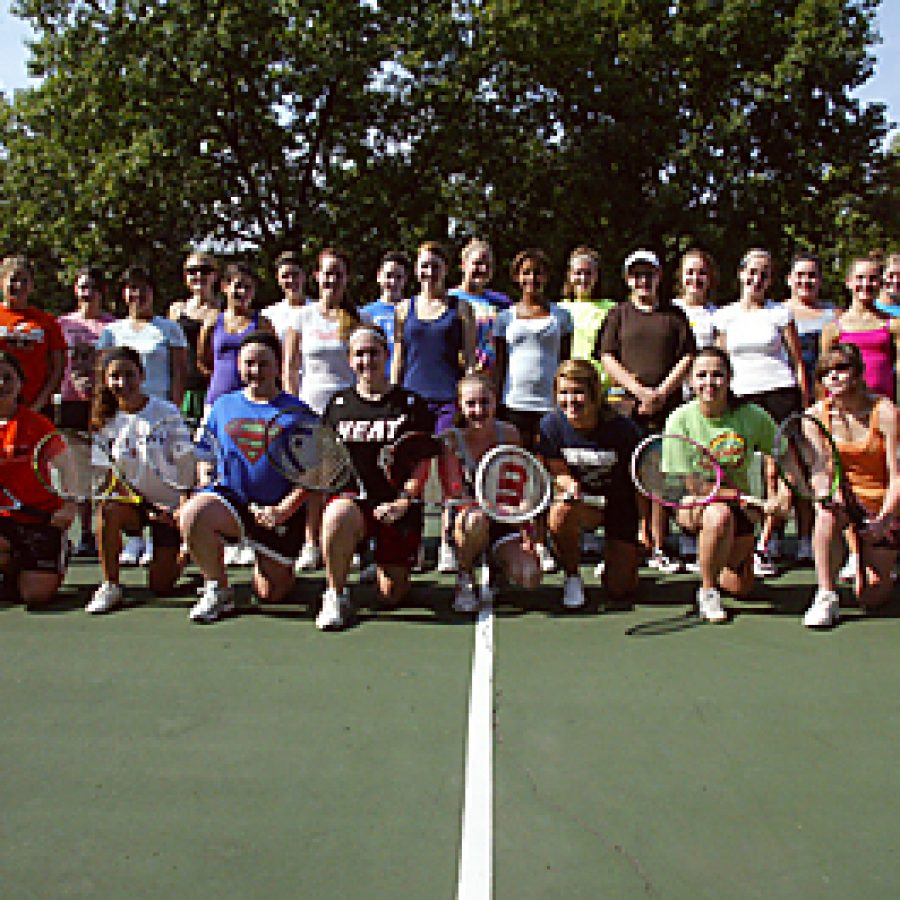 Competition among themselves will make the Mehlville Senior High School girls' tennis team better right away.
Seniors Mary Gonzalez and Sarah Lafser are the Panthers' top returning players, but freshman Sabina Okanovic has the experience and talent to bring out the best in her older teammates.
"Mary's been our No. 1 for a couple years and Sarah was our No. 3 last year. Sabina has really good experience playing tennis, and has good fundamentals," Mehlville head coach Bill Ebert said.
Ebert expects Gonzalez will maintain her grasp on the Panthers' top spot, while Lafser will take on opponents' No. 2 players because of her experience.
"Our strength will be the singles, at two and three, not that my one won't be, but she's going to face some stiff competition," Ebert said.
Mehlville finished with a 3-11 record a year ago, and Ebert wants the Panthers to improve that record by working on attitude.
"We're going to have to work on our aggressiveness, and a little on our mental attitude to forget their mistakes," Ebert said.
For the Panthers, Ebert said that comes through playing each other.
Twenty-eight girls were competing for playing time before the start of the season.
The roster had 22 girls last year.
"It's been hot out practicing, and their attitudes have been great, so I expect their attitudes to be the same as the season goes on," Ebert said.
The Panthers are looking for seniors Jill Stephenson, Liz Simone and Sarah Rapp and juniors Abby Presson and Haylie Thibodeaux to battle for the top two doubles teams.
Ebert said inexperience could hinder the doubles play, but effort shouldn't.
"My girls are always great kids," Ebert said. "They're always great academically and athletically, and they try their best.
"That's all I can ask."
Mehlville Girls' Tennis
Sept. 2 University City A 4 p.m.
Sept. 7 Jackson A 4 p.m.
Sept. 9 Lindbergh A 4 p.m.
Sept. 13 Webster Groves A 4 p.m.
Sept. 14 Ladue A 4 p.m.
Sept. 15 Rockwood A 4 p.m.
Sept. 16 Marquette A 4 p.m.
Sept. 20-22 Conference Tourney A TBA
Sept. 23 Oakville A 4 p.m.
Sept. 28 Lafayette A 4 p.m.
Sept. 29 Lutheran South A 4 p.m.
Sept. 30 Parkway South A 4 p.m.