Mehlville board weighs revamped teacher pay plan
Schedule would add money to starting pay, top salaries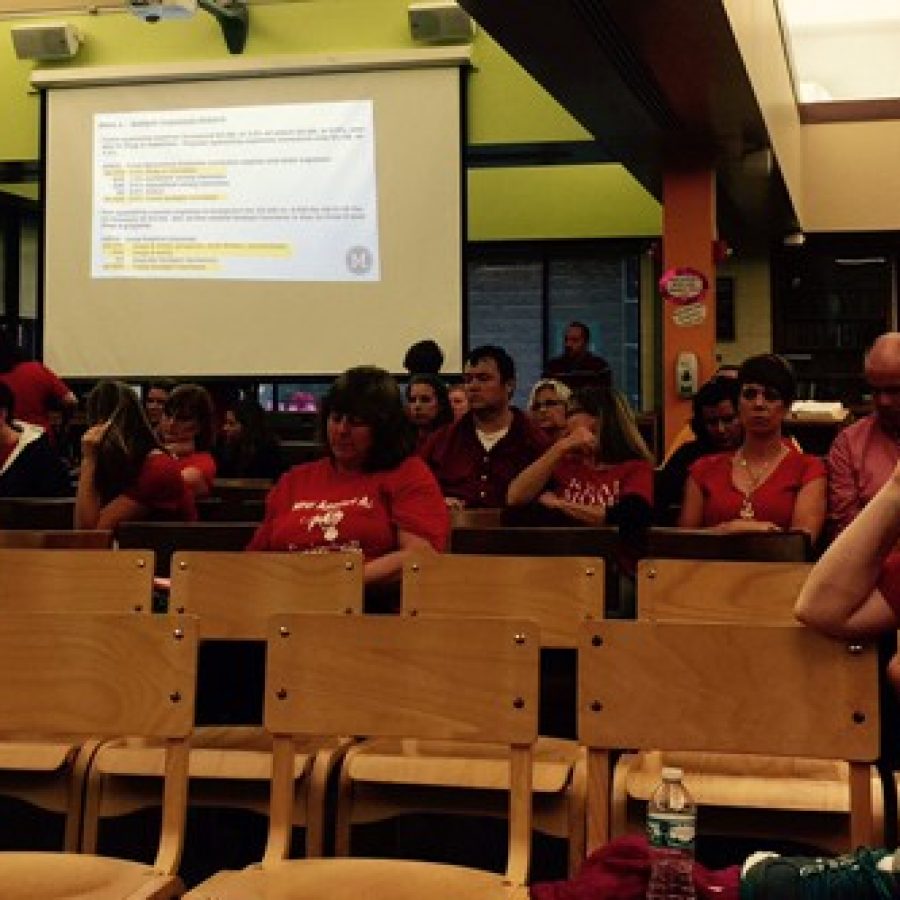 Teachers left the Mehlville School District last year in droves, but few are leaving this year — and those who stay could be rewarded with a new salary schedule that makes their salaries more competitive with surrounding districts.
Pending a vote from teachers, the Board of Education could ap-prove a memorandum of understanding, or MOU, that includes a new salary schedule as soon as today — Thursday, May 26 — when it meets at 6:30 p.m. in the Administration Building, 3120 Lemay Ferry Road.
Negotiations are confidential, but the administration built its preview of next year's budget using a one-step increase to salaries, which on the old salary schedule is a 2.5-percent increase. If they happen every year, steps roughly equate to a year's worth of service and increase the teacher's salary every year.
"The salary schedule's completely re-done, but the cost of redoing the salary schedule is about the same as giving a step," Superintendent Chris Gaines said. "There's still steps, but steps won't equate to years for almost anybody."
Salaries were frozen last year as the number of teachers who typically leave the district tripled to nearly 60 after $4 million in budget cuts that led to the passage of a 49-cent tax-rate increase, Proposition R, last fall.
If approved, the new one-year MOU would be the first significant change to the district's salary schedule in a decade and would add more money to the base starting salary and more money at the top of the schedule for veteran teachers, with a goal of attracting and retaining employees.
The idea comes out of the Salary Schedule Committee that has been meeting on and off since it was mandated in the MOU from two years ago. The committee is made up of board President Samantha Stormer, board member Larry Felton, Wohlwend Principal Dave Meschke and teachers Derek Norton and Ernie Perrica, who is heading up negotiations this year.
After last year's exodus of teachers, then-board President Venki Palamand tried to add money to the starting salary, but after teachers objected, he pulled it from the agenda. The committee later produced a new schedule that incorporated the basic idea of increasing the starting salary to attract applicants, but also added money at the top of the schedule to keep teachers from retiring.
When the committee met Oct. 7, member and Executive Director of Human Resources Mark Catalana said compared to districts like Lindbergh Schools, Fox, Kirkwood and Rockwood, the new schedule would attract higher-quality talent by raising the Mehlville starting salary from $36,059, last in the region.
"We would leap frog Fox and be second from the bottom," Catalana said. "The attraction piece would be taken care of, and I think that's huge, I really think that's big."
A month before voters approved Prop R by historic margins Nov. 3, Stormer said she overheard someone who did not know she was on the board bashing Mehlville after hearing about the budget cuts.
"She goes, 'How can they not take care of those kids?'" Stormer said. "I cannot stand constantly being known as the cheapest, that drives me nuts. That is frightening to me to hear those kinds of things from people who have nothing to do with the district … The way they talk about us is not the way we need to be known — we have too much talent, we have great kids, you look at our academic programs, scholarships — we need to show that we are a place to come. And we are a place to stay."
In light of the record number of teacher resignations last year, Palamand wanted the board to consider adding to base salaries in an emergency move designed to prevent further resignations, but Stormer felt that was up to the committee.
"I think it's something we've got to get on right away and send a message to the staff that we're doing what we can to shift money around to try to retain staff," Palamand said.
Then-board member Lori Trakas noted that the panel was formed not to add dollars to the salary schedule but to shift existing dollars around to better attract and retain.