Mehlville board places Prop R on Nov. 3 ballot
Voters to eye 49-cent tax-rate hike: Citing mistrust, Trakas says voters won't support Prop R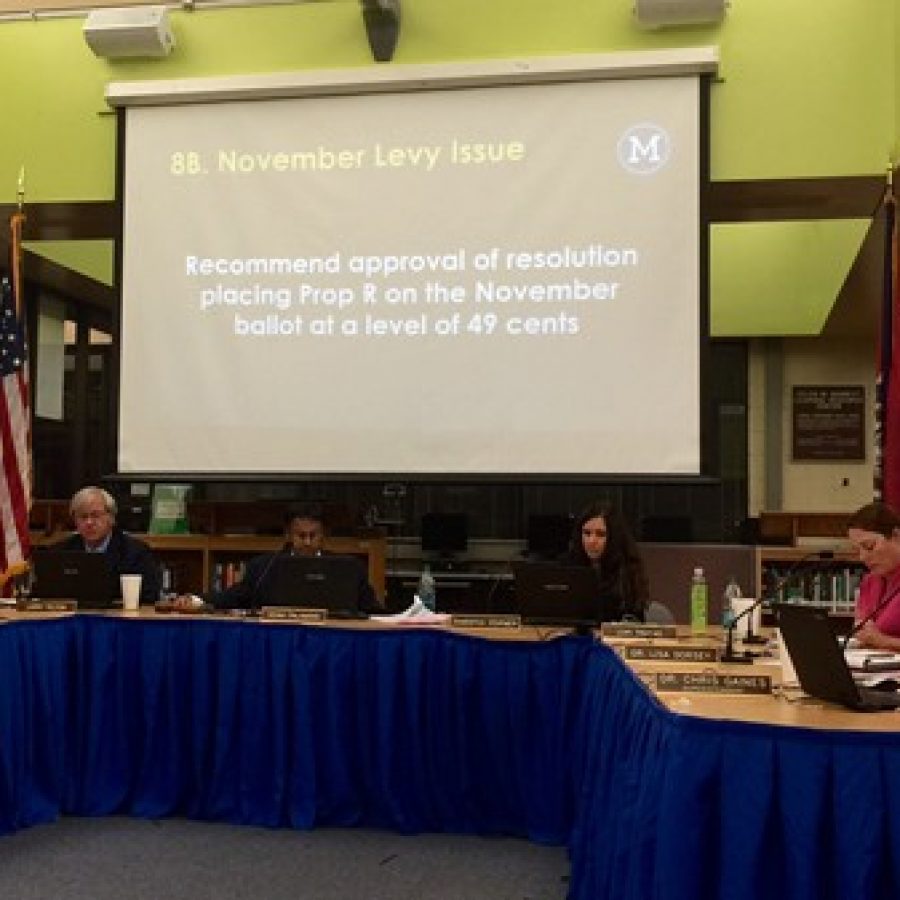 Some Mehlville School District residents came out for and against a 49-cent tax-rate increase last week, but voters will get the final say when they weigh in on Proposition R in November.
The Board of Education voted 5-1 Aug. 17 to place Proposition R for Restore on the Nov. 3 ballot. Board member Lori Trakas paused but ultimately voted against sending the measure to voters, and board member Jamey Murphy was absent.
Board members voting in favor were President Venki Palamand, Vice President Larry Felton, Secretary Samantha Stormer, Jean Pretto and Lisa Dorsey.
An early August survey indicated that a majority of frequent voters would approve a 55-cent hike, up from 40 cents in May.
After the vote, the district rolled out a page on its website about Prop R that states for a homeowner with a $150,000 house, the increase would cost $11.67 a month. If approved, the district's tax rate would increase to nearly $4.23 per $100 of assessed valuation.
Mehlville voters have not considered a tax-rate increase since overwhelmingly rejecting 88-cent Prop C in 2010 and 97-cent Prop A in 2006. The last tax-rate hike voters approved was 49-cent Prop P for facilities in 2000.
If voters reject Prop R, Superintendent Chris Gaines said just to break even Mehlville will have to trim $3 million to $5 million on top of this year's $4 million in cuts, with more to come. Dozens more teaching positions would likely be slashed besides the 23 already cut this year.
"One of the things I've said is a vote against putting it on the ballot tells me that you want me to immediately put together another list of $3 million to $5 million in cuts, and you're willing to make those cuts," Gaines told the Call before the vote.
Of the roughly 100 residents and dozens of speakers who turned out, most favored Prop R.
Oakville Middle School student Thomas Schartner told the board the cuts are hurting: Classes are larger, traffic is congested and some of his favorite teachers are gone.
Lemay resident Ken Meyer responded that he would give Thomas a "little history lesson associated with the free-enterprise system," and that the eighth-grader should also worry about taxpayers, not just students and teachers.
Blades Elementary parent David Townsend, an Oakville real-estate broker with 24 years of experience, said Mehlville home sales are sliding compared to Lindbergh, where Crestwood ranks in the top 10 ZIP codes nationwide for fastest home sales.
"Why are they in the top 10? Because of their school district," he said. "They've become a very desirable area because of their school district. So not only (is Lindbergh) enriching the lives of their children by providing a great education, but they are enriching the lives of their community, and they're growing the value of their community."
Comparing data on average home sales, Townsend noted that Lindbergh sales average $150 per square foot, while Mehlville lags behind at $117 and Oakville at $121.
"If you sold the same home in Lindbergh versus Mehlville, it's a $47,000 difference," he noted.
Referencing Trakas' past comparisons of Mehlville to Greece, Oakville Elementary parent Henry Eirich told her that voting against the levy would stifle residents' freedom to decide the fate of their schools.
"Ironically, Greece is known for being the founder of democracy," he said. "Even as recently as this summer when Greece was in turmoil, Greece called upon its citizens to vote in an election to make important decisions vital to their country. Ms. Trakas, do you believe that the residents of this community are entitled to the same liberties as the residents of Greece? Isn't America a democracy? Isn't the state of this district an important issue that should be voted upon?"
Parent Suzanne McGinnis noted Mehlville's past success but said a Mehlville education is not what it used to be because it has been "cut and cut" and is heavily funded by constant parent fundraising.
"We have a new fundraising opportunity for everybody: For less than 50 cents a day, you can help fund a Mehlville School District child's education," she said, adding that sometime in the last decade, "We lost the 'best bang' part of 'the best bang for your buck.'"
Trakas's vote came as no surprise, but Murphy was more of a wild card since during his campaign before he was first elected in April, he gave a range of answers on whether he would support a tax-rate increase to various groups.
A last-minute work commitment in Cape Girardeau popped up the night of the meeting, Murphy told the Call. He works for a professional fundraising company.
While acknowledging that it will be difficult for some residents to believe, Murphy said the timing was a coincidence and unrelated to his hope to seek the Republican nomination for the District 95 Missouri House seat currently held by Rep. Marsha Haefner, R-Oakville.
Asked how he would have voted on Prop R if he had been at the meeting, Murphy said, "I think we need to be careful, right, and I thought we were rushing the whole process. It would have been interesting to hear the debate — I've gone back and forth on this so many times that I don't know …"
Later in the week, Murphy emailed that he was worried about the timing of the election, and would have only supported the ballot measure if it had been considered for April rather than November.
Asked if he will campaign against Prop R now that it's on the ballot, Murphy said, "Board policy says we have to support the will of the board whether we agree with it or not … All I'm going to do is keep pushing good leadership and let the public decide."
Asked if he would take a stand on the ballot measure if it was not against board policy, Murphy said, "I'm going to try to keep pushing the accountability, try to keep building trust and hopefully work with other board members … It's just good leadership. It's up to the community groups to push this or push against this — I'm just going to try to demonstrate with my fellow board members what leadership looks like."
At the meeting last week, Trakas said the timing is not yet right for Mehlville residents to trust the school district, so she predicts they will reject Prop R.
"In life, sometimes you have parents who want to … give their kids everything, and they can't say no at the time even if it doesn't make sense," she said. "And you have other parents who know — because of maybe their experience and their wisdom — when it is that they have to say no, because maybe the timing just isn't right."