Manley receives 2017 Medal of Valor honor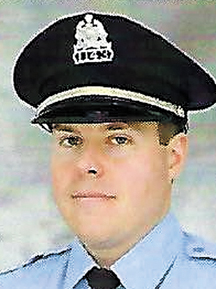 A St. Louis Metropolitan Police Department sergeant is a 2017 recipient of the Medal of Valor sponsored by the Crusade Against Crime of America and the St. Louis Area Police Chiefs Association.
Sgt. Matthew Manley of Concord was presented the Medal of Valor during a ceremony last month in Maryland Heights.
The Medal of Valor is presented in recognition of a conspicuous act of bravery exceeding the normal demands of police service.
On Dec. 31, 2016, Manley and Detective Marcin Zajac responded to a call for shots fired, where they found a group of men, including one crouched near a vehicle in a defensive position.
Another man opened fire on the officers, striking their vehicle.
The men then fled in their vehicle, with Manley and Zajac in pursuit in their squad car. The suspects' vehicle crashed and the occupants attempted to flee on foot, but Manley, Zajac and other officers were successful in capturing the suspects.
Manley has served in the Metropolitan Police Department for over 10 years and has a 1-year-old daughter, Margaret.