The tenure of Crestwood Mayor Grant Mabie, who was set to leave his post April 25 after The Call went to press, has seen the redevelopment of the former Crestwood Plaza mall, a multimillion-dollar water main break at city hall, a pandemic and more.
Mabie announced Dec. 6 that he would not seek another term as mayor because of his family and professional obligations at Hein Schneider & Bond P.C., where he works as an attorney. He was first elected as mayor in November 2018 to finish the term of former Mayor Gregg Roby. Mabie was reelected unopposed in 2020. He had been no stranger to the city — before running for mayor in 2018 Mabie was a two-term Ward 3 alderman from 2015 up to his election as mayor.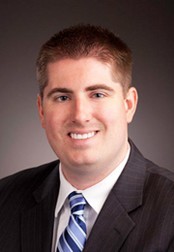 One of the highlights of his tenure was finding a viable developer for the Crestwood mall, which closed in 2013 and was demolished in 2017. Since being an alderman and then becoming mayor, the mall site has seen three separate developers make proposals for the site and then drop out.
In 2022, St. Louis-based grocer Dierbergs and homebuilder McBride separately purchased halves of the property. The west side of the development is anchored by a 70,000-square-foot Dierbergs with additional storefronts for future tenants.
The other half of the property will be an 81-home subdivision by McBride Homes.
"It's extremely challenging to develop malls … We're extremely excited that Dierbergs and McBride were able to work with us and get it over the finish line and we've seen the results, they've already invested tens of millions of dollars into the property with new infrastructure," Mabie told The Call in an interview. "It's just really a shot in the arm for the city and for the Watson Road corridor … Certainly the credit is not mine on that, it was a joint effort with the Board of Aldermen and city staff. And going back to several Board of Aldermen that were necessary to bring that project to fruition."
Mabie conceded that the Crestwood Crossing development was not what he was originally expecting for the property.
"If you had asked me in the past if I had expected this, I would have said no," Mabie said. "I am satisfied with how it turned out. I think the Dierbergs we have is I think one of the finest Dierbergs in the county. It's the first subdivision of 50-plus homes that we've built in Crestwood in over 50 years."
His time as mayor has seen other improvements in the city, albeit unexpectedly at city hall when a Missouri American Water Main Break caused millions of dollars of damage to the building, which was built in the 1970s. Between the insurance payout and reserves, the city renovated city hall and made it more accessible, with renovated aldermanic chambers, new windows, new fire department facilities and more.
"Beyond the pandemic probably one of the more challenging things I had to deal with as mayor was the flood of city hall in 2019. So you know, we had a flood and pandemic. We didn't have any locusts or anything," Mabie joked. "With insurance and using some city reserves and some grants we were able to substantially renovate our government center and reduce its effective age."   
As far as navigating the pandemic, Mabie said it was a "team effort" and gives credit to the aldermen, city staff and the city administrator, Kris Simpson.
"That was obviously a unique and crazy time for everyone … Looking back, every day was something new to navigate but collaboration among all levels of government, collaboration among the Board of Aldermen and city staff, we hopefully made it through," Mabie said. "It was a sad time but hopefully we made it through as good as we could. We never stopped serving our residents."
And despite the pandemic, Mabie feels that the city is still in a strong economic position, especially with recent growth including an upcoming redevelopment at 8800 Watson Road without the use of tax incentives.
"I think blight is one of those things that can snowball and I think we saw that with the mall … But economic development can also snowball and I think that's what we're seeing," Mabie said. "We opened a new Aldi in the city, we opened a new McDonald's, we opened a new BriteWorX, we opened a new Taco Bell … The city is … now a growth area."
Mabie credits some of that with having a pro-development Board of Aldermen that is able to balance the needs of developers with the needs of residents. 
"We obviously want to be cognizant of resident concerns but when you look around at some other cities, sometimes some projects get killed," Mabie said.  "Redevelopment and economic growth, especially in inner-ring suburbs, is a way to bring prosperity to community."
When he first took office, Mabie said he wanted to increase government efficiency. Four and a half years later, he feels as though he has accomplished that.
"I think for a city our size, we are probably run as efficiently as any in the county," Mabie said. "I think we run a very tight ship financially and are probably one of the best bangs for your buck … in the county."