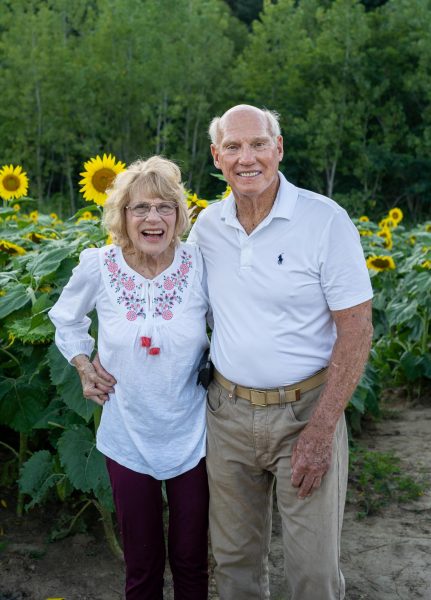 Between the banks of the Mississippi River and the greenway trail at St. Louis County's Cliff Cave Park, multiple acres of over a thousand sunflowers greet walkers, runners, bikers and others who utilize the park.
The acres of flowers are the result of several hours of work and dedication from Columbia, Illinois, resident Tom Rollins, who planted the fields as a peaceful space for his wife Marian, who was diagnosed with dementia nearly six years ago.
Tom remembers the date of Marian's diagnosis — Nov. 10, 2017, and called it "pretty shocking."
"I found out it was necessary for me to really help her be aggressive on this (treatment) program. … I knew I didn't have a really long period of time," Tom said. "The big change we had was diet, exercise and faith – commitment. … There's not really medications that you can take. You have to support them with love, and for us, faith was a big part of it. And because of that we've done this journey."
The couple of over 60 years are high school sweethearts. They met their sophomore year at Mehlville High School and have basically been together "ever since" Rollins said. They got married in 1962, and Marian joined Rollins in California, where he was stationed as part of the Marine Corps. After Rollins served in Vietnam, the couple moved back to the area where they raised their two now-adult daughters, Wendy and Tammy.
A few years after her diagnosis, things took a turn and Marian entered into assisted living with memory care in Waterloo, Illinois, for additional support.
"We still continue our life. We go down and I get her out and we ride around in our old 1970s Chevy pick 'em up truck. Once the weather breaks I'm gonna put her back on her trike. She didn't start riding motorcycles until she was 50 and she rode many, many states. She put over 50,000 miles on that Harley Davidson," Rollins said. "Our motorcycle group, we were known as 'Over the Next Hill Gang'. And they're still visiting her. They'll go down there and see her. So she still has the support of the community, of our church, our families and our friends."
Both community and health were driving factors in Rollins's sunflower fields for his wife.
"What I wanted to do was to plant these to attract attention … people out here walking and smiling and happy. So that's the good portion. They're practicing in nature, their wellness. And another thing is that it brings together community," Rollins said.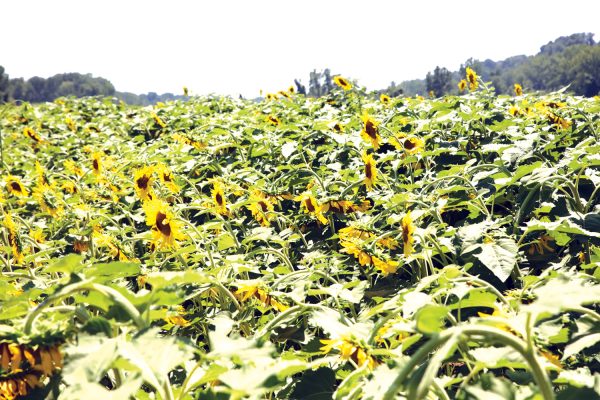 The sunflowers are planted on about 13 to 14 acres of the 50 acres that Rollins owns. He and his business partner originally owned 300 acres, but most of that was ultimately donated to eventually become what is now Cliff Cave Park. The sunflowers – thousands of them – were all hand-planted after a lengthy process of tilling the compact soil and performing a controlled burn.
Once the flowers had bloomed, Rollins brought Marian out to see the fields for the first time.
"(She was) just gradually holding my hand and saying 'I love you.' She said 'thanks for doing this for me.' And I said 'honey, it's not only for you. It's for the other people that have these situations too. We're gonna help a lot of people. A lot of people are going to get out and get healthy. It's you and I, this is our purpose.' I think God has given us a purpose," Rollins said. "To tell you the truth, I wouldn't be doing this if she hadn't gotten dementia. I didn't think there was anything good that could come out of it."
Rollins plans to expand the space beyond the sunflowers fields, including wetland restoration, other native wildflower plantings, providing habitats for birds who migrate along the Mississippi River and doing bald eagle releases for rehabilitated eagles.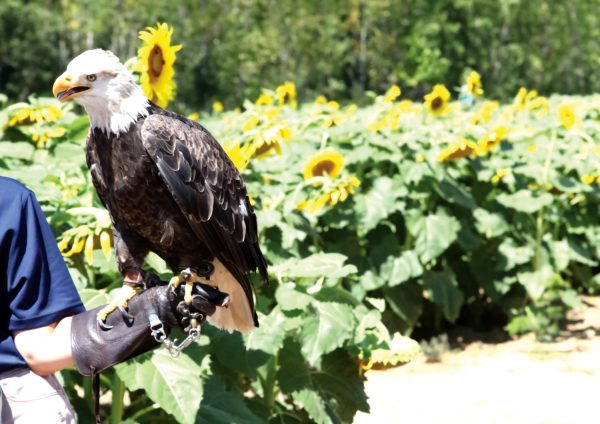 It's a project that is "synergistic to who Marian is," Rollins's nephew Jeff Mahar told The Call. Both Rollins and Marian have been involved with the World Bird Sanctuary for several years – Rollins served on the board of directors for several decades and Marian volunteered at the sanctuary for nine years.
"Our dedication is to the community, is to rejuvenation, to healing and just kind of enhancement to life for everybody," Mahar said. "We've gotten to see people enjoying the sunflowers with their kids and with their pets. … The park has just been overwhelmed with the amount of people who have shown up to enjoy it and not only that, but to enjoy Cliff Cave as well, which is very important to us."
Other organizations, like the Missouri Department of Conservation, have also expressed an interest in partnering with Rollins on some of the flora and fauna aspects of the project, while the Goddard School in Oakville has reached out to donate benches to place along the trails in the sunflower fields to make the trails a bit more accessible.
"I knew this would be a natural place for them to have studies … they're excited about not just the sunflowers but also my commitment to trying to restore the wetlands and things of that nature. … We also want this to be a place to educate children," Rollins said. "So all good partners that we want to have. I think there's going to be many good bites out of the apple out of this."
In addition to the wildlife conservation and educational partnerships, Rollins also has plans to partner with veterans organizations, a result of his time in the Marine Corps and service in Vietnam. He hopes the fields can be a peaceful space for veterans suffering from PTSD or other mental and physical health issues post-service.
"We would like to see this be something that is helpful to other people, whether it's just to bring a smile to somebody's face or it's just for therapeutic reasons, we would love to see that happen," Mahar said.
Rollins, Mahar and the rest of Marian's family encourage the community to share their photos of the fields on social media. The family has created a Facebook page for the fields at www.facebook.com/mariansplaceorg. Marian's Place is located at the bottom trailhead of the Mississippi Greenway trail at Cliff Cave Park, 806 Cliff Cave Road.
The family is not collecting donations at this time, as Marian's Place is "a gift to the community." Those who want to contribute to Marian's Place can help by spreading the word about the project and keeping the sunflower fields clean.