Longtime Sunset Hills resident, World War II veteran honored
'Charles Julius Stockhausen Day' declared by Furrer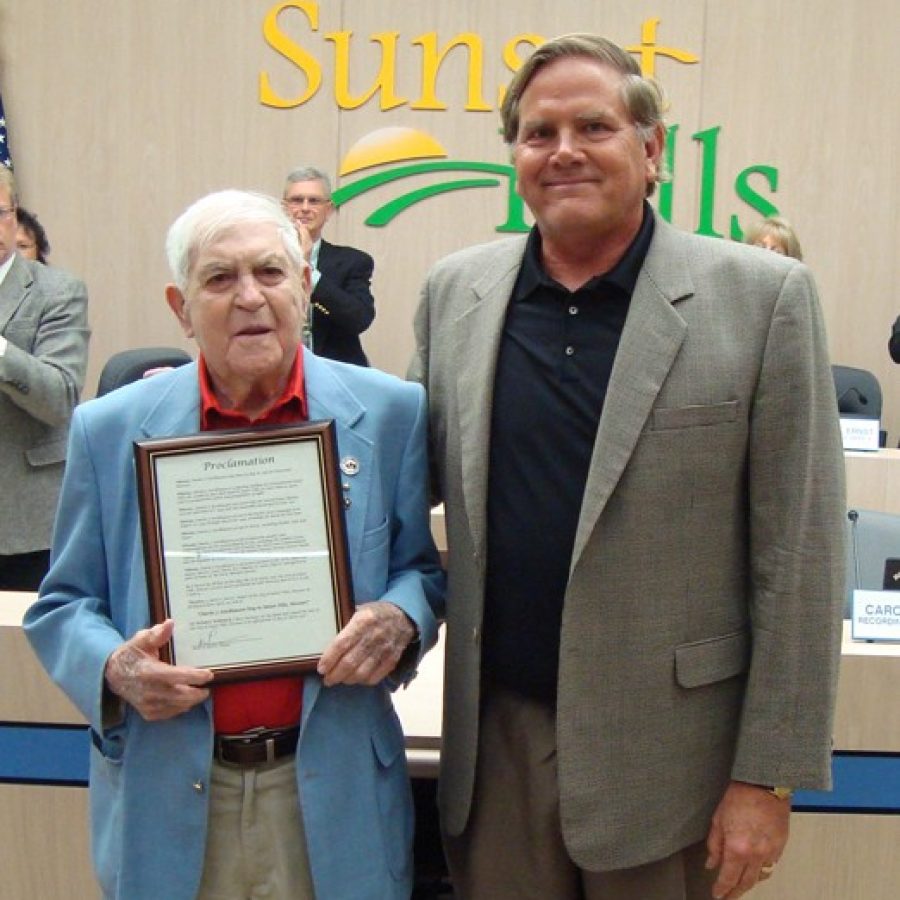 On his last day in office, former Sunset Hills Mayor Mark Furrer honored a longtime city resident and World War II veteran by declaring a day in his honor.
April 26, the day Mayor Pat Fribis took over the mayoral post from Furrer, was "Charles Julius Stockhausen Day" in Sunset Hills in honor of the 90-year-old Stockhausen, who was born in Crestwood July 26, 1925, and has lived on Rott Road in Sunset Hills for more than 30 years.
A "proud" father of five and grandfather of eight, according to Furrer's proclamation, Stockhausen has been a lifelong resident of Crestwood and Sunset Hills except for his military service, when he enlisted in the U.S. Marines on Sept. 27, 1943.
Until he was honorably discharged from the Marines in July 1952, Stockhausen served during World War II, including at the Battle of Iwo Jima, and later in the Korean War.
During World War II, Stockhausen served in the Pacific campaign from Aug. 12, 1944 through March 28, 1946. In Korea, he served in Incheon, Seoul and Chosin.
"He went from the heat of the tropics in Saigon and Iwo Jima to the cold of the frozen Chosin, Korea," Furrer said.
Stockhausen was one of the Marines on Iwo Jima, "which he'll never forget," Furrer said.
"Was that the real flag raising or the second one? Or both?"
"I think it was the real one. But they brought a bigger one up later on, yes," Stockhausen replied.
In a history of Stockhausen's military service on the Focus Marines Foundation website, he recalls the moment that he saw the American flag flying on Iwo Jima.
"On Feb. 23, 1945, someone said, 'Look down at the mountain,' and we could see Old Glory flying, on the island of Iwo Jima," Stockhausen said. "The battle was not over, but it was a good start, and it sure helped our morale. On the beach was volcanic sand. It was really loose and hard to walk on. The vehicles could not get off and were stuck on the water line, a perfect target for the artillery and mortar shells."
After returning to Camp Tarawa in Hawaii from Iwo Jima, Stockhausen recalled that he and the men he served with went on long hikes at night to operate communications, accompanied by Navajo "code talkers," which later became the subject of the movie "Wind Talkers."
The decorated war veteran has received many medals for his "extraordinary" service, Furrer said, including the Combat Action Ribbon, the Navy Presidential Unit Citation, the Navy Unit Commendation Ribbon, the Korean Service Medal, the United States Korean Service Medal and the Republic of South Korean War Service Medal.
More recently, Stockhausen has been a longtime member of St. Lucas United Church of Christ, the Veterans of Foreign Wars, the American Legion, the Freemasons, the Chosin Few made up of veterans of the Battle of Chosin Reservoir in Korea and is a quarterly honored guest of the Focus Marines Retreat.
"Be it known by all that on this day, the 26th day of April 2016, the city of Sunset Hills, Missouri, extends sincere gratitude for your bravery and service to our country," Furrer read to Stockhausen at the April 26 Board of Aldermen meeting, to applause from the audience and a standing ovation from aldermen and city employees.
After the applause died down, Stockhausen thanked everyone who attended the meeting, including his family.
"It's been a pleasure living in Sunset Hills, this is quite a good area," he said. "It's next to two interstates, we have swimming pools, parks, a good Police Department and a good administration here. Thank you very much."
"I'm proud to honor him," Furrer said. "(He) … still walks, talks, that's incredible. He just can't hear too well."
"That's right," Stockhausen responded, before energetically striding down the aisle of the City Hall chambers.
Stockhausen's son was a police officer for the Sunset Hills Police Department for 22 years until he was injured, and is now a St. Louis County Police Department deputy, Furrer noted.
When Furrer returned to the dias to ask for the election results to be read and turn things over to Fribis, he said, "Without a doubt, that's one of the most pleasurable and memorable aspects of being mayor. Men like that are called the Greatest Generation for a reason."
In March, Furrer honored another decorated Sunset Hills World War II veteran, Lyle Bouck Jr., 92, who led the most-decorated battalion of World War II that fought off 500 Germans during the Battle of the Bulge. Furrer proclaimed March 22 "Lyle Bouck Jr. Day" in Sunset Hills.