Longtime letter writer Harvey Meyer dies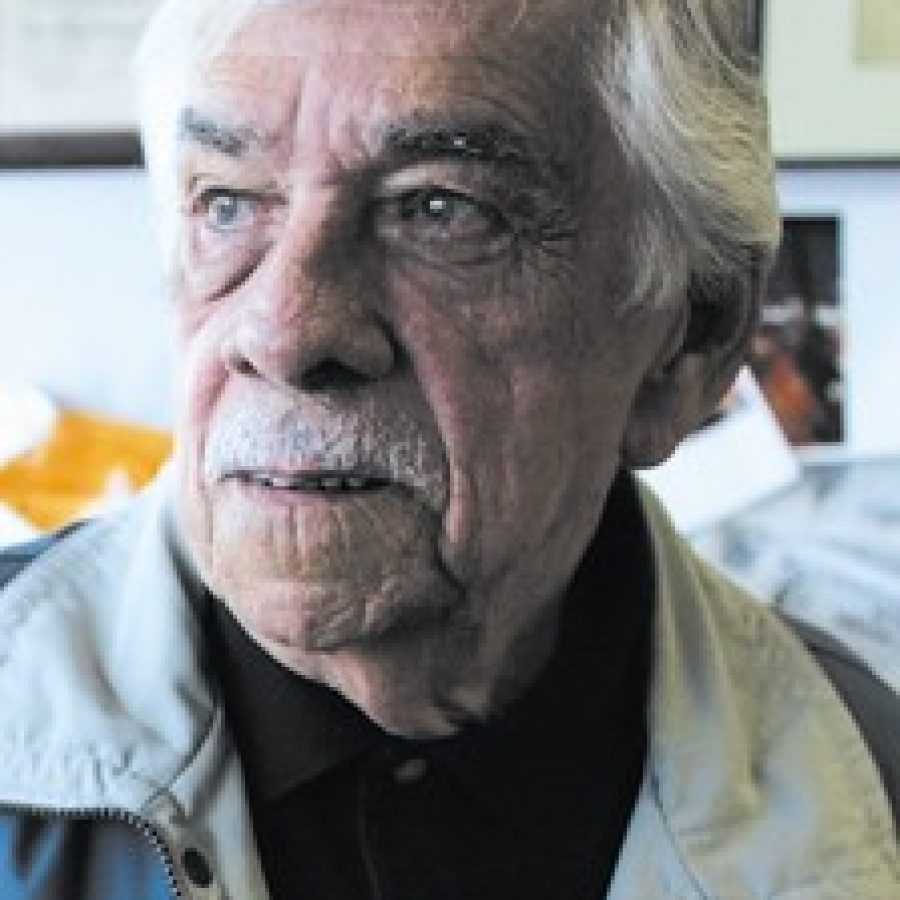 Harvey J. Meyer, Green Park, died Aug. 25.
Mr. Meyer was well-known for his hundreds of letters to the editor published in area newspapers, and he was the most prolific letter writer in the history of the Call.
Turned down by the Navy because he was colorblind, he served in the Merchant Marine and later as a clarinetist in the 24th Division Army Band, stationed in Japan. After his discharge from the Army, although still colorblind, he was hired by Silk Screen Products, a printing company involved in high-tech color applications. He worked there for 42 years, attaining the position of superintendent.
It was a position that required examining the color in billboards, but Meyer managed to deflect all inquiries about color to other employees, he told the Call.
After retiring, Meyer drove a charter school bus for First Student Transportation until he was let go when it was discovered after 10 years that he was colorblind.
One letter he wrote to the Call in which he joked he had a sawed-off shotgun resulted in a visit from two agents from the Bureau of Alcohol, Firearms and Tobacco, who informed him possession of such a weapon was a felony.
"I said the whole thing was a joke and it was the Call's fault for printing the thing," Mr. Meyer wrote in a Jan. 28, 1993, letter to the Call.
Meyer was the husband of the late Mary Lou Meyer (nee Pittman) and Essie Brda Meyer (nee Helvey); father of Richard and the late Joseph, David and Michael Meyer; grandfather of Kerstin Meyer, Alison, Catherine, David, Luci, Samuel and Isaac Brda; brother of Mary Lou (Doug) Puls and the late John, Richard, Edward and Betty Jean Meyer; and best friend and companion of Greta Jackson.
Visitation and funeral services were at Kutis South County Chapel. Interment was in Jefferson Barracks National Cemetery.
Meyer won the Call's vacation contest in 2008, recounting his adventures while in the Merchant Marine to Call General Manager Bill Milligan.
The federal firearms agency responded to a letter Meyer wrote in which he talked about gun buyback programs and mentioned "crazy gang members."
"Do I feel at risk writing such statements?" Meyer wrote. "Not at all. I doubt these morons have the mentality to read.
"However, if some genius in the gang has the ability to read and gets upset because of my remarks, have him come on over. I happen to own a two-foot sawed-off shotgun which spews pellets over an entire room. I can't possibly miss. Please, come on over, but do me the favor of knocking on the door and announcing yourself before entering. I would hate to blow an innocent citizen to bits."
On the opinion page that featured Meyer's letter recounting his visit from the ATF, all of the Call's four letters to the editor that week were about Meyer, who had recently written the Call about spelunking and funeral processions.
"Does he have compassion for anyone? How much does he contribute to society?" Rita Russo of Oakville said of Meyer in that same issue. "Mr. Meyer, stay in Affton, or better still, live in a cave in Oakville, then you won't have to worry about your funeral procession or our environment."
Another letter writer, Lemay resident Jim Helvey, said he looked forward to Meyer's "absolute gems," which ran so often he believed Meyer must work for the Call. He wasn't the first or the last to make that suggestion, and the Call once ran a note under Meyer's letter noting that he was not related to anyone at the Call.
"For quite a while now, I have suspected that Harvey Meyer, the letter writer, is a member of the staff at the Call…. Using Meyer as a letter writer is a great idea. People think he is just a voice in the crowd, a guy they can jump over, which they do again and again…. Most say he is a crab with a negative attitude, but I think he enjoys that image and likes to keep things stirred up. My wife says he can't be a Call staff member because we also see his letter in other newspapers. So who's right? Either way, keep him coming. He's great."
Although he wrote letters to newspapers even before the founding of his city, Green Park, meant that he no longer lived in Affton as he had long signed his letters, he often focused on the politics of what he called "our fair city" and did not hesitate to criticize those in power, or fellow pundits.
Responding to a letter from another frequent letter writer, future Ward 1 Alderman Michael Broughton, Meyer wrote, "I have always suspected that Mr. Broughton writes just to see his name in print — not that there is anything wrong with that. I don't care if his name is in print or not, it's just that even though I'm retired, I just don't have time to read most of his letters."
In 2010, Meyer wrote that Broughton's "letters usually use up more words than the much-debated health-care bill."
Responding to the news that Green Park founder Fred Hoehn would run against then-Mayor Tony Konopka in 2009, Meyer wrote, "While I believe Mayor Konopka is doing a good job, I believe Fred Hoehn can do better."
He turned his attention to other areas of south county, too. Responding to an article in the Call that noted then-Crestwood Plaza mall owner Westfield was considering legal action against the city of Crestwood, Meyer suggested a different lawsuit instead.
"Have you been to that mall lately? If anything, the Crestwood mall should be sued for impersonating a shopping center," he wrote.
In a 2004 letter, Meyer referenced his future burial site at Jefferson Barracks National Cemetery, noting that he believes the land on which the Oakville Wal-Mart sits should have been part of the cemetery.
"I want to be put to rest at Jefferson Barracks, but they are running out of room. Every day, a dozen or so people are buried there and that's OK, I'm in no hurry," Meyer wrote. "But I can't help but think that when they do run out of room, how many guys like myself could have fit comfortably in that big chunk of ground upon which Wal-Mart sits."
Meyer's last letter to the Call ran in August 2015, railing against Broughton, now an alderman.
"There was a time when Green Park was known as Clown City. Is Mr. Broughton trying to bring out the clowns once more?" he wrote.
He often talked about enjoying his retirement, including in a 2006 letter where he talked about the view from his Green Park window on a snowy morning.
"The recent sleet storm reminds me that the nicest thing about retirement is that on snowy mornings I can wake up, take a peek out the window, see five or six inches of the white stuff, wish the poor people who must get to work a sleepy 'good luck,' roll over and go back to sleep," Meyer wrote.
But all of his neighbors, including the retired ones, were shoveling their driveways instead, he said.
"What's with these people? What do they think they're doing? I'll tell you what they're doing. They're shoveling themselves right into the grave. Why don't these old geezers just relax and enjoy the beauty of the new-fallen snow?" Meyer wrote.