Local schools assess student safety efforts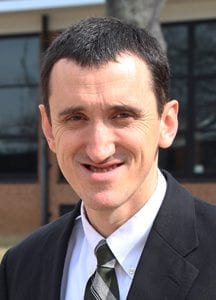 By Gloria Lloyd
Staff Reporter
news3@callnewspapers.com
Local school districts are re-examining how to keep students safe in the wake of the most recent school massacre, but some of those upgrades could stay under wraps.
Mehlville School District, Lindbergh Schools and Rockwood School District officials met last week with county law enforcement to discuss what they can do to prevent a similar tragedy from happening in St. Louis County.
They came together at the behest of Rep. David Gregory, R-Sunset Hills, who represents all three school districts.
The districts already have school resource officers, or SROs, on hand at some schools, along with automatically locking doors at school entrances and other common security tactics like video monitoring. Concerns about school security are nothing new. But in light of heightened concern from parents following the deaths of 17 students and staff on Valentine's Day at the hands of a former classmate at Marjory Stoneman Douglas High School in Parkland, Fla., districts are re-examining how they can best protect students.
Mehlville Superintendent Chris Gaines is forming a district committee comprised of Executive Director of Planning and Development Brian Smith and security professionals to look into continuous improvement of security practices, the same way Gaines has analyzed everything from facilities to school schedules since he started on the job in 2015. He has included South County Precinct Capt. James Schneider in the latest discussions.
But the public may never learn what improvements are recommended because Gaines plans to move conversations about security to the school board's closed sessions.
"We're kind of for the most part being kind of closed-lipped with some of the new stuff that we're doing, just because we don't want anybody to know and so we're not predictable," he said. "You kind of want to tell people what you're doing, but you don't want to tell everybody what you're doing."
He expected school security to be the hot topic at the board listening session set for Tuesday night — after the Call went to press. Parent Teresa Tosi asked the board Feb. 22 to establish a security task force. When she attended the University of North Carolina-Chapel Hill, she saw a gunman open fire on campus.
"It breaks my heart that 20-plus years later, things are getting worse, much worse for our children," Tosi said. "There is not a day that has gone by this school year that I haven't felt a knot in my stomach as I drop off my 7-year-old at her elementary school. We cannot stand back and do nothing."
Since Parkland, Mehlville has seen a spike in fights and threats, none of which were found to be credible, Gaines said.
"The biggest part though is just if kids or parents hear something to make sure that we know about it so that we can begin to act," he said.
School officials nationwide may re-think how to react to fire alarms since those were pulled in Parkland to lure more students out of classrooms, said Gaines, who is set to take over as president of the largest nationwide superintendents' organization, The School Superintendents Association or AASA, this July.
As for arming teachers, Gaines said, "Of all the teachers that you've ever had, how many of them would you be OK with having a weapon on their person during class?"
After the Newtown, Conn., school shooting, the county Police Department under then-Chief Tim Fitch suggested hiring armed off-duty police officers as substitute teachers — an idea that Mehlville entertained and dropped. This time, the county is working with districts to clarify the role of its 42 SROs, police spokesman Sgt. Shawn McGuire said.
"Officers are in schools to keep kids safe. That is their first and foremost job description," McGuire said. "I don't see it as a change, but more of just a reminder on why officers are in schools."
Lindbergh Schools continues to add security measures, as outlined in a letter to parents from Lindbergh High School Principal Eric Cochran, who used to run the district's security efforts. In the past few years, LHS has added 20 security cameras, upgraded the booth security guard to full-time, conducted active-intruder training as recently as the week before Parkland and hired a full-time crisis counselor.
Since Columbine, the district has hired an SRO, built the security booth and added classroom locks, Cochran said.
"Especially now, I want to reassure you of this fundamental belief: Lindbergh High School as a campus is safer than it has been at any time in its history," he wrote. "Each time one of these horrific events occurs, we learn, re-evaluate and take action."
But the chief challenge for officials trying to secure LHS is its open California-style campus layout, which spreads classrooms across a number of unconnected buildings.
"Anyone who has ever visited our campus recognizes that we have significant challenges when it comes to school security," Cochran wrote. "The open campus that has served LHS effectively for 60 years now leaves each of us feeling concerned."
Someone thought the open campus was a good idea when it was built in the 1960s, a time when people didn't even lock their houses, Superintendent Jim Simpson said.
"It's just the opposite of what would be a secure campus in design today," Simpson said.
Simpson is retiring this year, so it will likely be left to future officials to try to solve the security issue at the high school, possibly as part of a larger initiative to expand space for the growing wave of students headed to LHS. In a few years, it is set to be the largest high school in Missouri.
While the many exits and entrances into LHS are a cause for concern, they could also help students escape during an emergency. Reports on Parkland noted that the three-story building where the shooting took place had few exits for students to get away once they realized what was happening.
But for all the concerns of parents and administrators, school shootings are not as common as they may seem.
In a talk at the St. Louis County Library headquarters in Ladue Saturday, Harvard cognitive scientist Steven Pinker said that while public "rampage shootings" might be on the rise, mass murders as a whole are on the decline, and talking about school shootings inspires others to imitate them.
"For all of the massive saturation coverage school shootings get, they're actually not a major category of violence, and paradoxically, it's precisely because we're so obsessed about them that they occur," Pinker said.