Lindbergh teachers announce end of working to contract
Scronce says time to move forward, 'reunite our family'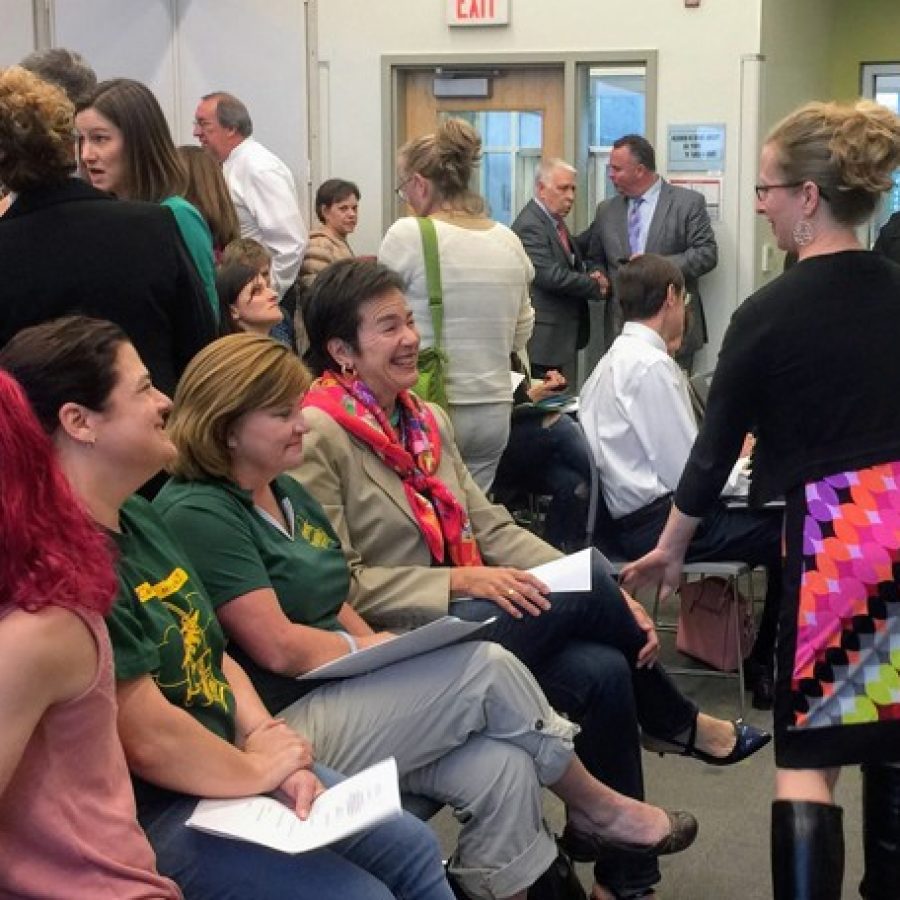 Lindbergh teachers announced the end of working to contract last week, just after a union-backed slate of new members took over the majority of the Board of Education in the April 4 election.
The teachers of the Lindbergh National Education Association, or LNEA, first announced they would work contract-only — or only work inside the hours they are contracted, with no after-school or weekend activities — last summer, contingent on a series of demands that Lindbergh Schools officials say they felt they already met.
With more than 300 LNEA member teachers voting, 82 percent voted to stop working to contract after four teacher-backed candidates were elected to the school board, LNEA President Kim Scronce announced at last week's board meeting, where the new members were sworn in.
"It is time to move forward, it is time to reunite our family," said Scronce, who lives in Oakville. "Teachers feel hopeful that trust, honesty and respect will continue to grow, and as it does, loyalty will be returned — after all, the strength of a family is in its loyalty to each other. Lindbergh teachers welcome our new board members and look forward to working together to keep Lindbergh the destination district for many families."
New board members Cathy Carlock Lorenz, Matt Alonzo and Christy Watz were sworn in for three-year seats on the board at the April 11 meeting, and Mike Shamia was sworn in for a one-year term. Outgoing board President Kathy Kienstra and board Treasurer Vicki Lorenz Englund came in fourth and fifth in the seven-way race for the three-year seats, along with two longtime educators who are retiring from the board, Vice President Don Bee and Gary Ujka.
When LNEA Vice President Gretchen Moser of Maryland Heights announced last year that teachers would start working to contract, they only made the decision "after two years of frustration and feeling unheard by district administration and board," she said last week. "There was no question the Lindbergh family was in crisis."
Teachers' decision to stop participating in dozens of extra activities, including Academic All-Star Nights, came soon after they voted 203-1 last year to reject a 1.25-percent raise that did not include a step increase.
The vote to bring work to contract to an end came as a surprise to administrators, including Superintendent Jim Simpson, who welcomed the news.
"I think that's a positive sign, and I think that's an affirmation that the LNEA is very pleased with the board election — that's obvious," Simpson said. "They now have a majority of people they've worked hard to get on the board, so that makes sense. They see this as a different board, and therefore they want to be close to this board and they want to support this board …
"When you work to contract, you're actually working against your board — that's the reason you work to contract, you want them to feel the pressure and to align to what you want to happen. And so it makes sense for them not to work to contract because they certainly don't want to pressure this board."
The trouble between teachers and the district started soon after Scronce took over as LNEA president in 2015 with a "breakdown in communication" during negotiations over a 3.2-percent average raise, Moser said.
Teachers sought a 3.5-percent increase instead, which would have required $29,000 in budget cuts or deficit spending.
For the last two years, teachers have objected to their raises and contended they are underpaid compared to teachers in other county districts.
Over the last three years, they have received an average 9.75-percent raise, in-cluding an average 8.5-percent raise from 2014 to 2016 that was the highest in the county during that two-year time frame.
When teachers first announced work to contract, Scronce and Moser outlined a series of demands administrators and the board would have to meet before work to contract would end.
The list included the Salary Schedule Committee, which met for months and gave its report to the board in January, and an Elementary Plan Time Committee that has been meeting since January and will report to the board in May. The fact that work to contract did not stop when the board agreed to those requests was "perplexing" to officials, Simpson said.
"We thought we had an agreement that if the board were to do those things they laid out, we'll stop working to contract," he said. "We put those things in place, they continued working to contract. We didn't know how to do business with that kind of partnership because anything we agreed to, there would be no way to know were they serious about it? If we did our side, would they do their side?
"I guess the answer is the thing that really took Lindbergh teachers to stop working to contract was to gain the majority of the board."
More than 30 events canceled
Since that decision, officials canceled more than 30 major activities throughout the district because teachers refused to participate in them, including Curriculum Nights at Lindbergh High School, Crestwood Elementary, Kennerly Elementary, Long Elementary and Sappington Elementary.
Other events like school dances still went on without as many teachers attending. Just one teacher attended Truman Middle School's Academic All-Stars event, and none attended the same event at Sperreng Middle School, Crestwood and Long.
Teachers also did not participate in the Crestwood Science Fair. Only the music teachers attended concerts at Crestwood and Sappington, and teachers on committees at Crestwood only participated by email.
At LHS, teachers canceled some high-school tutoring and several clubs. Annual participation in the YMCA Youth and Government continued and students were able to go to Jefferson City without any teachers because parents chaperoned them.
At both Sperreng and Truman, however, the Youth and Government program shut down this year. The program brings a delegation of students together throughout the year to learn about government and then convenes in Jefferson City for three days.
Concord canceled Girls on the Run, along with Character Choir, Read, Right and Run, and Running Club. Crestwood canceled Cultural Night, choir, the service team, Art Club, Girls on the Run, Book Battle Group and Safety Team.
Sappington Elementary canceled choir and Robotics Club, while students in the LEAP gifted education program went to Space Camp in Huntsville, Ala., without their two teachers.