Lindbergh sisters finish in sixth place in State Doubles Tennis Tournament
'Thrill of a lifetime to be able to coach the two of them,' Conti says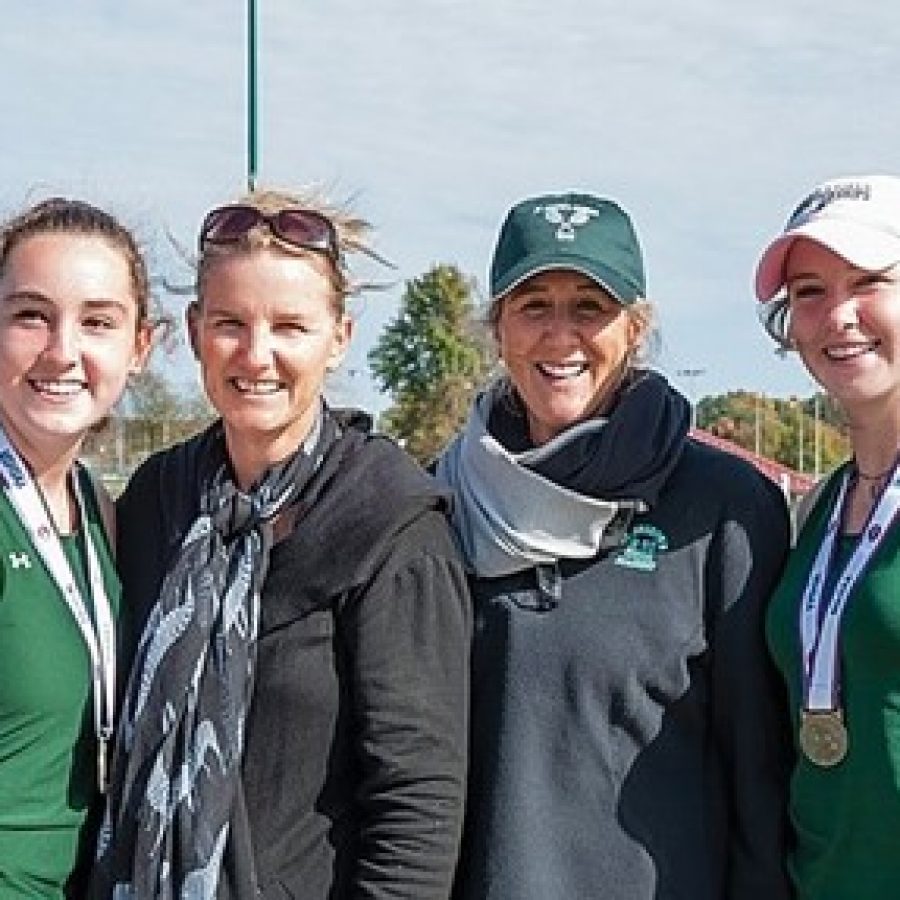 With a sixth-place finish in the Class 2 State Championship Doubles Tennis Tournament, sisters Kat and Alex Rosenberger made history for the Lindbergh High School varsity girls' program with their third consecutive appearance at state and created a legacy that will never be forgotten.
In 2014, the pair placed fifth at state, but returned a year later determined to do better and did, winning the state championship.
That hadn't been done for the Flyers since their mother was part of Lindbergh's last doubles state championship in 1984.
After finishing second in 1983, Noel Quevreaux (Rosenberger) and Shannon Cook topped Rock Bridge to win the title the following year.
With the opportunity to defend their title this year, the sisters were no doubt disappointed to have that opportunity taken from them in the first round last Friday when they lost to Alexandra Rogers and Riley Kelley of Liberty High School.
This year's competition at the state tournament may have been the toughest of the three times they have been there, the two said. The doubles team Kat and Alex defeated for the state title last year — Faith Wright and Katherine Dudley of Rock Bridge — won the championship this year.
"We were kind of bummed that we didn't do better, but I mean sixth in the state is good, so we're not too upset …," Kat said, noting her sister was out a lot of the season. "It was still like good that we even got to go and compete."
Alex said, "The competition was definitely tough his year, but I'm kind of just glad we made it, especially since I was sick, too, most of the season …"
Lindbergh head coach Laura Conti told the Call, "They really wanted to repeat, but today shows you the competition in Class 2 was super tough, and I think that just shows you how very difficult it is to come in and win back to back when there are that many good teams vying for it."
The hardest part of any sudden-death match is that only one mistake can cost you everything, and being just a little off took away their chance to defend the title.
"I think it's really hard to put it in perspective this close to the tournament," Conti said. "I think it was devastating to lose in an eight-game pro set in the first round of a major tournament, and we played eight-game pro sets because of weather and we were just off to a slow start.
"I mean it's not an excuse because everyone had an eight-game pro set in the doubles, but it was just I think a difficult way to lose right off the bat and then have to refocus and now we were playing for the back draw — and for coming in sixth."
The sisters played their kind of tennis after that first match, Conti added.
With Kat graduating at the end of the school year, the pair will not play again together for Lindbergh. Conti said coaching the two is something she'll never forget.
"I am certainly proud of them. It's been the thrill of a lifetime to be able to coach the two of them," she said.