Lindbergh Schools teachers intend to work to their contracts indefinitely
Any 'extra money' would go to salaries, Kienstra pledges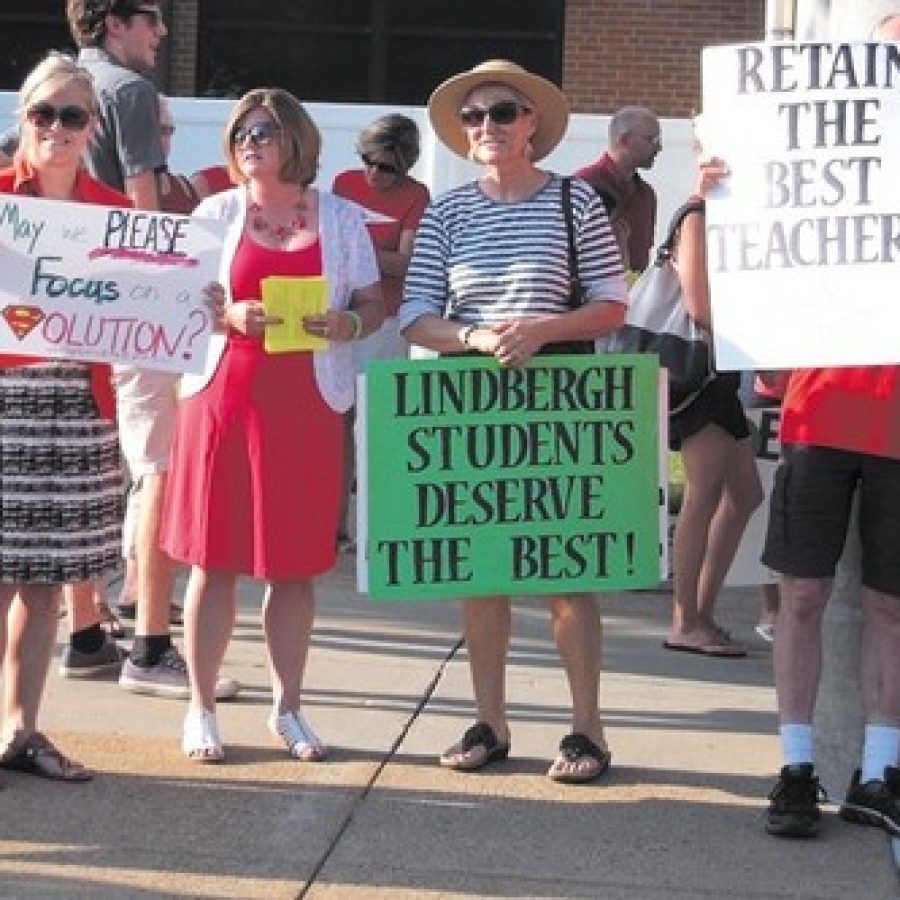 Lindbergh Schools teachers intend to work to their contracts indefinitely.
Leaders of the Lindbergh National Education Association, or LNEA, told Board of Education members and administrators last week that teachers are not yet ready to stop working to their contracts and will continue to withhold voluntary services.
LNEA leaders and school board members met Nov. 3 during a Board of Education/LNEA Dialogue workshop meeting, their third since August. Representing the LNEA during the nearly two-hour meeting were President Kim Scronce, Vice President Gretchen Moser and Lindbergh High School math teachers Scott Fleming and Rich Florez. Fleming is a former LNEA president.
Scronce told board members in July that teachers would work to contract until they see "significant progress" on a series of demands the union has made, including the formation of a salary schedule committee.
Scronce's announcement came shortly after the Board of Education approved a salary schedule that provides an average raise of 1.25 percent for teachers for the current school year. Teacher salaries range from $39,234 to $87,834 this year.
Teachers are dissatisfied with the average raise, and also are unhappy because they did not advance a step on the salary schedule for having another year of experience.
To provide for step increases, an average 3-percent pay raise is needed to fund the pay schedule.
Administrators and board members re-spond that they have freed up every available penny to go to employee pay, citing the current budget that projects equal revenues and expenditures with no surplus.
While they would like to pay teachers more money, the funds are not available. Administrators and board members cite the district's aggressive enrollment growth as a major factor why more money is not available for teachers' raises.
Board members previously asked teachers to reconsider their decision to work to their contracts, but LNEA leaders were non-committal, saying they would discuss it with their members. While working to contract was an agenda item at last week's dialogue session, the issue was raised several times during the discussion.
Board President Kathy Kienstra said, "…One of the things that concerns us a little bit, is the negative public relations campaign and we think that that tarnishes the entire district in its reputation and it will erode public support. And in the future, for whatever we try to do in the future, it gives us one more hurdle to jump over when trying to get anything done. That means bond issue. That means tax levy. That means even smaller things that we think we need a lot of public support for, such as redistricting campaign and committees … We just wanted to put out there that we think that's a little bit corrosive and we want to do what we can to stop and curtail the negativity …"
In response to a question from Florez, Kienstra said board members specifically are concerned about teachers continuing to work to their contracts. She said she believes it's important that everyone — board members, administrators and teachers — appear to be united.
"So anything that puts a wedge there is not … moving us forward," Kienstra said.
Moser said, "And teachers would like to see that from the district. We feel, many teachers feel, that some of the things that have come out from the district are kind of underlying messages that, you know, you're paid well. You're paid enough. You know, we're doing a great job with what we have, but we're leaving out the teacher part …"
District officials are not doing enough to communicate that many of the steps on the salary schedule lag in comparison to other county school districts, she contended.
"So teachers would like some acknowledgement of that from the district," Moser said. "I think it would help teachers feel that that's being recognized, and that is important to teachers."
Kienstra said the board is committed to budgeting every available dollar for teachers' salaries, but will not dip into reserves to do so.
"However, any extra money that would ever come would go — that we would ever have — would go to salaries, and we're committed to that," she said. "We want to pay the teachers more. We just don't have the money to do that, and I've said that many times. We have to be mindful of the financial limits of the district …"
The board president later contended that working to contract is not having the impact teachers desire. Kienstra cited a series of steps that the board has taken in response to teachers' decision to work to their contracts and expressed frustration that teachers have no plans to stop their job action.
Among the steps taken are establishing the Salary Schedule Committee, studying elementary planning time, meeting formally three times with LNEA leaders since August, meeting informally on numerous occasions with LNEA leaders and enhancing internal communications, she said.
Some LNEA leaders share the board's concerns about working to contract, but Florez said he could not cite a specific action that the board or administration could take that would result in teachers rescinding their decision to work to their contracts.
"… I think some of us, if not all of us, share your concerns with the work to contract as well. We realize publicly what it shows, and we also understand that we have a desire for it to end at some point. I mean, I don't think — I know I personally want it to end," he said. "When I've had informal conversations with my peers and I ask them what will it take for them to stop — stop working to contract, the responses are varied, but I'm not getting very many responses that say we're ready to do it now …
"It's hard for them sometimes to give a specific on what it would take. In other words, is there an action that the board can do or Central Office can do, and there's been such a buildup of frustration over a time period is what I'm feeling and that they're just not ready to change …"
After surveying teachers, the response was they are not ready to stop working to contract, Florez said, noting the establishment of the Salary Schedule Committee is a positive step. He encouraged the board to continue doing what it has been doing to rebuild trust with teachers.
"… We've been a family for so long here at Lindbergh, all right, and just like any other family we're going through some struggles here, OK? … You have teachers all over the spectrum on this issue, OK?" he said, noting some teachers don't believe in just working to their contracts. "You've got some in the middle and you've got some that want blood. I mean it's all over the place …"