Lindbergh school board candidates debate issues district faces at forum
Nine candidates running for four Lindbergh board seats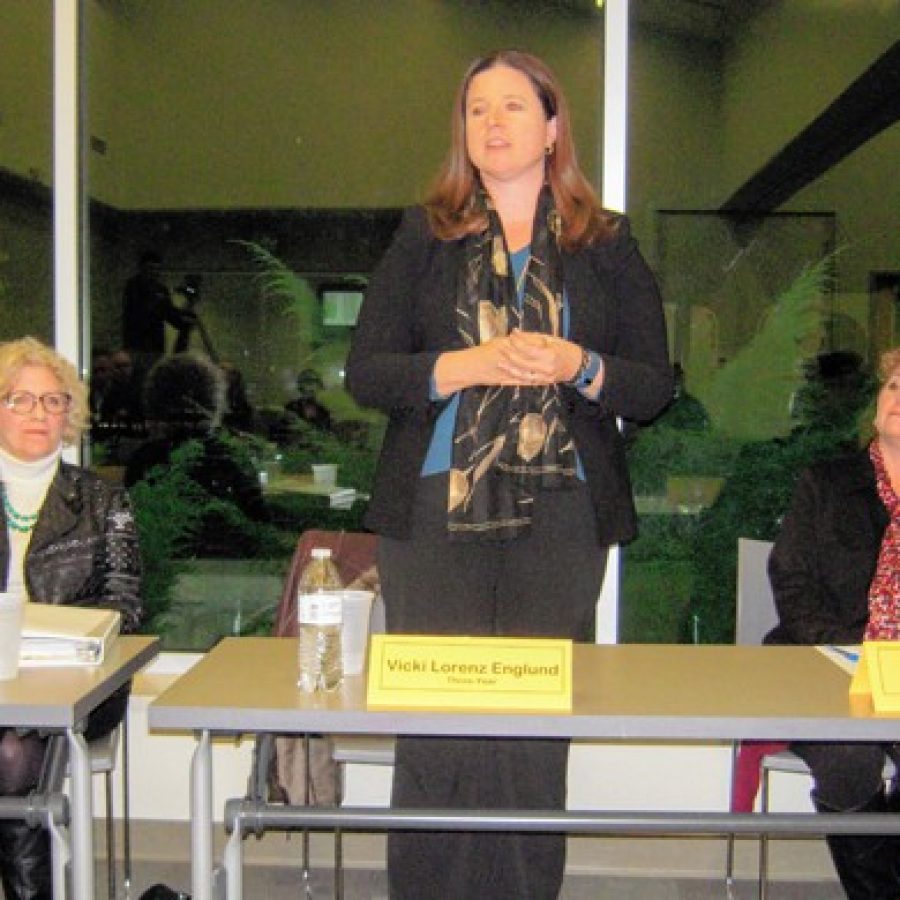 Lindbergh Board of Education candidates last week offered their views about whether the district should seek a tax-rate increase to fund teachers' raises and other challenges facing the district besides enrollment growth and the upcoming retirement of Superintendent Jim Simpson.
The nine candidates who are vying for four seats in the April 4 election met March 16 at a district-sponsored candidate forum.
Three three-year seats up for election are currently held by board President Kathleen "Kathy" Kienstra, Vice President Don Bee and Treasurer Vicki Lorenz Englund.
Kienstra and Englund are seeking re-election. Also seeking election to the three-year seats are three candidates endorsed by the Lindbergh National Education Association — Matt Alonzo, Cathy Carlock Lorenz and Christy Watz — along with Jennifer Bird and Daniel Sampson. Bee, who is not seeking re-election, moderated the forum.
Union-endorsed candidate Mike Shamia and Martha Duchild are vying for a one-year seat held by Gary Ujka, who is not seeking election.
When asked about their stance on the LNEA's request to place a tax-rate increase before voters for teacher raises, most of the candidates said they would want to see a community survey conducted before proceeding with a tax-rate-increase request.
Watz said she would take a prudent approach and review the district's budget.
"I believe a tax increase has to be well-timed, and if we would choose to do that, I think we would have to look at all factors before we choose to do that …," she said.
Alonzo and Shamia both noted that Lindbergh's tax rate is one of the lowest in the county. As voters, both said they would support such an increase should one be placed on the ballot.
"… As a voter, absolutely I would vote yes to a tax increase. I want my tax dollars to pay for the best, and I want our teachers to be paid as if they were the best in the state because we are one of the best districts in the state, so our teachers should be compensated for that …," said Alonzo, a Parkway teacher.
Shamia, whose wife is a district teacher, said, "… We do, however, have one of the lowest operating tax rates in the area at this time, so I think if we determine that is something necessary to do, we can make a clear case to the public that it needs to be done. I would vote yes for a tax increase for that."
Asking taxpayers for additional revenue is "a necessary evil," said Lorenz, a Parkway administrator, adding she would support a tax-rate increase.
"… In order to make it happen, the community does need to realize that a great value does not mean no taxes and no raises. It doesn't have to be either or," she said. "And a great value means you trust the district to make some good decisions … I would 100 percent support it …"
Duchild and Bird both said they would not be inclined to go to taxpayers at this point with such a proposal, while Sampson expressed a concern about the impact a tax-rate increase could have on residents with fixed incomes. Duchild, Bird and Sampson also emphasized the need to address the district's surging enrollment.
Kienstra also cited the need for a potential bond issue to fund renovations at the high school to address growth there.
"… We can't go for both a tax levy and a bond issue. So if given a choice, funding, building an expansion with a bond issue is what I would support," she said.
Englund cited the need to address enrollment growth and warned about the consequences of voters rejecting a ballot measure.
"… Every time we go for a tax proposal, whether it's a bond issue or not, and it fails, it really harms that relationship that we've built with the community …," she said."
Besides enrollment growth and the hiring of a new superintendent, candidates were also asked to identify a third major challenge facing the district.
Speaking first, Duchild said the third challenge is restoring a good working relationship with district teachers and putting a mechanism in place for teachers to end their decision to work to contract.
"… One of the things I have already started to do was to meet with the LNEA representatives at the beginning of the school year because I wanted to understand better what their concerns were ..," she said. "I met with them again two weeks ago to evaluate how things were going, ask them about work to contract because that is a serious issue I know for the community and teachers as well. I have advocated that there needs to be some kind of structure in place for ending work to contract …"
Shamia said positivity needs to be restored in the community. He has reviewed the district's Vision Statement, which includes: "Create a culture of respect and empathy for all individuals in both the school community and global community."
"So I think it's very important that maybe we all take a look at that, and I think part of the issue that has gotten us to this point is there hasn't been a level of mutual respect in that process …," he said.
Lorenz said, "I agree with the challenge being to bring back a more family feel that's happening just amongst the staff, administration and the school board. I think there should be relentless forward progression toward the things that they were talking about. Some great examples have been the salary committee, talking about the elementary plan time and those things have gotten the ball rolling and the training going …"
Kienstra cited two challenges — "planning for high school changes. That's a big one. That has to come because of the growth. And the other one is looking for additional revenue to fund teachers' pay …"
Englund said "exterior threats" coming from Jefferson City and Washington, D.C., in the form of budget cuts, vouchers and charter schools have the potential to negatively impact Lindbergh.
Watz, who described herself as "a big-picture thinker," said she believes the situation with teachers must be resolved.
"… I think we need to thank them. I think they have a checklist. Let's look at that — maybe it's not monetary. Let's get them happy …," she said.
Sampson said he wants to improve communication between the district and the community. Of the community, he said, "… We need to further educate them on how to find information, how to get in touch, valid information they're looking for, and not seek it on social media …"
The third challenge Alonzo said, is "meeting the needs of our teachers …"
Bird, who serves as the Gravois Township GOP committeewoman, said, "It is critically important that we restore good working relations with our teachers, administration and board members."
But that communication must be respectful and transparent, she added.