Lindbergh High Flyers soccer team has high expectations for 2015 season
High-tempo style of play set for 2015 by Lindbergh boys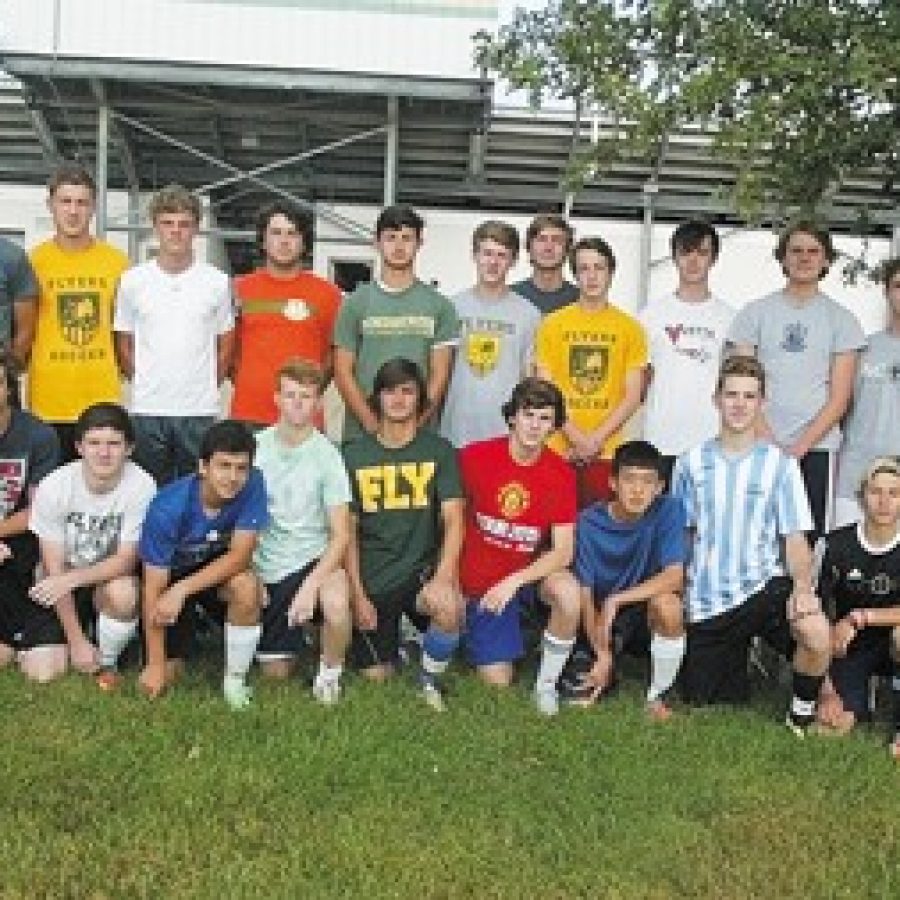 With a new head coach and a clean slate, the Lindbergh High School boys soccer team has high expectations for the 2015 season and looks to return to its winning ways.
Flyers head coach Mark Giesing, who last held the head coaching position in 1999 for the team but has been involved in various ways with the program ever since, is excited to return and optimistic about getting things back on track after a few down years.
"We've had a couple tough years a few years in a row, and I'm excited to hopefully get us back to being one of the stronger competitive teams down this way," Giesing told the Call.
The Flyers have several shoes to fill from last season, but all signs have been positive in the preseason that success is achievable.
"We have a team that lost a significant amount of seniors," Giesing said. "So right now we are really having a good competition for spots that were left open from last year's team. We just had a really first good week of guys competing for those first spots and even though we don't have a lot of experience, we're hoping to fill those spots with some really good players."
Lindbergh returns veteran goalie Michael Creek, a captain who will play his third year on the varsity squad.
"He's certainly one of the stronger goalies in the St. Louis area. He's just a guy you can really build a defense around, and we feel very confident in his ability between pipes," Giesing said of Creek.
The team also returns Matt Dreon and Evan Eichenlaub, who are co-captains with Creek and were solid last season.
"Evan and Matt did see considerable time last year as juniors on the squad and they will kind of anchor the center of the field for us," the Lindbergh coach said. "Both have good touch, just soccer knowledge and smarts, and I think they are going to be top-notch players for us this year.
"Our expectation is, last year's team was a good mid-range team and I think these guys will be a great start to getting us back on track to where we want to be. We have high expectations that we can be successful this year and these will be three guys that will definitely help lead us in that direction."
Based on what the coaches have seen in the preseason, the team's biggest strength seems to be speed.
"Our strength is that we are high octane. We are a very fast team and we intend to be a rapid-transitioning team both offensively and defensively. We have good team speed to help support that, and so we will play at a pretty high-tempo style of play this year," Giesing said.
One important void Lindbergh hopes to fill is in the scoring department.
"My biggest question is where are the goals going to come from? About 80 percent of the goals were from my graduating seniors. So we have a big void to fill there," Giesing said. "If I had one concern right now it is we haven't had anybody step up and be that go-to guy for finishing.
"We do have a junior named Michael Spence who saw a lot of time as a sophomore up on the striker line, and Michael certainly is one guy that we're going to have to have a big year from."