Lindbergh energy audit, performance contracting is saving energy while funding facilities
By Gloria Lloyd
News Editor
glorialloyd@callnewspapers.com
After an energy audit earlier this year, Lindbergh Schools will start funding deferred facilities maintenance districtwide using money saved with a comprehensive plan to improve energy efficiency.
Missouri law allows school districts and cities to use "performance contracting," in which a company guarantees a certain amount of savings in utility bills through energy-efficient upgrades that allow the government entity to use that money that would have gone straight to the electric company to fund other facilities projects. Sunset Hills signed up for a similar plan in 2017 to make improvements at City Hall and the Police Department.
Performance contracting is a way for the district to spend more money on facilities without taking money away from operations and salaries, Chief Financial Officer Joël Cracchiolo told The Call in an interview.
"The statute allows school districts to invest in their facilities — it's more like a financing vehicle and a way to transfer into capital," Cracchiolo said. "If we invested in our energy savings, we could spend that money somewhere else…. If that's money sitting on the table, you don't want to just pay that to the utility company, you want to invest that in your buildings."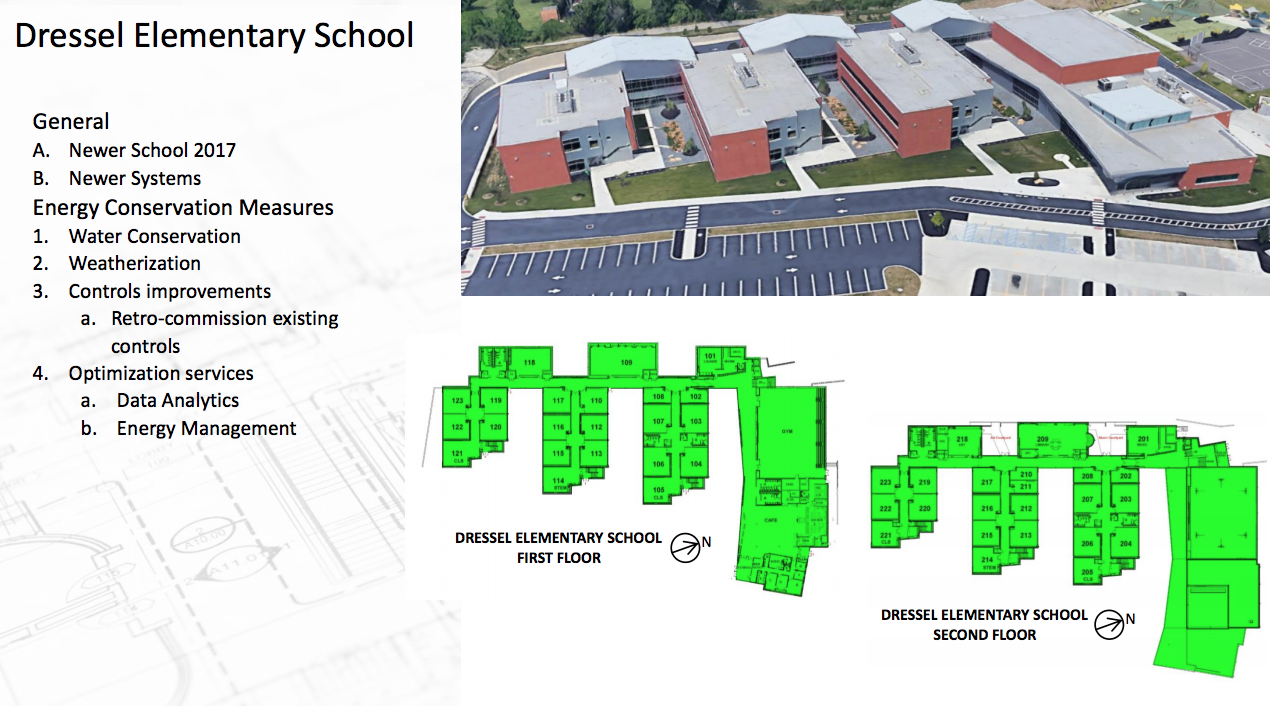 After spending the last decade expanding schools and building new facilities to accommodate surging enrollment, the district has an estimated $17 million of deferred facilities maintenance that still needs to be done on existing older school buildings, on a budget of about $3 million per year for 1 million square feet of school space.
The energy company the district hired on retainer earlier this year, Navitas, guarantees that the district can save $10 million of that over 15 years through energy upgrades.
After the 15-year loan is paid off, the district can keep that money saved in energy to use for any purpose.
"Instead of being reactionary, we're being proactive on taking care of our facilities," Superintendent Tony Lake said in an interview with The Call. "This definitely puts us ahead of the game in taking care of our HVAC and our facilities."
The district chose Navitas from nine bidders after a request for qualifications, or RFQ, process.
In January, the district is set to finalize plans to line up which projects could kick off as early as this summer.
The Board of Education gave the go-ahead for district officials to finalize a facilities plan that would borrow above the $10 million in savings to add roughly $6.5 million in projects that are also on the list.
Navitas color-coded the buildings by areas of highest need, and the $6.6 million on top of the $15 million saved through performance contracting would cover the cost of the highest-need "red" projects.
Newer schools like Dressel Elementary and the two Early Childhood Education centers are all green, as are the expansions to each school that happened in the last 10 years.
But many of the schools still have outdated equipment that Navitas coded as $5.9 million in "critical red" projects.
The Board of Education has not yet made a final decision on how those projects could be funded above and beyond the energy savings.
The critical list does not include air conditioning for school hallways, which the district has decided it will leave off to focus on heating and cooling classrooms.
The most pressing needs mostly center around HVAC systems, but can also include windows, water conservation, upgrading temperature controls to computerized systems, fixing humidity problems and upgrading flourescent lighting to LED, which will save the district money paid to Ameren each month.
Since the district is building a new Lindbergh High School, nothing in the high school will be replaced or fixed unless it has to be.
The company can also make sure the new and old parts of school buildings "flow together," Lake said at an Oct. 8 board workshop.
The audit examined ways of "pulling data out of these systems that are more fact based as opposed to opinion based," such as reports that a certain area is hot or cold.
The "big dollar amount" in the $6.5 million will go toward Truman Middle School, which is one of Lindbergh's oldest buildings.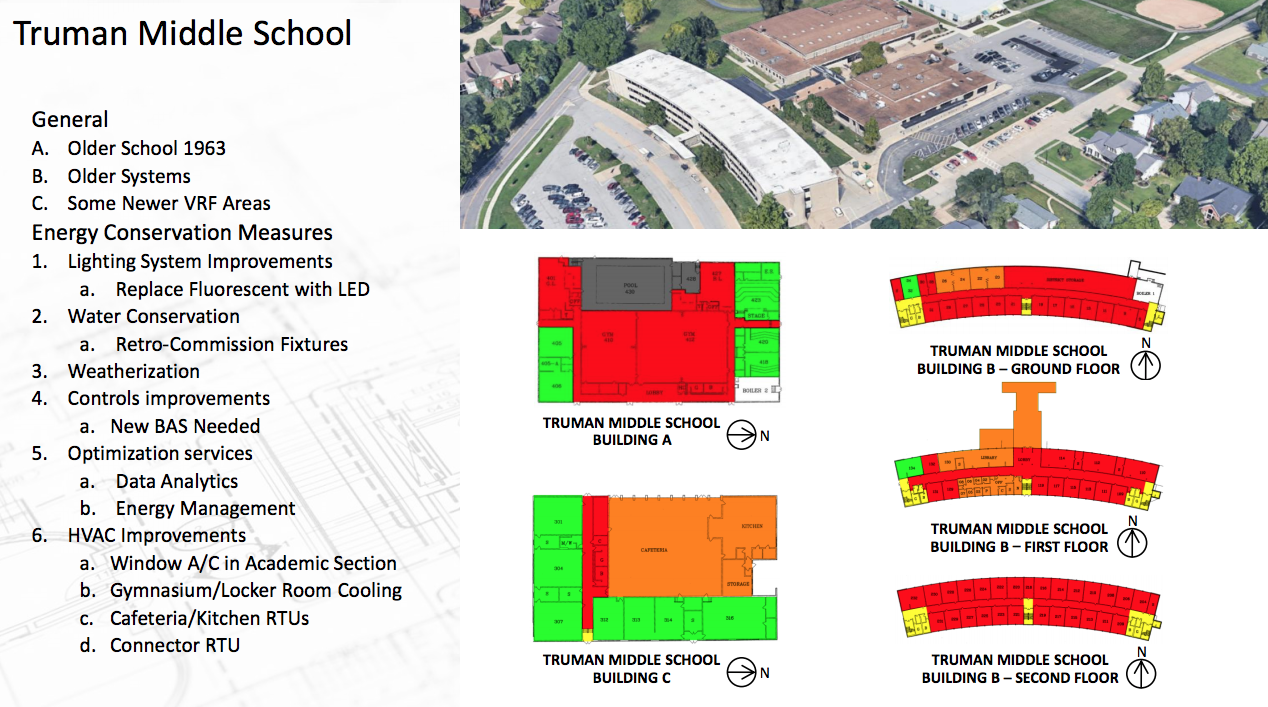 It was the only school that Navitas rated completely red.
Air conditioning at Truman is delivered mostly through window units.
"The visuals say it all, really," Cracchiolo said at the workshop about the need for improvements districtwide.
Navitas spent four or five months this summer in every school reviewing energy efficiency, the CFO told The Call.
The color-coded blueprints of all Lindbergh schools are mostly a collage of red, yellow and green, with the newer schools all green and Truman all red.
The district also likes having Navitas on board because the company will serve as an outsourced energy manager, something other districts like Parkway keep on staff in-house. The district has installed energy management software to proactively monitor its new and old systems to make sure preventive maintenance is done at the right times and to more closely monitor life spans of equipment.
Lake gave the example of a teacher calling the district and reporting her classroom at Lindbergh High School is too hot. Navitas would send a team out and analyze why the system wasn't working properly.
"We really like them because they're more of an energy manager," Cracchiolo said. "They help us maintain energy and keep an eye on it ongoing… Right now with our facilities, when something breaks, we fix it. This gives us a strategic plan of addressing everything in the district that needs to be updated. So it not only saves in energy, it also saves in maintenance costs…. Right now we just wait for failure. If a boiler goes down, then we've got to find the money to fund it."
The district does not have a capital line item funding planned maintenance, but has a line item to fund emergency fixes when equipment breaks. Officials also project that once systems are upgraded, district maintenance staff will have to spend less time updating old boilers and equipment.
Once everything is upgraded, the district can set a "baseline" state of operation that would create the standard for how things should be maintained.
"Once everything gets on a baseline, we'll just start taking care of it according to a schedule, and that way it operates more efficiently, saves us in labor costs and saves us in capital improvements costs and saves us in energy," Cracchiolo said.
Using the software, the district can even see what it should include in upcoming bond issues, since the software will allow them to see what maintenance will be needed in coming years, Lake said.
The board gave what Lake called a "thumbs up and a head nod" in October to agree to move forward with looking into funding the extra $6.5 million in projects.
"It seemed like more of a plan," said board Vice President Mike Shamia, noting that the district might have to fund half the $6 million next year if things go wrong. "Deferred maintenance — you don't know when that's going to hit."
"Just having a plan for the future is better than just hopping along as we go," agreed board member Mike Tsichlis.
View the energy audit presentation below: