Lindbergh defeats Eureka 14-6 to advance to quarterfinal against DeSmet
Lindbergh nets seven yards in second half, but wins 14-6.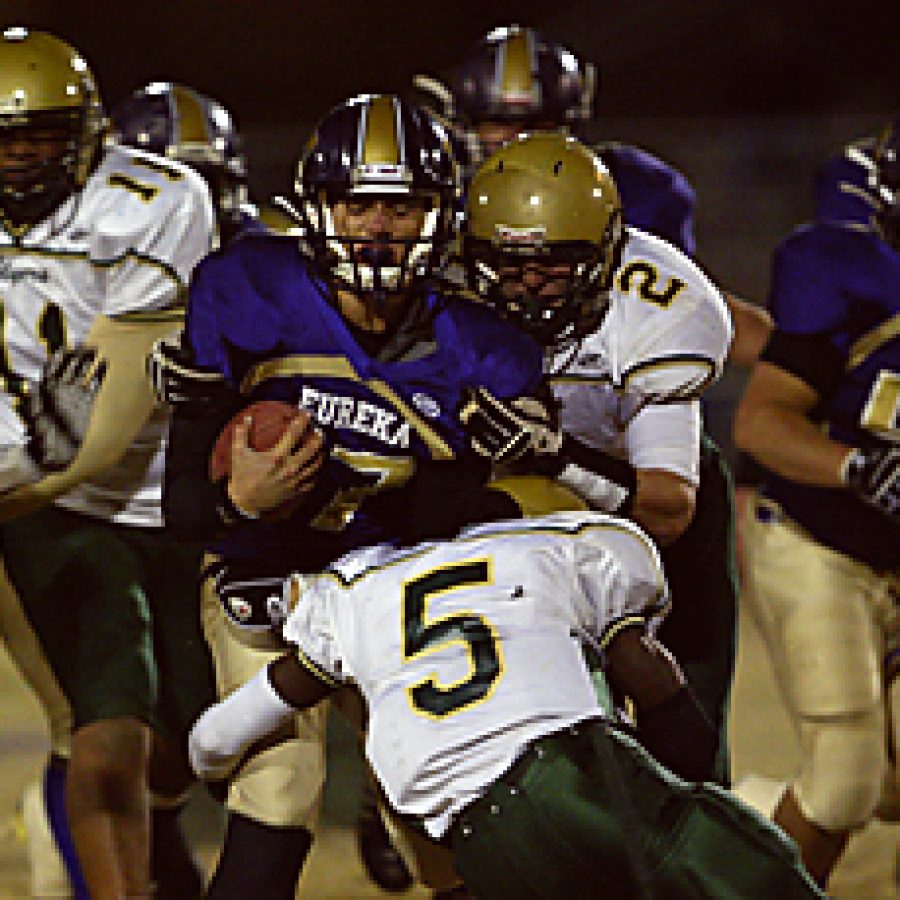 The Lindbergh High School football team came through with one clutch play after another in a 14-6 playoff win over Eureka High School Friday night.
Either cold weather or Eureka's defense stunted Lindbergh's pass offense, but the Flyers found ways to score in the first half and survived to advance to a Class 6 quarterfinal matchup Friday against DeSmet Jesuit High School.
"The offense wasn't clicking very well all game, so we knew we had to step up on defense. We should have shut them out," Lindbergh senior Will Spitzfaden told the Call.
The Flyers (9-2) won at Eureka (9-2) for the second time this season, giving the Wildcats both of their losses this year.
"The first game we weren't expected to win and we did," Lindbergh senior Sam Smith said. "When it came time to play them again, we still weren't favored to win and that just gave us more fuel for the fire. We wanted to prove people wrong and earn respect."
The Flyers humbled the critics by capitalizing on two forced turnovers in the first half. Smith intercepted a pass from Eureka quarterback Sam Strehl and returned it to the Wildcats' eight-yard line. After senior Tim Hamm-Bey ran the ball down to the one-yard line, Smith powered in the game's first score with three minutes and five seconds left in the first quarter.
"It was a big play when we needed it. I was just fortunate to step up and do it. I have no doubt that anyone else on my team could have done the same thing. I was just lucky enough that the ball came to me," Smith said.
Late in the second quarter, senior Drew Heinlein fell on a fumbled punt return by Eureka at the Wildcats' nine.
Heinlein's recovery led to junior quarterback Peter Simpson's one-yard touchdown plunge with 3:58 left in the half.
Lindbergh nearly repaid Eureka with the favor when Spitzfaden fumbled a punt return at the Flyers' 20-yard line, but as Eureka tried to capitalize on the turnover Spitzfaden avenged his fumble with an interception at the five-yard line.
"I knew I had to make a play to make up for it because it was the end of the half, and we had to go in on a solid note. I actually got a chance to make a play and I made the play," Spitzfaden said.
Eureka would get no closer until late in the game after Strehl left with an injury and backup Chase Bollinger filled in by completing three of 14 passes.
"We felt like we had to maintain our defense and I was hoping we would have some sustained drives on offense, which didn't happen, because that would have taken the pressure off the defense, but the defense manned up and took care of business," Lindbergh head coach Tom Beauchamp said.
Lindbergh netted only seven yards in the second half and needed an onside kick recovery to hold on for the win.
After Lindbergh's only second-half first down with 4:19 left seemed to clinch the victory, Hamm-Bey fumbled a pitch to give Eureka the ball at Lindbergh's 30-yard line with 3:14 left.
Eureka cut the lead to one possession with 1:22 remaining, but the Flyers recovered the onside kick to secure the victory.
Eureka totaled 249 yards to more than double Lindbergh's 120.