Lindbergh community celebrates opening of Dressel Elementary
School will be a 'relief valve' to ease district overcrowding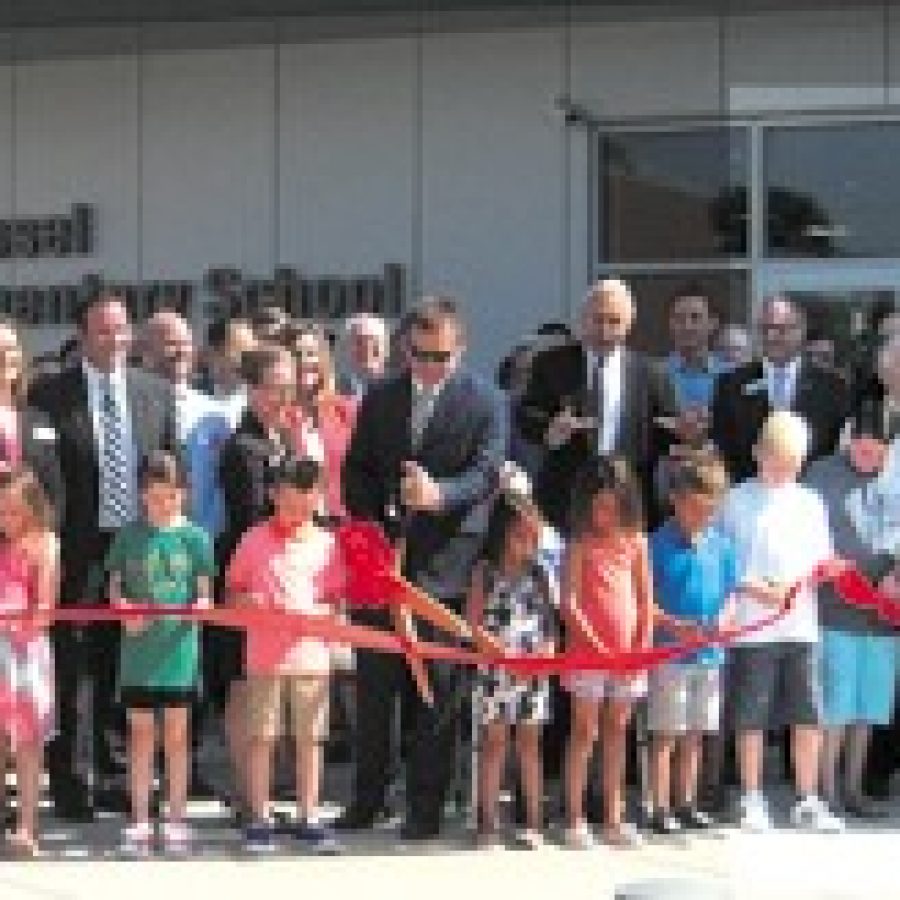 A ribbon-cutting ceremony last week marking the grand opening of Lindbergh Schools' state-of-the-art new Dressel Elementary School was "a historic day," according to Superintendent Jim Simpson.
The nearly $22 million, 99,116-square-foot school at 10911 Tesson Ferry Road will be at capacity — 650 students — when school begins Thursday, Aug. 17.
"Today is a great day. We're celebrating the grand opening of Lindbergh's newest campus — Dressel Elementary School. Let's give a big round of applause to that," Simpson told the crowd at the Aug. 2 ceremony. "We're here today for one reason, enrollment growth in Lindbergh. Just listen to these numbers: Over the past four years, Lindbergh enrollment has increased by 636 students. In the next three years, we'll add 901 students. This year, we will start the school year with over 7,000 students in the Lindbergh School District.
"We have been calling Dressel our overcrowding relief valve. It's because our other K-5's have been so overcrowded. So Dressel is going to take 650 students from our other elementaries — already happened with our Boundary Committee and reassigning those sending zones — 650 students will attend Dressel on opening day …"
The superintendent noted that the journey that led to the ribbon-cutting began back in 2011 when the Board of Education voted to purchase the 10-acre site of the former Dressel School for $1.94 million.
"… In 2011, our Board of Education, understanding that the growth was happening and was going to continue for many years, decided to purchase the old Dressel," Simpson said. "Then in 2014, the board decided to put the Prop G bond issue on the ballot and our community generously supported that effort, which made this building possible. We are very thankful for the vision and the preparation of the boards that gave birth to this building in 2011 and 2014 …"
District voters approved the $34 million bond issue in April 2014. Besides the new elementary school, Proposition G — for Growth — funded some critical needs at Lindbergh High School.
Board members voted unanimously in June 2014 to award a $21,855,000 contract to construct Dressel Elementary to TriCo Inc. Commercial, which submitted the lowest of seven bids. Ittner Architects designed the building, and William Tao & Associates served as engineers.
Representatives of TriCo, Ittner and William Tao present were recognized for their contributions by Simpson, as were members of the district's in-house construction team, including Executive Director of Planning and Development Karl Guyer.
Simpson also recognized members of the Dressel family in attendance.
"… The Dressel name is a big name for Lindbergh. John Martin Dressel, Lindbergh's first Board of Education president, in 1949 gave birth to the district with his work and his efforts, and we are honored to welcome many members of the Dressel family to this historic opening, including John Martin Dressel's oldest son, Ollie. Ollie, thank you for being here …," he said.
Board of Education President Karen Schuster told the crowd that she was "honored" to be part of the ceremony.
"It marks a significant step in the growth of the Lindbergh district, and on behalf of the entire Board of Education, we want to extend a thank you, a very special thank you, to our community for supporting Lindbergh students through Prop G 2014," she said. "We would also like to thank all the members of the project team. You put in countless hours over the last two years to build this amazing building for our students. We appreciate your hard work very, very much …"
After the ribbon-cutting ceremony, visitors were given tours of the new elementary school and its amenities, including individual classroom wings for each grade level; a 21st-century modern, student-centered library; two STEM — Science, Technology, Engineering and Math — classrooms to enhance student learning and exploration; energy-efficient LED lighting, mechanical system and light-reflecting roof surface to reduce cooling costs; and a competition-size gym.
An open house conducted later that day at the school attracted close to 2,000 visitors, according to district officials.