Lindbergh committee starts work redrawing school boundaries
Panel starts work on new boundaries; next meeting set Wednesday, Feb. 8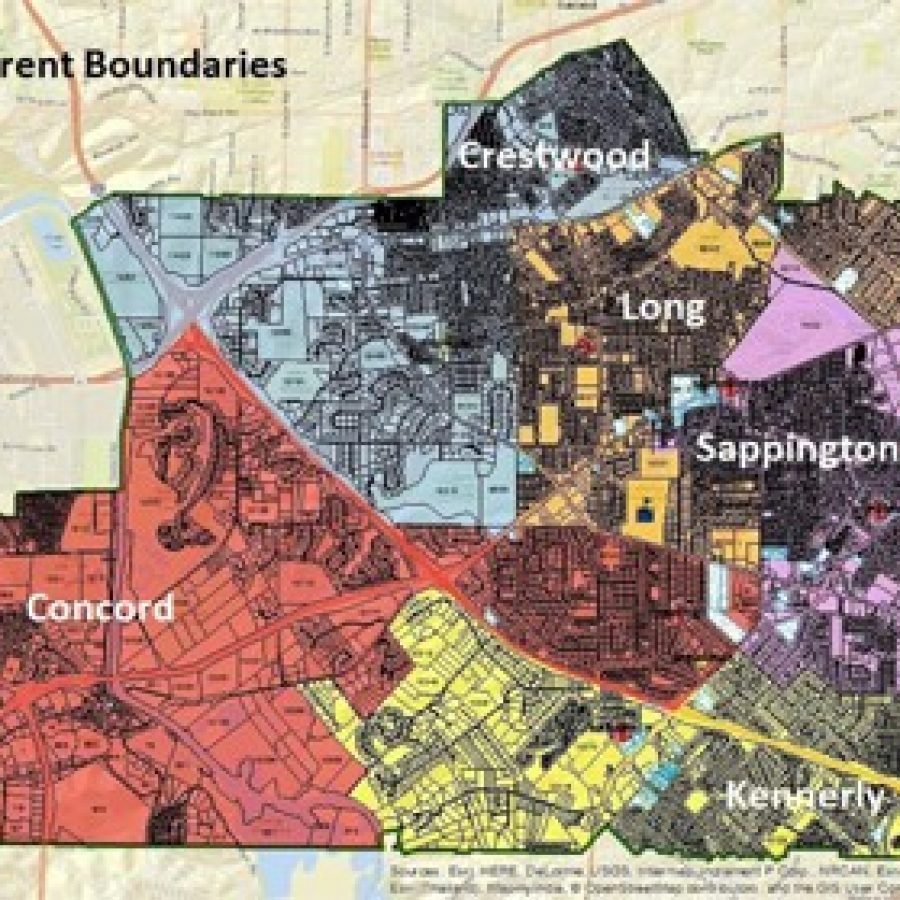 Lindbergh Boundary Committee members came to a quick realization last week that no matter how they redraw the district's elementary-school boundaries, most schools will be close to or exceed capacity by the 2020-2021 school year.
The Boundary Committee, comprised of parents, community members and administrators, met for the first time Jan. 25 to begin redrawing elementary-school and middle-school boundaries for the 2017-2018 school year.
The redistricting is being done as a result of the district's aggressive enrollment growth and in preparation for the opening of Dressel Elementary School in the fall.
Construction of the new elementary school, which will have a capacity of 650 students, began in October 2015 and will be completed for the start of the coming school year. The committee intends to complete its work and submit the proposed new boundaries to the Board of Education in March. The district's goal is to notify parents and students about school placement by the end of March.
New elementary and middle-school boundaries last went into effect in Lindbergh for the 2011-2012 school year. A district committee redrew elementary-school boundaries and established new middle-school boundaries. The new boundaries were necessitated by the opening of Concord Elementary School and the conversion of the former Truman Elementary School back to a middle school.
Assistant Superintendent of Finance Charles Triplett, who is leading the Boundary Committee, told members that this process will be much more involved than last time.
"Using relevant data and objective criteria — we're going to stress that quite a bit — we will develop attendance zones for the six elementaries that we're going to have starting in August, and it will have some effect on the two middle schools," he said. "Last time this process happened in the school district was at the beginning of 2011, when we were closing down Truman Elementary and getting ready to open it up as a second middle school, and then we were reopening Concord Elementary after a lot of good work in making it our fifth elementary again.
"And it's a little different, though, in that we had five elementaries and we were going to five elementaries, so we didn't have to change a lot of the other existing boundaries … We could move essentially the majority of Truman Elementary kids to Concord. There were some differences, but not much. It's very different this time because we're going from five elementaries to six. We have to move hundreds of kids around. There's no other way to do that …"
The committee also discussed criteria it will use to redraw boundaries, including minimizing family movement.
"… We know it's a very emotional issue. People get attached to their schools, especially at the elementary level," Triplett said, adding that students "know their teachers, they know their principal, they know their counselor. They want to stay there. So I think last time that was one of the driving forces … to do as little movement as possible.
"That's still one of ours tonight. It just won't be as possible because we're going from five to six elementaries."
Other criteria that the committee will use include:
• Building capacity — Each elementary school has a different student capacity based on the size of the building. For example, the new Dressel Elementary will be the district's largest elementary school with a capacity of 650 students. Kennerly Elementary is the district's smallest elementary school with a capacity of 450 students.
• Maintain neighborhoods — The committee's goal is to keep neighborhoods together so students who are neighbors can attend the same school.
• Future enrollment growth — The committee will consider four-year enrollment projections that are based on current enrollment trends and live birth data.
• Transportation — The committee will consider road patterns and travel time for buses and parents.
• Geographic features — The committee will consider natural division points such as major traffic arteries, rivers and streams or other geographic features.
Committee members reviewed four templates formulated by Director of Technology Mariano Marin-Gomez and Sandy Woodfin of the Department of Technology.
The templates are not boundary proposals, but were formulated for the committee to begin its discussions.
Before the committee finished reviewing the four templates, member Sean Saunders said, "I know I'm probably going too far ahead, but flipping through these, there's not a single scenario that doesn't have at least one or two or three schools that are overcrowded by 2021. That's just where we are, right?"
Triplett said, "We've got six buildings and we've got projected growth, and that's the best we can do …"
The four templates are:
• Template 1 — Would create the least amount of family movement necessary to fill Dressel Elementary School.
• Template 2 — Would create attendance zones in the closest proximity to elementary school buildings.
• Template 3 — Would balance elementary school enrollment numbers and minimize future overcrowding.
• Template 4 — Would create attendance zones based on the most efficient traffic patterns.
Asked about a future ballot measure, Triplett said, "…There's not one planned right now. Will the district need something in the future? It certainly will. There's not like a date circled on the calendar or anything. We don't have that, and there's lots of discussion of is it a bond issue for a seventh elementary? A bond issue for high school work? Is it a tax levy to help us staff everything we've got going on with growth? Is it a combination of those few things?
"But then, this community is also very conservative, as they should be — high expectations for the district. How often can you go back to your voters and ask for more money? … Timing is incredibly important. You don't want to go out and be told 'no' by your community because then you can't go back for a year or two and when you go back, you have to go back for less …"
In the past 10 years, Lindbergh voters have approved four ballot measures — Proposition R in 2006, Proposition R in 2008, Proposition L in 2010 and Proposition G in 2014.
The committee took no action last week, but will meet again Wednesday, Feb. 8, with the goal of narrowing its focus to one or two of the templates. Middle-school boundaries were not discussed last week, but will be addressed by the committee in the future.
To view documentation provided to the committee, visit the district's website at go.lindberghschools.ws.