Lindbergh celebrates 25th annual Spirit Festival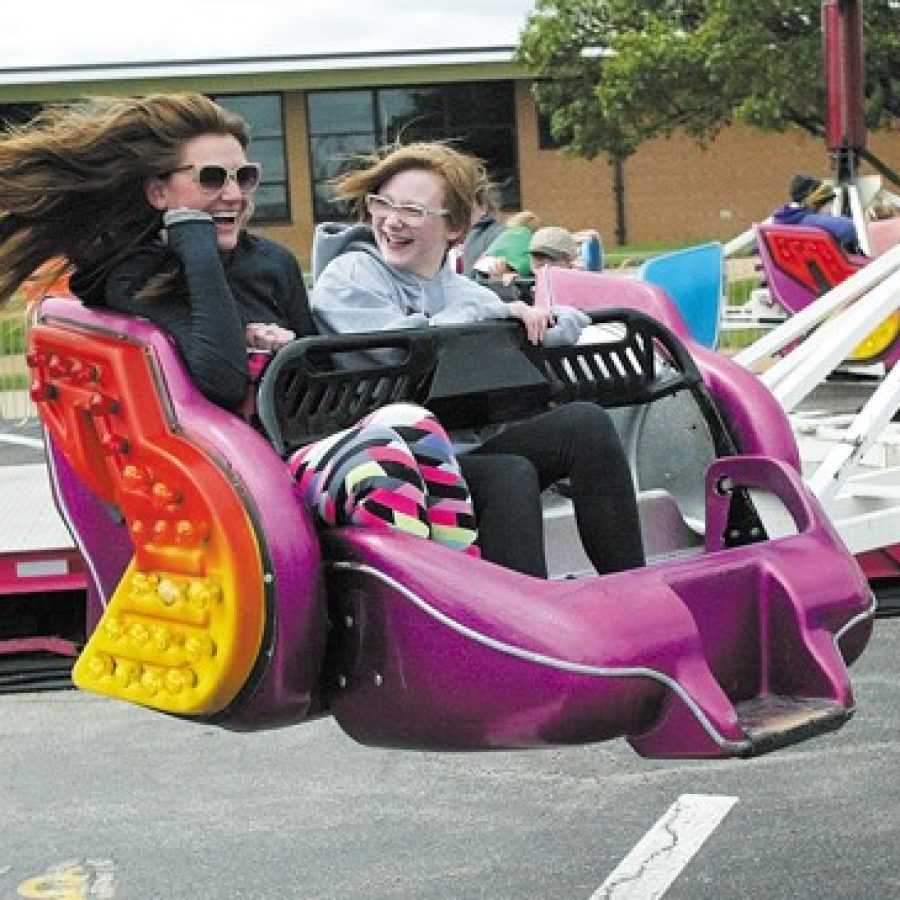 The Lindbergh community celebrated the 25th anniversary of the Lindbergh Spirit Festival on the Lindbergh High campus Saturday.
The communitywide event featured games, rides, food, a parade and entertainment for all ages. The Spirit Festival Parade kicked off the festivities Saturday morning, beginning at Sperreng Middle School, traveling down Concord School Road to Roxanna Drive and ending at Lindbergh High School.
In photos taken by the Call's General Manager Bill Milligan at the event, above, Jessica and Graci Younce of south county enjoy the Zipper ride at the festival. Graci attends Sperreng Middle School.
Before the districtwide festival began 25 years ago, Lindbergh schools hosted individual picnics at Jefferson Barracks Park or Sylvan Springs Park. The Spirit Festival is hosted every May by Lindbergh Schools parent organizations.
The Lindbergh High School Spirit of St. Louis Marching Band kicks off the Spirit Festival each year with a parade from Sperreng Middle School to Lindbergh High School, and participates in the opening ceremonies.
The Spirit Festival Parade began at 9 a.m. at Sperreng Middle School, and traveled Concord School Road to Roxanna Drive, ending at Lindbergh High School. The festival officially opened at 10 a.m., the festival officially opens, with a celebratory ceremony and ribbon cutting to kick off the festivities.
Musical groups from all Lindbergh schools performed on the main stage, the Dr. James "Sunny" Sandfort Main Stage named after Lindbergh's former longtime superintendent Jim Sandfort.
"Top gun" sponsors of the event this year included First Transportation, Aries Party Rental and Metro Sweeping.
Schools and school groups host food and game booths, and an independent carnival company provides rides and midway games.
The Lindbergh Spirit Festival is a self-supporting community event that does not generate a profit. The goal of the event is to break even, while providing a day of entertainment and fun for the entire Lindbergh community.
Tickets are required for games, food and rides. Families could purchase ride bracelets good for unlimited rides throughout the day. Free shuttles ran from all elementary and both middle schools all day until 9:30 p.m. Parking on the LHS campus was by permit only.
Lindbergh Schools posted a video of photos from the festival on its Facebook page:
2016 Lindbergh Spirit Festival

Lindbergh Flyers of all ages celebrated the 25th anniversary of Spirit Fest Saturday, May 14 on the Lindbergh High School campus. Check out the video below for images from the event. #WeFly

Posted by Lindbergh Schools on Wednesday, May 18, 2016
Volunteer organizations staffed food booths, and the Bandstanders held a silent auction in the Lindbergh High School Commons, during which a large variety of gift baskets and other great items are sold to the highest bidder.