Lindbergh candidates discuss district growth
Candidates offer their views to handle enrollment growth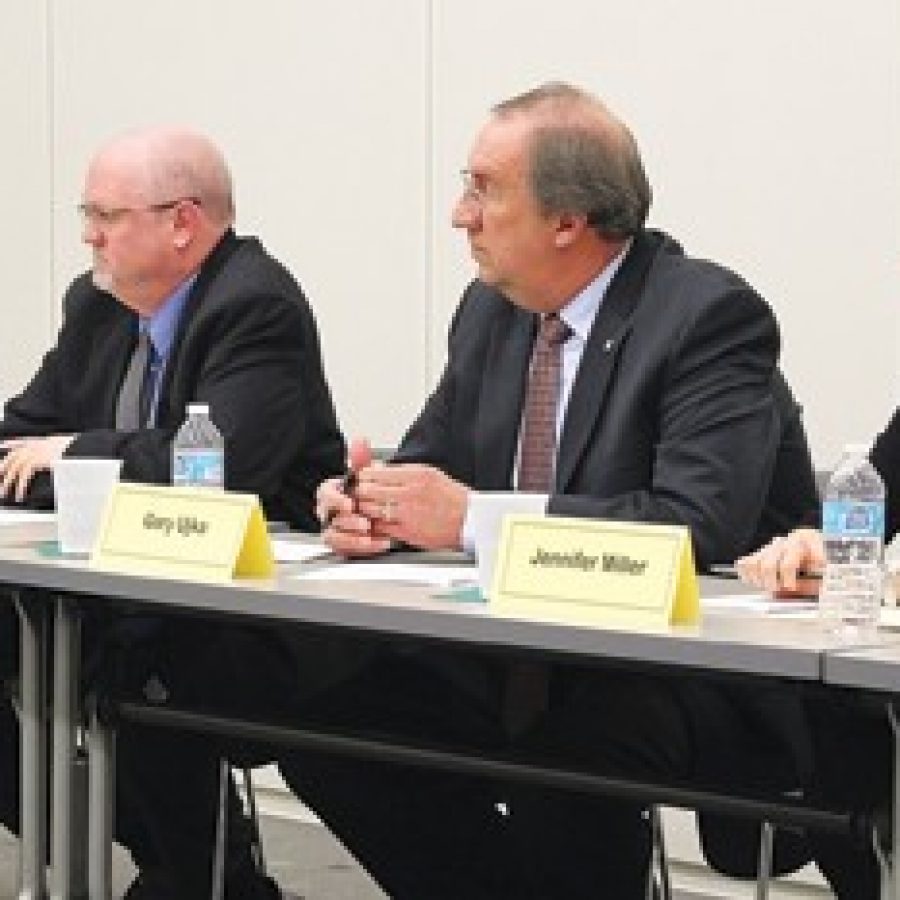 Four Lindbergh Schools Board of Education candidates recently discussed how to address the biggest challenge facing the school district — increasing student enrollment.
Michael Bitzenburg, Jennifer Miller, David Reinhardt, Mike Tsichlis and incumbent Gary Ujka are vying for two seats in the April 5 election. Incumbent Kara Horton, who has served on the board since 2010, did not file for re-election.
Bitzenburg, 66, is a retired supervisor for the Missouri Department of Elementary and Secondary Education. Miller, 34, is a developmental therapist through Missouri First Steps. Reinhardt, 41, is a tournament coordinator at the Fox Run Golf Club. Tsichlis, 54, is adult education director at the St. Irenaeus Orthodox Theological Institute.
Ujka, 58, is a retired Rockwood School District administrator. He was elected to the board in 2014.
Miller, Reinhardt, Tsichlis and Ujka attended the March 10 forum sponsored by the Board of the Education. Board President Kathy Kienstra served as moderator.
Bitzenburg did not attend the forum.
Kienstra noted that the district's biggest challenge for the foreseeable future will be dealing effectively with annual increases in student enrollment. She asked how the district should address the challenges of growth with very little new revenue.
Tsichlis said, "… It (growth) has been a source of vitality for the district, but then it comes as sort of a two-edged sword in the sense that we do need to accommodate this increased enrollment. How are we going to do that? Well, I know the district thinks long range, as much as it can. It likes to think a step or two out. It's often difficult to plan for these circumstances …
"But some of the things I think are important will be to retain or try and hold on to a significant reserve fund that can take care of facilities issues. That's going to be very important when pressure is on to expand. I think the district is doing the right thing, looking at available properties in the area and whenever one can be located and secured, that's great. Because what we've got to do in the end is keep our class sizes down. That's going to require more space and yes, it's going to require more faculty and staff …"
Ujka said, "Growth is a great problem to have. It makes our district exciting. I expect the board, prior to me being involved, would be visionary and looking out five to seven years and they were doing that … You have to be looking out five to seven years. Growth is something we talk about continually because growth can catch up and will bite you. Working in Rockwood, now 36 years, I've got a lot of experience with growth. We were one of the fastest-growing school districts in the state for many, many years …
"It's just something you have to plan for. We just got enrollment projections Tuesday night and we started looking at those to see what we have to plan for into the 2020s and that's kind of a long way away, but it's something you have to think about … It's a balance between keeping our teachers paid well, that they stay with us, and keeping our class sizes the appropriate level for what I call the Lindbergh way …"
Miller said, "I agree that we need to continue to be proactive on this issue. It looks like it's not going to stop anytime soon, all these new students coming into our district. And as Gary said, we have to look at our teachers' salaries, our other staff salaries. We need to be concerned with our class size. We need to look at ways of increasing revenue. This may mean we need to have community committees … to discuss possible ways to make this happen.
"At some point, we're going to have to have another elementary school if the enrollment projections are coming like they are. So we're going to have to discuss ways we can make that happen, and I think we all need to work together …"
Reinhardt said, "… No. 1, I don't see growth as a problem. It's a challenge. It's a big challenge, but it's definitely not a problem. So I don't really like it when I hear that student growth is a problem … More and more people are coming to this community …
"Second, I like what Lindbergh is doing structurally with future buildings for growth. They're building a new elementary school … that will allow 600-plus students. They bought Johnny's Market. It's going to open up 10 to 12 classrooms at the high school. They opened up ECE (Early Childhood Education) West Annex … I do think Lindbergh continues to be proactive and makes positive moves with the resources they currently have to address student growth … Lindbergh teachers and staff will continue to give the children the very best educational experience …"