Lindbergh boys' soccer team will defend Suburban West conference championship
Lindbergh boys ramping up for defense of conference title.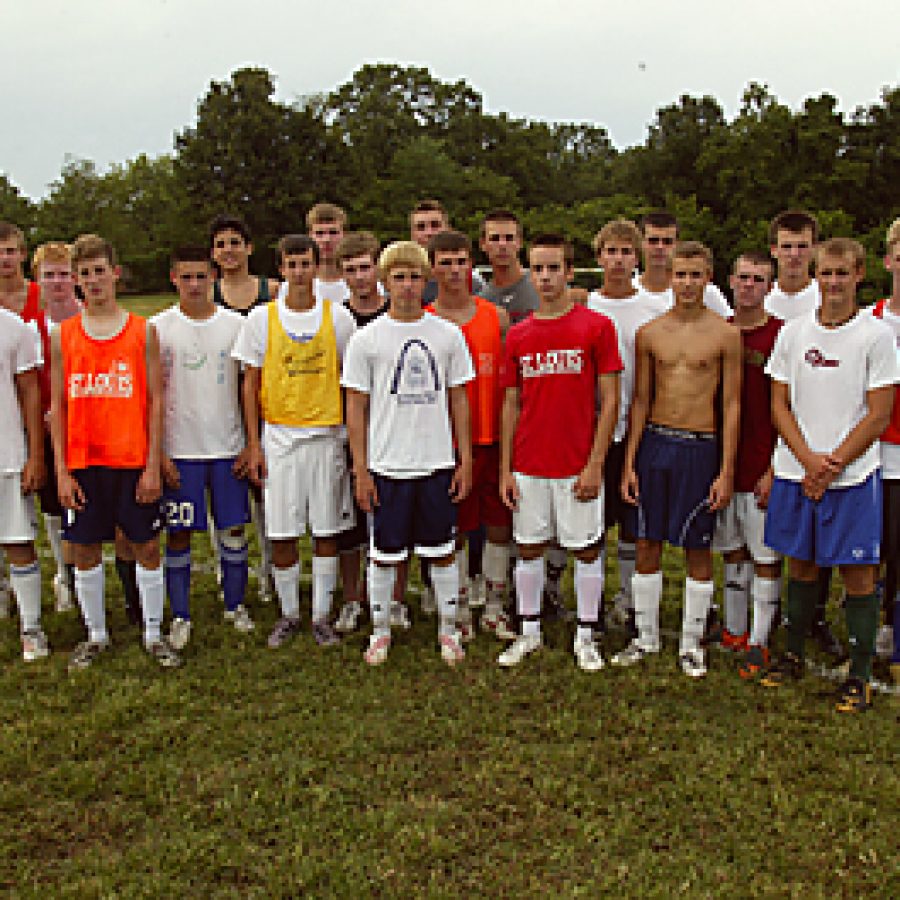 The Lindbergh High School boys' soccer team wants to defend the Suburban West Conference championship it claimed with an undefeated record last year.
It will take complete commitment and execution from the Flyers after they lost their top three scorers and goalkeeper to graduation.
"We were undefeated conference champs last year, and everyone has a bull's-eye on our back. Hopefully, that's all the more reason to want to work hard," Lindbergh head coach Scott Luczak said.
Luczak has the Flyers working on the strategy he believes can keep the conference title in their possession.
"We have to work on the technical things because we're not going to blow by anyone or score a bunch," Luczak said. "We need to have good passing, good team defense, numbers behind the ball. If we concentrate on those things, work ethic will put us over the top."
Senior captains Brian Czaicki and Aaron Woods are setting the example of how to practice and play in the start of their fourth years as varsity starters.
Czaicki and Woods are two of just three returning starters, and direct play from their midfield positions.
"The little experience we do have is in some guys in the middle that will help us," Luczak said.
Senior Joey Witzig also will have a long list of responsibilities as one of the most experienced Flyers.
Junior Alex Brown, a three-year starter, had the most goals — four — last season of Lindbergh's returning players. Sophomore Brian O'Neal may help boost a team in need of scoring.
"This is his first taste of varsity, but he's come in with a spark and kind of lit up," Luczak said.
Juniors Matt Morris and Tim Rothermel are also showing Luczak that they want to be on the field a lot.
"Everyone knows that it's open. We lost a good group, and it's an open battle for those spots," Luczak said.
In the goal, Lindbergh has another battle.
Senior Sam Stippec saw some varsity action last year, and classmate Ryan O'Connor is challenging for time.
"We have two seniors that are battling for goal, and no one has been able to take it yet. It's a healthy battle," Luczak said.
How the season ends is more important than how it begins. Last season's undefeated conference record turned into a district tournament semifinal loss. The Flyers don't want to end at the same place.
"We're cursed and blessed that we don't have a superstar player that scores the goals. That means that they're all going to have to pick up the slack," Luczak said.
Lindbergh Boys' Soccer
Sept. 1 St. Mary's H 5:30 p.m.
Sept. 7-9 Westminster Tourney A TBA
Sept. 13 Mehlville H 5:30 p.m.
Sept. 14 Parkway South H 5:30 p.m.
Sept. 16 Parkway West H 6 p.m.
Sept. 20-24 CYO Tourney A TBA
Sept. 28 Oakville A 5:30 p.m.
Sept. 30 Kirkwood H 5:30 p.m.
Oct. 5 Marquette A 4:15 p.m.
Oct. 11 Affton H 5:30 p.m.
Oct. 12 Eureka A 4:15 p.m.
Oct. 14 Timberland A 5 p.m.
Oct. 18 Clayton A 6 p.m.
Oct. 21 Fox H 5:30 p.m.
Oct. 25 Webster H 7 p.m.
Oct. 26 Lafayette H 5:30 p.m.
Oct. 28 Wentzville H 5:30 p.m.