Lindbergh board begins eyeing tax hike, superintendent search
Lorenz would back placing tax hike on ballot this year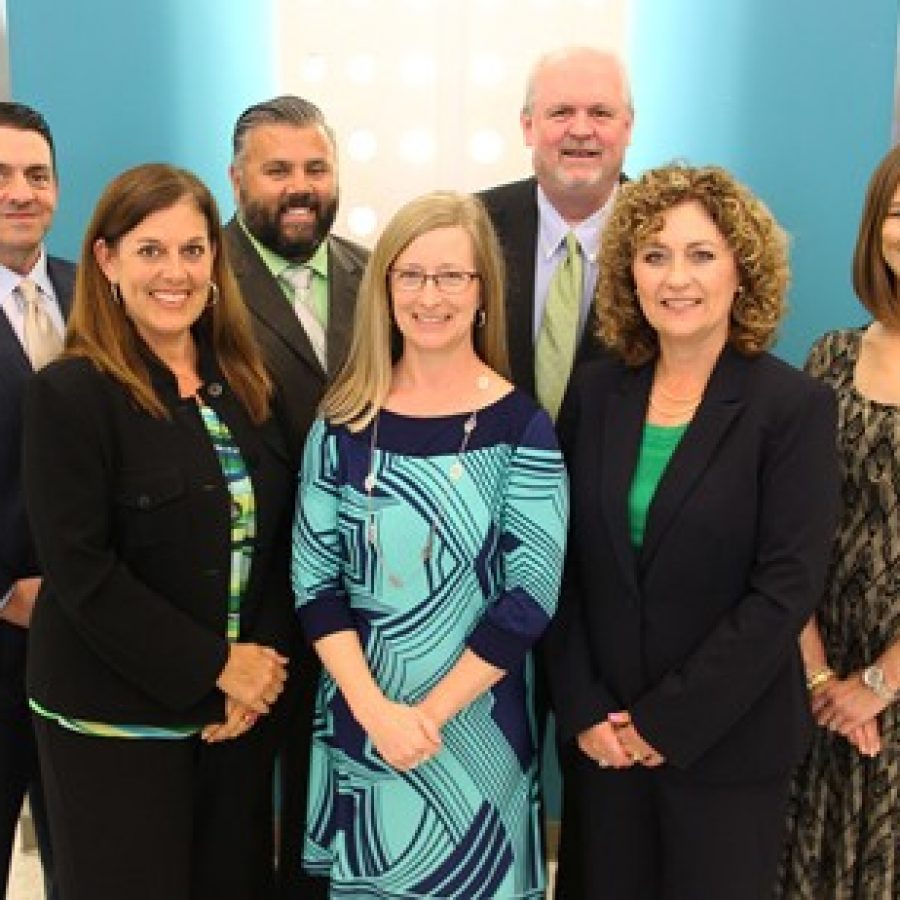 With just weeks of experience, the new Lindbergh Board of Education is already pondering two of the most important decisions school board members make — a tax-rate increase and the search for the next superintendent.
At the annual "Lindbergh Traditions" workshop, designed to educate new board members about how Lindbergh traditionally functions and about the Missouri Open Meetings and Records Act, also called the Sunshine Law, board members began discussing time lines for tax-rate hikes and a superintendent search.
With Superintendent Jim Simpson retiring next year, he walked the board through how he will be replaced. The board will kick off the search to replace Simpson in September, with a final decision expected in January.
"This may be the most important thing you ever do as a board member," Simpson told the board.
Any decision on possibly placing a tax-rate hike before voters should wait until after the new superintendent is hired, board President Karen Schuster said.
Although Schuster doesn't foresee asking the public for more money before the new superintendent starts next year, new member Cathy Carlock Lorenz said she supports placing a tax-rate increase on the ballot later this year.
Lorenz was the top vote-getter in the April 5 election, when board members Matt Alonzo and Christy Watz and board Secretary Mike Shamia were also elected in a teachers' union-backed sweep of all the open offices on the board.
Teachers have pushed voters to raise the tax rate to fund higher teacher salaries.
"It will not be August," Schuster said of a ballot measure. "I don't even see it in November, just to throw that out there."
Although Lorenz agreed August was too soon since that decision would have to be made immediately, "I don't know that I would concur with waiting as long as you," she said.
But the best option might be to wait and see if the new superintendent believes the board should try for a tax hike, Schuster said.
Crestwood voters may be tax-weary this fall after just approving a 45-cent tax-rate increase, and everyone will pay higher sales taxes with the passage of the county's Proposition P sales-tax increase for police and public safety, Simpson noted.
"We'll keep having that conversation, and as a group we'll know when the time is right," Schuster said. "And we'll use the survey to really gauge it."
A survey should not be run more than four months in advance of the target ballot date, or the survey firm won't guarantee the results, Simpson cautioned. He estimated a scientific survey would cost roughly $17,000.
Chief Financial Officer Chuck Triplett explained the difference between an operational tax-rate increase and a bond issue to new board members. Bond issues are typically easier to pass because voters like to see a shiny new building, Simpson noted.
Operational increases are a "leap of faith" and a "tougher sell," Simpson said.
Lindbergh has only lost one ballot measure, in 2005, with four others passing in the years since, Triplett said.
With a potential bond issue on the horizon for a seventh elementary school, Schuster said, "We'll get into it in detail later, I have a feeling — the tax versus the bond."
In the meantime, she added, "The operating increase is certainly something that needs to be considered, and the survey will help with that, so we can figure out what's right."
'Lindbergh Traditions' include uniting as one voice
The "Lindbergh Traditions" workshop was presented annually in recent years by former board President Kathy Kienstra, who lost her bid for re-election in April.
But in the absence of any veteran board members except Schuster, Communications Director Beth Johnston, Simpson and the Cabinet informed the new board about the traditions of Lindbergh. Alonzo was absent from the May 1 meeting.
One of the most integral aspects of Lindbergh tradition is following the Sunshine Law, Simpson said.
"Our tradition is that we follow it to the letter," he said. "Then you never have to worry about it."
A successful board member presents a unified front with the rest of the school board, with the board president and communications director typically handling press inquiries, district officials said.
Board members should present a "consistent and clear message," Johnston said.
The new board members are members of a "group of one," Simpson said, with members expected to stand behind all decisions of the Lindbergh board.
"The way it works in an effective organization is hash it out before the vote," he said. "Then once the board votes, a healthy way is we're moving forward — if you turn back around and come right back at it again, then you can't move forward."
If board members disagree on an issue, they might come together on the next issue, Simpson noted.
"There's always a next time, so you guys realize you're in for the journey, not for a particular point in time," he said. "Lindbergh boards really haven't had a problem with letting go and moving forward."
Superintendent search set to kick off
With Simpson leaving next year after a decade-long tenure at Lindbergh in which he led the district to No.1 status in Missouri five years in a row, the stakes are high for the new board to find a replacement who maintains Lindbergh's high achievement while balancing enrollment growth and finances.
The search will kick off this fall when the board hires a search firm, Simpson said.
One of the factors that will decide the caliber of candidates is the number the board decides to offer for the new superintendent's salary, he said.
Due to Simpson's long tenure, he has become one of the highest-paid superintendents in the state at $270,858. He started at $195,000 for the 2008-2009 school year after arriving from Joplin.
"The salary I know is going to be a big thing in this case," Simpson said. "My salary is the most known salary in south county. I don't know how many times it's been in the Call and many more times than that on social media."
For months, the search firm runs the show for the most part, even supplying questions when the board interviews candidates in November and December. The board will hire the superintendent at the January meeting, Simpson said.
He warned the board that besides pay, future superintendent candidates might request perks and benefits beyond those Lindbergh typically offers, which many districts add to superintendent contracts.
But superintendent contracts have typically been straightforward in Lindbergh, with no fancy extras, Simpson said.
"When I was hired, they just scratched out (former Superintendent) Jim Sandfort's name and put my name in," he said. "I'm low maintenance."