Lemay guitarist returns from Germany after studying with composer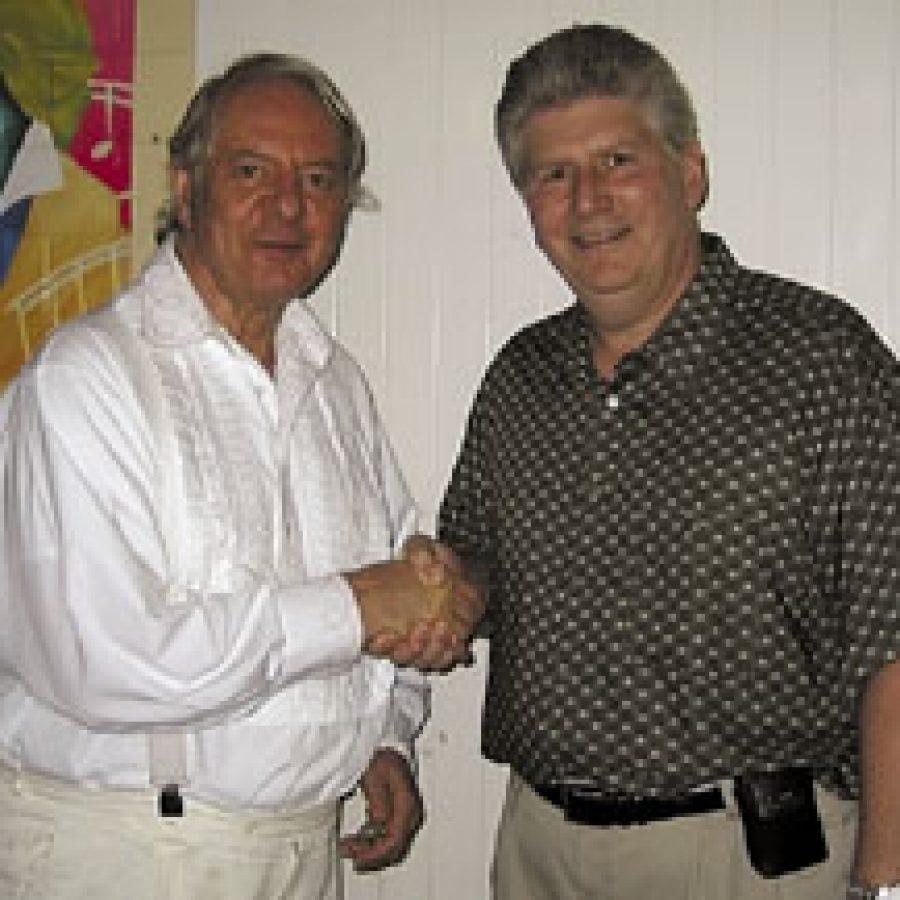 Guitarist and composer Jim Stonebraker of Lemay has returned from Kürten, Germany — outside of Cologne — after nine days of study with legendary German composer Karlheinz Stockhausen.
The 52-year-old Stonebraker personally was invited by Stockhausen to participate in the "Stockhausen Courses Kürten 2003" — conducted from Aug. 9 through Aug. 17 — which was attended by more than 150 musicians, composers and musicologists from 26 countries.
"Stockhausen is a modern master who can hum or whistle every note in his scores during rehearsals," Stonebraker stated in a news release. "It was an amazing experience to watch him work with young musicians in preparation for nightly concerts."
Stonebraker also was invited to Stockhausen's home for several visits.
Stockhausen is best known for his pioneering work in formulating the theories that produced the first true electronic music in the early 1950s that led to the development of the synthesizer and his serial music compositions.
He has recently completed his epic "LICHT" cycle of vocal and instrumental music that lasts more than 30 hours if performed as a whole. Stockhausen is scheduled to give a world premiere of the latest work of the "LICHT" cycle, "SCENT-SCENTS," on Friday, Aug. 29, at the Salzburg Music Festival in Austria.
Stockhausen, who celebrated his 75th birthday Aug. 22, is not only an important influence on classical composers, according to the release.
His picture appeared on the cover of the Beatles' "Sgt. Pepper" album and John Lennon approached him to do a joint concert. Members of the Jefferson Airplane and Grateful Dead also attended his composition courses in Davis, Calif., in the mid-1960s.
Diverse musicians such as Frank Zappa, Pete Townshend, Miles Davis and Charles Mingus site Stockhausen as an important influence on their music.
Jim Stonebraker has corresponded with Stockhausen since 1974. Stonebraker is in the final stages of completing his CD, "The Artificial Intelligence Orchestra Plays the Music of Jim Stonebraker."