Lafayette Lancers tame football Tigers 44-27
Oakville Tigers fall to Lancers; set to face Seckman Friday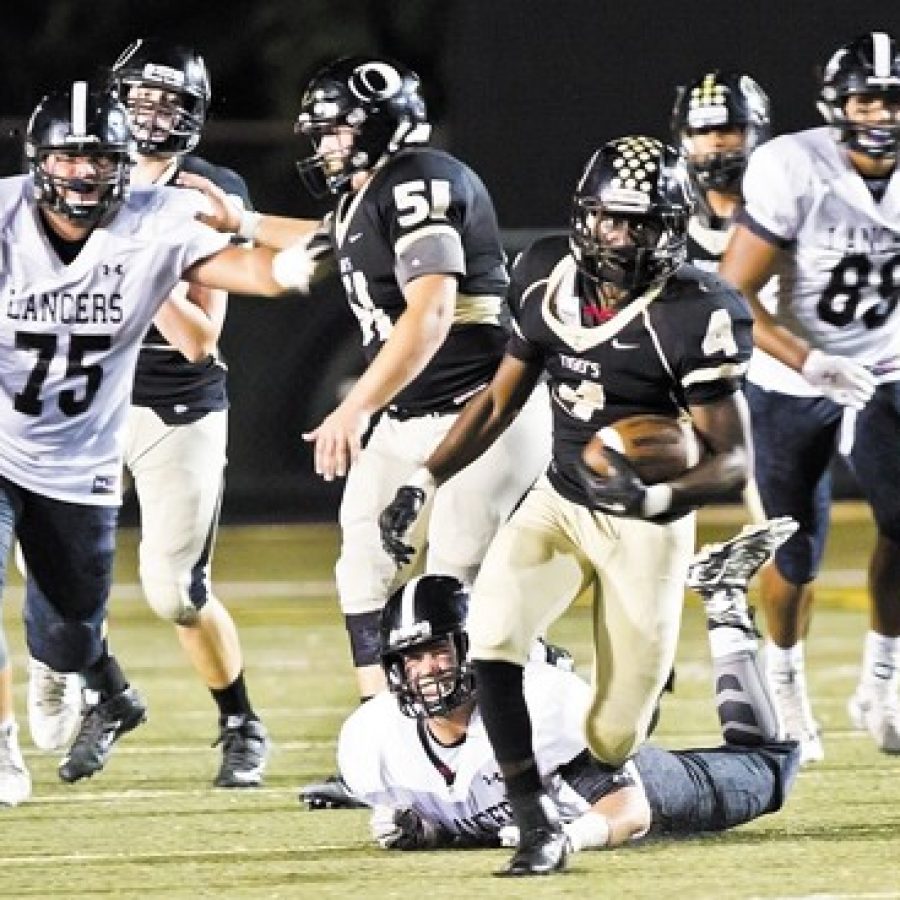 When the Oakville Senior High School football team squared off against the Lafayette Lancers Friday night for Homecoming, it was a bit of a measuring stick for the Tigers.
Lafayette (5-1) is having an excellent year and the Lancers were the perfect opponent for the Tigers to see where they stacked up against a playoff-caliber team as the second half of the season kicked off.
Despite a 44-27 loss, the 3-3 Tigers took away some positives from the matchup.
Oakville head coach Arlee Conners told the Call that the pieces are starting to come together for his team, but the Tigers aren't quite there just yet.
"… We ran for over 200 yards, which is pretty good, and we passed for almost 300 yards," he said. "So the fact that the offense was able to move the ball, which is something we haven't been able to do that well for a while, is definitely a promising sign.
"The defense was put in some pretty bad situations and had to be out there too much. They've been playing pretty good this year, so now we are just looking for all three phases of the football game to come together for us."
As far as what happened Friday against the Lancers, Conners said his squad lost control of the game early and couldn't get it back.
"We just got off to a real bad start and we just really never got it going," he said. "We kind of fell on some of our bad habits, penalties and turnovers. They definitely plagued us in the first half, and that's kind of when the game got away from us.
"So I thought our guys played hard and we had some good plays, some good things here and there, but the inconsistencies, when you play a good team, it's hard to overcome."
The Tigers fumbled the ball on the opening kickoff and turned the ball over at the 9-yard line to start the game, handicapping themselves from the very beginning of the game.
That also paved the way for the Tigers to trail at halftime, which is the first time that's happened all season.
Kobe Allen scored twice for the Tigers, both 60-plus-yard catches from quarterback Bailey Vuylsteke.
Demetrius Harris also tallied a touchdown for the Tigers, as did Josh Kuntze.
The Tigers are looking to pounce on the 1-5 Seckman Jaguars Friday night.
Seckman is a hungry team that is coming off a loss to Northwest, and Conners believes his Oakville team will be up to the task.
"They have a big football team, a big offensive line, so that will be something that we have to deal with. But we are just looking to continue to get better as a football program ourselves as a team …," he said.
"I think we did some good things Friday, and we need to continue to do them going forward, and if we do that then we'll be all right."