Kolb and Costello exchange wedding vows at St. Simon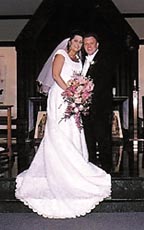 Laura Anne Kolb and Patrick Joseph Costello were married April 26 at St. Simon the Apostle Catholic Church by the Rev. J. Wilke.
The bride is the daughter of Robert G. Kolb and the late Marilyn V. Kolb of Crestwood.
The groom is the son of James L. and the late JoAnn Costello of Mehlville.
The matron of honor was Aran Reddig. Bridesmaids were MaryBeth Naunheim, Katherine Horne and Lisa Kolb.
The best man was Cory Johnson. Groomsmen were Gerald Kolb, Mike Wiemann and Steve Klunk.
A reception was at Orlando's on Watson Road. After a wedding trip to Cancun, Mexico, the couple moved to Sunset Hills.
The bride is a real estate agent with Coldwell Banker Gundaker. The groom is a property manager for St. Lucas United Church of Christ.